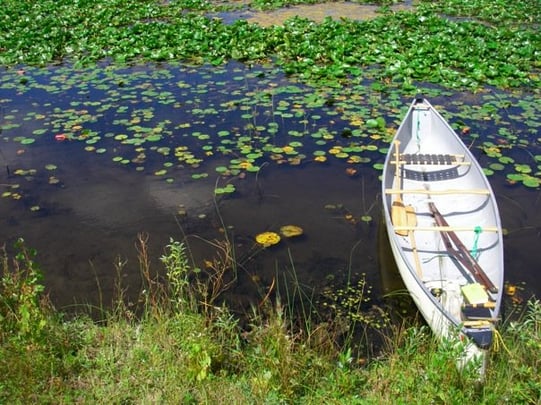 Part 1 of a two-part blog post on the environmental review process for energy projects in Canada
In the wake of the National Energy Board's (NEB) conditional approval of the Kinder Morgan Trans Mountain Pipeline, here are some things we thought you should know about energy projects and fish in Canada.
Regulatory Hand-Off - The National Energy Board is in Charge of… Protecting Fish?
Fisheries and Oceans (DFO) has always been responsible for the protection of fish and the aquatic environment in Canada. But on December 16, 2013, DFO signed a Memorandum of Understanding (MOU) which makes the NEB responsible for the assessment of impacts to fish from energy projects such as pipelines and transmission lines.
At the time, with all the upheaval and changes to government brought on by the Conservative majority and the recent passing of Bill c-38, very little was made of this. Two and a half years on, we wanted to ask the question. Does this delegation of responsibility make any sense?
The stated purpose of this MOU is to "streamline application processes by eliminating the requirement for duplicate reviews". Essentially, the argument is that there was too much red tape. By having the NEB take over reviews, the process is simplified, making it easier to navigate and saving costs for proponents and government.
However, by taking DFO off the case, the government shifts responsibility to an agency that is at best, less equipped to assess the effects of projects on the aquatic environment, and at worst, not competent and more likely to favour development. Secondly, any effects on Aboriginal treaty rights or interests related to the fisheries act that used to be handled by DFO, will now be dealt with by the NEB, an organization with a poor history of consultation with First Nations people (stay tuned for more on this in Part 2).
Eroding Canadian Environmental Protection
Taken alone, the weakening of DFO's oversight and jurisdiction for fisheries protection might seem like an unintended consequence. However, this wasn't the only time that DFO and fisheries landed in the Conservative government's crosshairs.
Over a relatively short period they significantly reduced protection to the majority of Canadian waterways by replacing the Navigable Waters Protection Act with the Navigation Protection Act; they weakened the fisheries act by removing protection afforded to fish habitat; tried to shut down the experimental lakes; muzzled scientists; and systematically cut DFO's budget on several occasions, even going so far as closing down libraries.
Given this background, the pretext for streamlining the environmental review process takes on the appearance of something more sinister altogether; a deliberate shift in the balance from environmental protection to one that favours development.
Perhaps none of this is surprising. On top of that, it's old news; the Conservatives have been swept aside by the Liberal majority.
"Can the NEB be trusted as a capable regulator?"
What First Nations and Canadians need to know now is: can the NEB be trusted as a capable regulator? Are they able to step into the gap where DFO has been pushed aside and ensure the protection of fishes? Do they have enough expertise to really make proper judgements on the impacts to aquatic environments.
So far there doesn't seem to be much evidence for this. A Federal audit from the Fall of 2015 found the NEB is falling short of its responsibilities to track conditions of approval and compliance. If they can't even handle one of their primary roles regulating the operation of pipelines, why should we have any confidence in their ability to properly assess impacts to fish? On top of this, as many as half of the NEB board are oil and gas professionals, leaving many with the belief that the NEB is a "pipeline approval machine".
Based on this, there doesn't seem to be much reason for Canadians to have confidence in the NEB. Indeed, a recent poll shows that at least half of Canadians have little or no confidence in the NEB. Since they are the primary regulator of energy projects in Canada there can be no confidence in the review process itself.
Rebuilding Trust in the Environmental Review Process
So what does this all mean? Now that the Liberals have gained a majority, Justin Trudeau and his Ministers say they want to restore the trust in the environmental review process. So far they have taken some steps including extending the timeline for panel reviews, instated requirements for assessing upstream greenhouse gas emissions, required comprehensive publicly available emergency procedures manuals, and signaled their intensions to do more.
Ultimately, if trust is what the new Trudeau government wants to build, a good start would be reinstating DFO as the responsible authority over fish and fish habitat for energy projects. As DFO are the ones with the experience and expertise. Failing that they could work to build the expertise in-house with the NEB so that they have the skills needed to tackle the challenging issues related to environmental protection. Although, even if that occurs, there is no guarantee that this shift would sufficiently restore public trust in the NEB.
For now, the best opportunity for members of the public and Indigenous communities to provide input is through participating in the regulatory process via comments, letters, independent technical reviews, and the sharing of Indigenous traditional knowledge through oral and written evidence.
If this is something that concerns you then write a letter to our Ministers, share this post, and ask that Canadian waters and fisheries get the protection they deserve. As a start we can restore jurisdiction for energy projects to DFO and work to enable more robust evidence-based review of energy projects within Canada.
Handing off responsibility for the protection of fish to the NEB didn't make sense in 2013 and it doesn't make sense today.
Businesses and organizations are made up of people. So are communities. Imagine a world where people in industry and government, and people from towns of all sizes, get together to make amazing things happen – things they couldn't have dreamed up alone. A world where people from corporations get together with people in government or NGOs to explore innovative ways to do business while enhancing the natural and social environment. Join us in Creating Shared Value!
At Shared Value Solutions, we speak your language. And we know that the impossible is possible – with the right people in the circle.
We are an Ontario B Corp and we bring the best engineering, design, environment, architecture and other technical discipline expertise to address your challenges and opportunities:
Strategic Environmental Assessment guidance, coordination and support

Collaborative land and resource use planning and management- process design and delivery

Traditional Ecological Knowledge Studies & Traditional Knowledge Studies

Traditional Land Use Studies (TLUS)/ Traditional Land Use and Occupancy Mapping

Design and delivery of programs promoting/supporting positive behaviour change- environmental stewardship, community-based social marketing, health/environmental health promotion, Aboriginal community energy plan initiatives

Contributing human environment considerations to technical assessments and management plans in sectors such as water resources, remediation, land use, mining, oil & gas, linear corridor development, forestry, renewable energy, nuclear waste, contaminated sites, brownfield redevelopment, watershed planning, drought planning, water use planning, waste management and waste diversion

Aboriginal and Industry Partnerships working with First Nation, Inuit and Métis communities

Value Engineering & Value Analysis: we facilitate project teams to optimize a project by understanding functions, objectives, costs and social, cultural and environmental considerations.
Shared Value Solutions ® is a trademark registered by Shared Value Solutions Ltd.
Text Copyright Shared Value Solutions, 2016