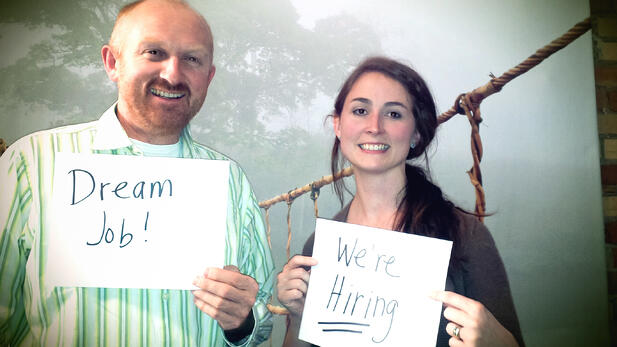 Shared Value Solutions (SVS) has been growing very quickly – increasing from 5 to 14 employees in the span of two years. As the HR Manager, I have some interesting job hunt stories and I keep saying that I need to share them for the benefit of others who are looking for a job in the environmental and social research sector.
So here I am with 5 tried and true strategies for those looking for a job in the environmental and social research sector - brought to you straight from the staff at SVS:
Tweet your little heart out:

We met two of our staff in the Twitter-verse. Follow your potential employer on Twitter. Tweet @ them, making a good impression about your relevant area of expertise in 140 characters or less. Message them directly asking if you can submit a resume.

Pick up the phone:

One of our staff called every day (ok, it wasn't every day, it just felt like that at the time) until we finally gave her an interview. Be careful with this one, because if you call too much, it could be perceived as annoying. However, persistence definitely has its place and demonstrates your passion for the job.

Ask for an internship opportunity and explain "what's in it for them":

A few of our current full time staff started as interns. They clearly articulated what they would bring to the company in terms of skills and outcomes. They had also provided us with information about grants and funding programs to offset their internship and drove that process forward. This helps big time in removing barriers to hiring.

Word-of-mouth:

A few of our staff were recommended by people in our network, which really helped move their name to the top of the big pile-o-resumes. If you are interested in a position, try to get a mutual acquaintance who knows the organization to put in a good word for you.

Make the business case:

This is particularly important in the private sector, where hiring is very much dependent on cash flow. If you can help demonstrate where your salary will come from for the first year – even in broad estimates – it makes the case for hiring you that much easier. The business case doesn't need to be exhaustive, but the important factors to highlight include: 1) your client contacts, 2) upcoming opportunities to pursue with each of those clients, 3) projected revenue from each opportunity and 4) next steps required to make the opportunity a reality.
SVS is often looking for people with experience in Aboriginal Land Use Planning, Traditional Ecological Knowledge, Traditional Land Use and Mapping Studies, and people with experience designing and delivering BEAHR Training with Aboriginal communities. We seek opportunities to hire people from First Nation, Inuit and Métis communities. Keep checking back for upcoming opportunities.
Good luck to those out there looking for an exciting new opportunity!
About Us:
Businesses and organizations are made up of people. So are communities. Imagine a world where people in industry and government, and people from towns of all sizes, get together to make amazing things happen – things they couldn't have dreamed up alone. A world where people from corporations get together with people in government or NGOs to explore innovative ways to do business while enhancing the natural and social environment.
At
Shared Value Solutions
, We speak your language. And we know that the impossible is possible – with the right people in the circle.