$90,000 per Aboriginal Community Energy Plan Project Now Available in Ontario!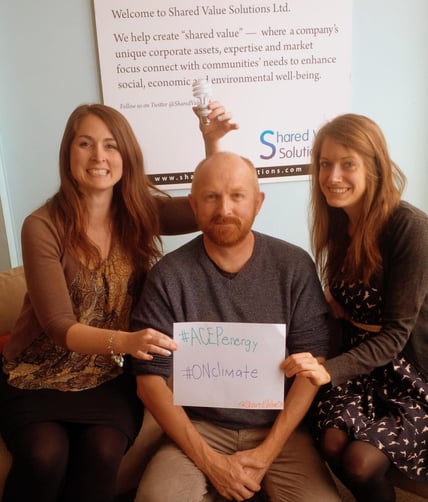 Nichole Fraser-MacDonald, Jeremy Shute and Leah Culver - Our Aboriginal Community Energy Plan bright lights - call 226-706-8888 or Toll-free - 1-866-293-9042 or Email: info@sharedvaluesolutions.com
[We also provide certification training for "BEAHR" Aboriginal Environmental Monitors and Technicians!]

Should you do a Community Energy Plan?
What is an Aboriginal Community Energy Plan (ACEP), you ask? It is a comprehensive long-term plan to:
improve energy efficiency,

reduce electricity consumption, and

assess potential opportunities for clean energy solutions.
Bottom-line: a Community Energy Plan will help YOU help elders, youth families and everyone in your community to improve Aboriginal community wellbeing, reduce energy costs and maybe even generate new wealth for the community.
Right now Ontario's Independent Electricity System Operator (IESO) has opportunities for Ontario Aboriginal communities to create their own ACEP. The ACEP program provides funding of up to $90,000 for Aboriginal communities to develop a CEP or $25,000 to update a current CEP.
Not sure if ACEP is for you?
The IESO has provided the following questions to ask when considering if the ACEP is right for you:
Are there changes in your community and surrounding areas that may impact your electricity needs?

Has your community started to look at ways to reduce energy use?

Has your community considered renewable and alternative energy solutions and/or business opportunities?
At Shared Value Solutions we assist clients in completing ACEP funding applications and assist communities through the development of their energy plans. Several of our staff helped develop the original ACEP program, so we have some insights to offer. Some of our clients are well advanced with energy conservation efforts, significant energy generation projects, and transmission line projects. We understand the process and can provide expertise, insight, and professional support to your success.
Goals of ACEP
By conducting an Aboriginal Community Energy Plan, your community can:
gain greater awareness and understanding of the energy sector and encourage community members to get involved

provide support to awareness and understanding of energy needs and opportunities

engage community members on opportunities for energy conservation

develop implementation plan to set out an achievable approach of electricity use and clean energy generation opportunities that can improve Aboriginal energy stewardship and generate revenues
ACEP team member Matt conducting a home energy assessment
What do you have to do to create an Aboriginal Community Energy Plan?
Based on our experience supporting communities undertaking ACEPs, there are 9 steps and related Shared Value Solution tips.
9 Steps and Shared Value Solution Tips to Create an Aboriginal Community Energy Plan
1) Develop and submit a successful ACEP proposal – some guidance and pointers from people with experience can be helpful
2) Conduct detailed Community Baseline Research, including community visits, community building/housing inventory mapping and household assessments, and analysis of household surveys to help determine current energy use and preferred future energy needs – access to tried and tested methodologies and data gathering tools can help you get the job done well
3) Integrate traditional knowledge studies and traditional land and resource use ideas
4) Undertake Opportunity Scans to determine possible funding sources, partners and collaborators to implement the ACEP – you don't have to implement your ACEP alone: there ARE good, solid partners who can help if you look carefully
5) Create the Implementation Plan - use a collaborative planning process and engage other interested community members in the planning process
6) Work with and support Community Researchers – the best ACEPs are collaborative and build on the skills of local community researchers, like people who have gone through BEAHR training!
7) Scan the region for partnership opportunities and synergies with other projects: clean power generation opportunities, existing and potential Aboriginal energy partnerships, possible Aboriginal and industry partnerships and begin developing business plans for the opportunities that fit your ACEP – the best partners will have a track record in working with First Nation and Métis communities and businesses
8) Get creative – your region can hold a wealth of energy efficiency and energy development opportunities – through a thorough opportunities scan you can connect-the-dots to many valuable resources, skilled partners and new initiatives
9) Have fun! Remember that your work will help elders, youth families and everyone in your community improve Aboriginal community wellbeing, reduce energy costs and maybe even generate new wealth for the community. This is fun and rewarding work!
What should you do next?
Applications are received by the IESO on a rolling basis. The IESO has gotten rid of their application deadline and communities are encouraged to apply at any time. This has its strengths and weaknesses though. Sometimes, without a deadline, applications do not get the attention they need to "get out the door" to the IESO. Advisors, like the experienced people at Shared Value Solutions, can help keep you on track and get a well-developed application into the IESO.
To find out more you can visit the ACEP website at http://aboriginalenergy.ca/aboriginal-community-energy-plans
Give us a call - we'd be glad to explore if ACEP works for you
We're easy to talk to, and phone call away. If your community is interested in participating in the ACEP program and you'd like to explore whether it's right for you, call Nichole, Jeremy or Leah at Shared Value Solutions: call 226-706-8888 or Toll-free - 1-866-293-9042, or email: info@sharedvaluesolutions.com
Note - First Nation and Métis Communities: Eligible "communities" include:
First Nations that are "Bands" as defined by the Indian Act
the Métis Nation of Ontario OR any of the Métis Nation of Ontario's active Chartered Community Councils.
Businesses and organizations are made up of people. So are communities. Imagine a world where people in industry and government, and people from towns of all sizes, get together to make amazing things happen – things they couldn't have dreamed up alone. A world where people from corporations get together with people in government or NGOs to explore innovative ways to do business while enhancing the natural and social environment. Join us in Creating Shared Value!
At Shared Value Solutions, we speak your language. And we know that the impossible is possible – with the right people in the circle.
We are an Ontario B Corp and we bring the best engineering, design, environment, architecture and other technical discipline expertise to address your challenges and opportunities:
Strategic Environmental Assessment guidance, coordination and support

Collaborative land and resource use planning and management- process design and delivery

Traditional Ecological Knowledge Studies & Traditional Knowledge Studies

Traditional Land Use Studies (TLUS)/ Traditional Land Use and Occupancy Mapping

Design and delivery of programs promoting/supporting positive behaviour change- environmental stewardship, community-based social marketing, health/environmental health promotion

Contributing human environment considerations to technical assessments and management plans in sectors such as water resources, remediation, land use, mining, oil & gas, linear corridor development, forestry, renewable energy, nuclear waste, contaminated sites, brownfield redevelopment, watershed planning, drought planning, water use planning, waste management and waste diversion

Aboriginal and Industry Partnerships working with First Nation, Inuit and Métis communities

Value Engineering & Value Analysis: we facilitate project teams to optimize a project by understanding functions, objectives, costs and social, cultural and environmental considerations.