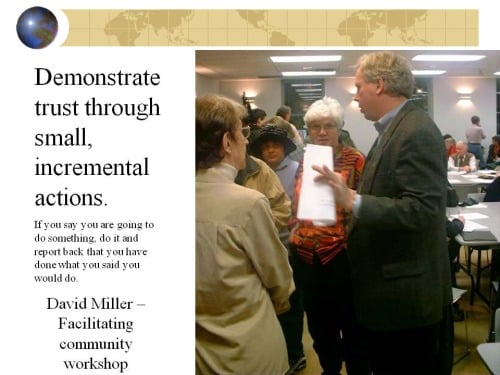 "You Gain Trust with Small, Step by Step Actions"
By Don Richardson, Managing Partner, Shared Value Solutions Ltd.
This was guidance given to me by David Miller when he was a City of Toronto Councillor in the Swansea ward, before becoming Mayor of Toronto. I was working on the massive "brownfield" redevelopment of the former Stelco Swansea Works bolt factory at Windermere & The Queensway near the Humber River, the Gardiner Expressway, and an important local community gateway to Lake Ontario.
The 12 acre legacy industrial site had been empty for well over a decade, with few prospects for redevelopment - a fenced-off eyesore standing between the community and the lake. This was my first urban "brownfield" development, working with environmental scientists, hydrogeologists, and groundwater specialists to ensure site cleanup and assist a developer to create a project that would make sense in the local community context and meet high social and environmental standards for sustainable innovation in Ontario.
---
Text from Historical Plaque: For over 100 years, this was a landmark industrial site for the Village of Swansea and the City of Toronto. The Dominion Bolt and Nut Company established a factory adjacent to the railway here in 1882. In 1910, a successor to that company joined four other Canadian steelworks to form the Steel Company of Canada (Stelco). The Stelco Swansea Works continued to produce a wide range of steel fasteners, among other items, before closing in 1990.
Stelco and its predecessors were economics anchors for the Village of Swansea. By 1929, when the village numbered about 3,600 residents, the Stelco plant employed about 500 people. The plant also played important social and cultural roles in village life, from housing an early post office to funding sports teams and educational initiatives.
The Stelco buildings were demolished in 2003 to make way for the present residential development.
---
The developer was keen on a participatory, collaborative planning process through which local community members would influence many aspects of project design, architectural treatments, streetscaping, trails, waterfront access corridors, connections with public transit, and community amenities - provided that the return-on-investment target would be realized.
Looking for someone who would be respected in the community as a neutral facilitator for a multi-stakeholder liaison committee, I met with Councillor Miller and he agreed to faciltiate meetings - but he was clear on two points:
He would facilitate a collaborative planning discussion and assist in bringing in many community voices, but he would not take a position on the project until the community was comfortable with the site re-development

He insisted that we would only have success if we followed this basic rule: "if you say you are going to do something, do it and report back that you have done what you said you would do" in order for him to trust us and for the community to trust us.
I followed David Miller's advice on this two-year community engagement process - juggling a crazy schedule of particpatory planning meetings in Toronto with traditional ecological knowledge work with First Nations in the north, and indgenous peoples in Southeast Asia and Latin America... I learned a lot about adaptive leadership and the importance of local perspectives, local knowledge and local input (and began to see that Local is the New Black!). In the historic Toronto Village of Swansea, we created a site development plan that had very good community support, the developer got site plan approvals from the City in record time (due to the extensive community consultation), and David Miller drove the wrecking ball into one of the decaying buildings to officially start the redevelopment project.
Windermere by the Lake Today - Adjacent to Convenient Public Transit, Gateway to Lake Ontario, Low-rise Townhomes with High-rise Reflective Towers
Shortly after this successful collaborative planning process, David Miller became mayor of Toronto, and I went on to do many more similar projects. I was part of the project team awarded a "Brownie Award" from the Canadian Urban Institute for this project, based on "outstanding achievement in building and maintaining effective working partnerships with professionals, the local community and others involved in brownfields redevelopment."
Along with the site plan work, I built strong relationships with colleagues like Helen Aitkin and Jeremy Shute - people with whom I still work today. Everytime I pass by the site on the way into downtown Toronto, I can see so many site features that reflect concepts and comments we heard from community members. Gettring ready for another important brownfield development (stay tuned!), these lessons and relationships remain important. And so is the knowledge that "we did what we said we would do".
Is this post useful? Then sign-up for our newsletter to stay in touch!
About Us:
Businesses and organizations are made up of people. So are communities. Imagine a world where people in industry and government, and people from towns of all sizes, get together to make amazing things happen – things they couldn't have dreamed up alone. A world where people from corporations get together with people in government or NGOs to explore innovative ways to do business while enhancing the natural and social environment. Join us in Creating Shared Value!


At Shared Value Solutions, We speak your language. And we know that the impossible is possible – with the right people in the circle.
We are an Ontario B Corp and we bring the best engineering, design, environment, architecture and other technical discipline expertise to address your challenges and opportunities:
Strategic Environmental Assessment guidance, coordination and support

Collaborative land and resource use planning and management- process design and delivery

Traditional Ecological Knowledge Studies & Traditional Knowledge Studies

Traditional Land Use Studies (TLUS)/ Traditional Land Use and Occupancy Mapping

Design and delivery of programs promoting/supporting positive behaviour change- environmental stewardship, community-based social marketing, health/environmental health promotion

Contributing human environment considerations to technical assessments and management plans in sectors such as water resources, remediation, land use, mining, oil & gas, linear corridor development, forestry, renewable energy, nuclear waste, contaminated sites, brownfield redevelopment, watershed planning, drought planning, water use planning, waste management and waste diversion

Aboriginal and Industry Partnerships working with First Nation, Inuit and Métis communities

Value Engineering & Value Analysis: we facilitate project teams to optimize a project by understanding functions, objectives, costs and social, cultural and environmental considerations.