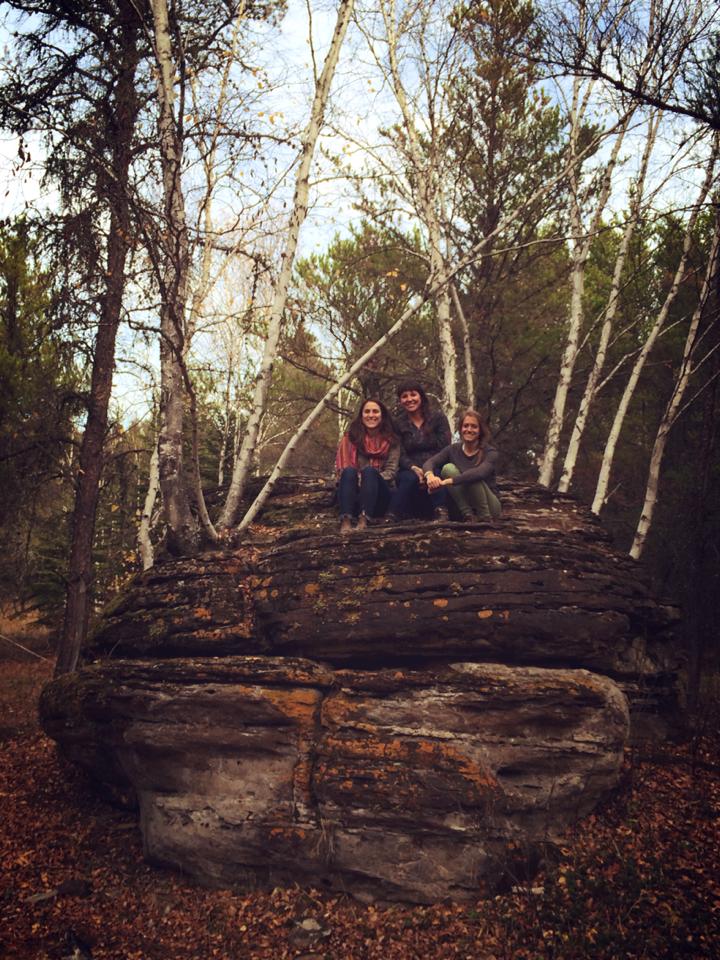 From: Leah Culver
We had another great day with people in the Kettle Hills, Manitoba.
It isn't too far distance wise, but takes a long time to drive in. The tamarack trees are changing colour and the landscape here is so beautiful!
We went in with four land users today. We had three quads with us and then when we got them unloaded we realized that one of they keys had been left behind. So we had to leave two people behind at the blueberry camp. Frances and I tripled up on a quad with one of the people. The blueberry patch is HUGE!!! We drove on quads for the better half of the day and didn't even cover half of it. Our big GIS polygons are accurate.
We had jumper sandwiches, hard boiled eggs, potatoes, fruit etc. for lunch. The Jumper (deer) had been shot on Sunday and was delicious!!!
After lunch we headed up to the Kettle Stones, saw some timber wolf tracks, deer tracks, and heard a moose in the forest. We also all got a turn with the shot gun and all hit our target (a pack of cigarettes).
Thunderhill Motel is a good place to sleep. Quiet, close to our meeting spots and right across from Qwick Stop, a great place to have breakfast.
We are meeting there tomorrow morning to head back out on the land. It is supposed to be rainy and cold, but they offered us rain gear to stay dry.
Well, we are about to pick up dinner. Jocelyn, I hope this was almost as good as a post card! We will be sure to pick one up and send it in the mail.
****
This message was a daily Health and Safety check-in that the team sent to our Office Manager and the Project Manager from the field where they are conducting ground-truthing for a
traditional land use and occupancy study
in Manitoba.
About Shared Value Solutions Ltd.
Shared Value Solutions Ltd. is one of the first 100 B Corporations in Canada. We bring the best environmental peer review, strategic advice, community engagement and traditional knowledge, land use, and socio-economic research expertise to address your challenges and opportunities. Working with leading companies, civil society, Aboriginal communities and government organizations, we drive shared value solutions.