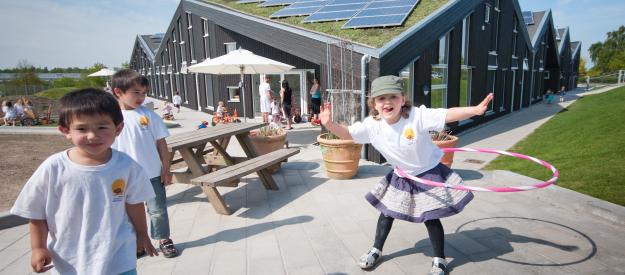 Children play in the most climate friendly daycare in Denmark – engineered by Ramboll. The building produces 8 kilowatt hours per square metre per year, which is surplus to the building's requirements. When not used for solar panels the remaining roof surface has been planted with sedum – a hard wearing plant, which not only encourages biodiversity, prevents water run- off, provides both sound and temperature insulation, and also helps to cool the solar panels. Photo via activehouse.info.
---
Scandinavian firm Ramboll is opening an office in the City of Guelph in order to pursue opportunities in the growing market for district energy in North America.
Ramboll has 200 offices in 22 countries with $1.4 billion in annual revenue.
Inside the firm are 11,000 consulting engineers, designers and management consultants committed to creating sustainable and long-term solutions in sectors including building, transport, environment, energy and telecom.
---
What does Ramboll coming to Guelph mean for Sustainable Innovation in Ontario?
Guelph has the first city-wide district energy network in North America. With the news that the Scandinavian firm will be helping manage the district energy project with Guelph's Envida and is setting up its first North American office in Guelph, we thought it worth taking a look at some of the benefits a firm like Ramboll brings to Guelph and Ontario – and to local businesses like ours!
A recent Toronto Star article by Don Tapscott (ranked one of the top 5 most influential thinkers in the world) - "As Toronto dithers, Guelph sets sights on 21st century"- highlights Guelph's sustainability efforts, including the Community Energy Plan and waste diversion.
Here are 10 benefits we see with Ramboll coming to Guelph and Ontario - we hope our thoughts prime some creative collaboration:
2. CO2 Neutral Communities: Ramboll is playing a key role in making Copenhagen CO2-neutral by 2015 – that collaborative planning and design expertise will benefit Guelph and communities across Ontario, Canada and North America. We need more innovation around climate change & Ontario.