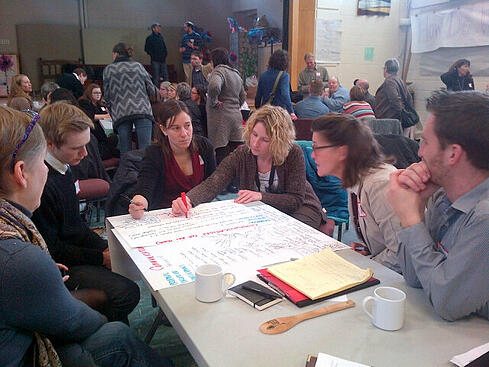 What really matters in working with people?
Working on complex social challenges with a diverse group of peoplle can be both an exciting and challenging undertaking. Being adaptive and responsive to the world around you is quickly becoming an essential competency in an ever-changing world.
But what does it mean to attend an adaptive leadership workshop?
It means spending a day connecting with and learning alongside like-minded individuals also working in the human dimension of change processes, and likely involved in sustainbility innovation in Ontario. If this workshop is calling you then pencil in the following date in your calendar:
Thursday, November 20th, 2014
Guelph, Ontario, Canada
What?
Looking for new perspectives on leadership and change? Wondering what really matters in working with people and how to facilitate it? Do you want to talk to others who work with similar challenges as you?
Welcome to an inspiring workshop from
Shared Value Solutions
and
Next Stop You, Sweden
, the people that brought
Open Space Technology
training and Open Space Facilitation Training to Guelph and Ontario.
During the day we will:
introduce the concept of Adaptive Leadership

explore and learn more about the social dimensions of creating change

emphasize the patient and challenging act of leading into the unknown

explore a model of understanding different phases of change processes and the emerging demands on leadership in each one

take time to work with your personal leadership challenges
Theory will be mixed with time for reflection, individual and group.
For Whom?
This workshop is for formal and informal community leaders, strategic planners, project managers, business and organization leaders, entrepreneurs and neighbourhood organizations, public engagement specialists, consultants - anyone who has some experience with
leading processes and group facilitation
.
Where?
10 Carden Street, Guelph, Ontario
By Whom?
Cost:
$250; sliding scale available - contact us.
Sign up:
Stay Connected with Us for Future Events, Workshops and News
About Us:
Businesses and organizations are made up of people. So are communities. Imagine a world where people in industry and government, and people from towns of all sizes, get together to make amazing things happen – things they couldn't have dreamed up alone. A world where people from corporations get together with people in government or NGOs to explore innovative ways to do business while enhancing the natural and social environment.
At
Shared Value Solutions
, We speak your language. And we know that the impossible is possible – with the right people in the circle.
We bring the best engineering, design, environment, architecture and other technical discipline expertise to address your challenges and opportunities:
Strategic Environmental Assessment guidance, coordination and support

Collaborative land and resource use planning and management- process design and delivery

Traditional Ecological Knowledge Studies

Traditional Land Use Studies (TLUS)/Traditional Land-Use and Occupancy Mapping

Design and delivery of programs promoting/supporting positive behaviour change- environmental stewardship, community-based social marketing, health/environmental health promotion

Contributing human environment considerations to technical assessments and management plans in sectors such as water resources, remediation, land use, mining, oil & gas, linear corridor development, forestry, renewable energy, nuclear waste, contaminated sites, brownfield redevelopment, watershed planning, drought planning, water use planning, waste management and waste diversion

Value Engineering & Value Analysis: we facilitate project teams to optimize a project by understanding functions, objectives, costs and social, cultural and environmental considerations.