By Scott Mackay, Managing Partner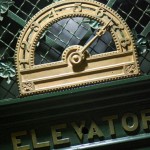 For a long time, I've been seeking an "elevator pitch"- an explanation as if one only had an elevator ride's worth of time to pitch an idea to someone- for what Creating Shared Value (CSV) is about. Today, I found it in a presentation by Mark Kramer at the Shared Value Initiative's Affiliated Professional Services Network session in London, UK. Mark is one of the co-authors on the seminal paper on Creating Shared Value published in Harvard Business Review in 2011.
The "What is it" part of the explanation...
There is much opportunity for confusion when CSV occupies a terminology universe involving corporate philanthropy, Corporate Social Responsibility (CSR), and a host of other related terms. Here are some simple ways to tell someone what CSV is all about:
It is about new business opportunities
It is solving social or environmental problems in communities in which a company operates
It yields measureable outcomes
It contributes to a company's productivity or profitability
If it does not have these qualities, it is simply not CSV. Period.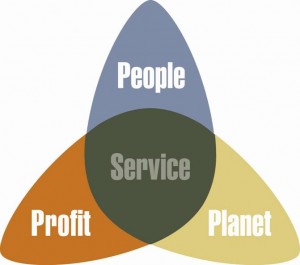 (image from www.socialenterprise.net)

The "How do you do that?" part of the explanation...

The other hallmark of CSV is that its efforts to create business opportunities are focused on one of three areas of activity:
Reconceiving needs, products, or customers- either new products which meet social/environmental AND business needs, or operating in unserved or underserved markets to meet these needs.
Redefining the value chain- making better or new use of resources or partners in the chain to meet social/environmental AND business needs.
Creating local clusters- creating local "clusters" or groups of local supporting services to a larger company or development (e.g. a mine) to capture and enhance economic and social benefits at the community level.
If it's not an effort focused on one of these activities, it's just not CSV. CSV is about breaking down the false duality between creating a profit and doing social or environmental good, to show that both objectives can be aligned.
So what if it's not CSV?
There are some social and environmental problems that cannot be solved through new business opportunities, and require other approaches such as public funding, corporate philanthropy, or the efforts of volunteers. But the hope is that CSV will shrink this subset of needs down to a more manageable scope. We still need CSR, public funding, civil service organizations, charitable giving, and corporate philanthropy. CSR and philanthropy should be part of the work of the private sector. But many unrecognized business opportunities to solve social and environmental problems are going unrealized because we are not thinking innovatively or because we have intellectual blinders on. CSV is an approach to change that.
Want to read more? Read Mark Kramer and Michael Porter's paper on Creating Shared Value.
About Shared Value Solutions Ltd.
Shared Value Solutions Ltd. is a human environment consulting firm located in Guelph, Ontario, Canada. We focus on creating shared value through extractive industries projects, large infrastructure development initiatives or environmental remediation projects. Our entry point for creating shared value generally starts with the environmental permitting and approvals phase of project development. We currently focus our efforts on aligning profit-making and social/environmental good for progressive companies and Aboriginal communities, but also work for governments and NGOs. If you would like to know more about what we do, or to get more information about our services, please do not hesitate to contact us.
(c) Shared Value Solutions Ltd., 2013