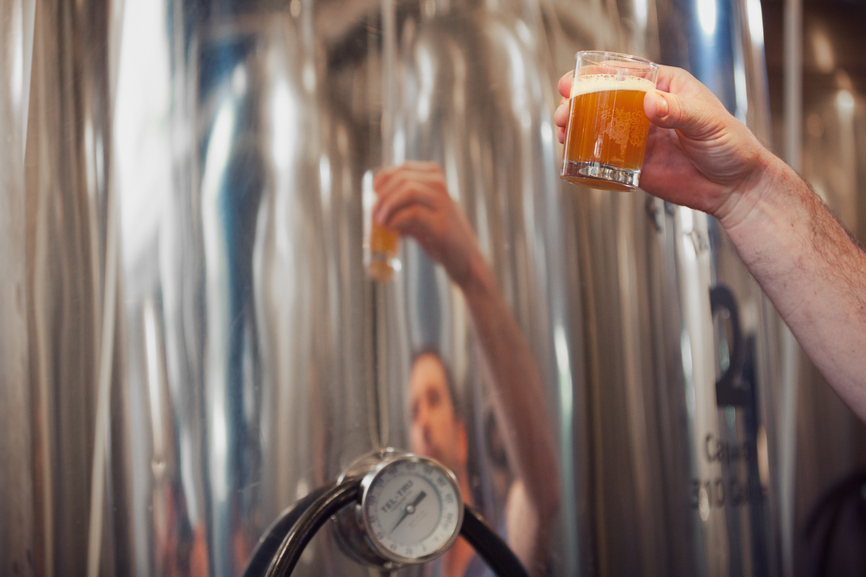 Brewers & Watersheds: Brewing an Ontario Alliance
Protecting the #1 Ingredient in Beer by Putting Watersheds First
Nobody knows better than a brewer the value of good water
By Don Richardson, Managing Partner, Shared Value Solutions Ltd.
This simple discussion paper frames the idea for an Ontario Alliance of Brewers and Watershed Stewards for Putting Watersheds First and protecting the #1 ingredient in beer: water. The idea began brewing in spring 2014 in a local pub over some local beer as we prepared for GroundSwell: Conference on Groundwater Innovation and a keynote talk by Alexandra Cousteau on "Putting Watersheds First".
The Challenges:
Watershed fragmentation: In the last several decades increasing development has led to a fragmentation of major watersheds
Ecosystems undermined: entire ecosystems and the ecological services they provide are being undermined
Threats to ecosystem functions: there are threats to abilities of forests to retain water and value of wetlands in their purification of water before it returns to rivers and oceans
Interconnected threats: development in one watershed can affect whole ecosystems, and businesses, industries, communities and people downstream
Bureaucratic obstacles: watersheds face complex, multi-jurisdictional water-management systems – positive change can be challenging
Knowledge: many know very little about the watersheds in which they live and the value of watersheds in the lives of their families and communities
The Opportunity:
Beer is big in Ontario: With more breweries than any other time in Ontario's history, the multi-million dollar industry brings a compelling business voice to clean water issues
Breweries have big voices that can be heard by hundreds of thousands of people - "Beer is an excellent megaphone" - Ian Hughes, Environmental and Safety Coordinator for Goose Island Beer Company in the U.S.
The Idea – Brewing an Ontario Alliance of Brewers and Watershed Stewards
Think & act in terms of watersheds by protecting the #1 ingredient in beer
Build an Ontario Alliance

that ties together breweries, consumers of beer, and pubs, restaurants & bars of all sizes with the goal of promoting water sustainability in their watersheds

Keep the message simple

: Emphasize the important link between clean water, well-functioning ecosystems and good beer

Build watershed-based networks across watershed ecosystems with conservation organizations, businesses, industries, communities and people:

Work with breweries of all sizes – nano and craft breweries to major breweries – and pubs, restaurants and bars that support environmental awareness
Partner with Waterkeepers, conservation groups, land stewardship groups and environmental organizations
Make connections with local food initiatives and local tourism and restaurant associations, local agricultural associations & farmers – especially those providing other ingredients for beer, like hops
Network with water protection leaders: Build on, and enrich, Ontario's source water protection leadership and innovation and watershed based conservation stewardship
Support watershed enhancement projects

: through support for specific watershed enhancement projects, reverse the fragmentation and degradation of watersheds in Ontario
Local Actions:
Connect people to their brewery-watershed steward alliances through existing local environment events, local outdoor festivals and concerts where beer is served, and events that celebrate the products of local and regional breweries
Create Brewery / Watershed guide maps – illustrate watersheds with locations of breweries, pubs, restaurants & bars that serve beer from the local Brewshed, add local ecosystem attractions, adventures, trails, paddling routes, etc.
Bring conservation-minded beer lovers together through gatherings and events in honour of healthy watersheds, great beer and putting #WatershedsFirst
Build brewer/consumer communities for #WatershedsFirst understanding and actions through social media, workshops and knowledge sharing
Raise funds for conservation organizations and activitiesthat promote water sustainability in local watersheds:

Ontario Happy Hour events
Ontario Alliance Pledge
Ontario Alliance T-Shirts, beer mugs, etc.

The Inspirations:
Alexandra Cousteau, Blue Legacy & Cousteau's #WatershedsFirst ideas to enable individual communities to take action to promote water sustainability
"Engaged communities can make change happen very quickly," says Cousteau. "The most important thing is to understand the system that we are part of and the threats to that system, as well as how can be part of the solution. We live in a world of watersheds and we've forgotten that."
The Models:
Brewshed® Alliance in Washington State– local breweries chose clean water and partnership with conservation community to preserve headwaters and surrounding habitat of rivers and streams that supply the state's drinking water

Ties together local brewing, local water quality and love of the outdoors
Nobody knows better than a brewer the value of good water

Brewers for Clean Water

- U.S. National Resources Defense Council (NRDC) –– an alliance of over 60 U.S. breweries that teams with NRDC to stand up for clean water and enforce the U.S. Clean Water Act:

#LoveONTFood & Farm and Food Care Ontario

is an example of a

related coalition that brings together tens of thousands of livestock, crop and horticulture farmers and related businesses with a mandate to provide credible information on food and farming in Ontario. This is an organization that represents the people who are passionate about food and farming in Ontario – caring for the land, the animals, and growing our food. "It all starts at the farm, and ends up a critical staple – our food".

Friends of the Greenbelt Foundation

is an example of a related organization that help keep farmers successful, strengthens local economies, and protects and grow natural features.in a wide and growing area of Ontario.
The Next Steps:
Identify key brewery partners and watershed protection champions
Connect with a primary non-profit with charitable status and a parallel mandate
Start with one or two Ontario watersheds that have large clusters of breweries – e.g. the Grand River Watershed
A Brewery/Watershed Map – get a simple first project started
Organize a Brewer/Watershed Week for 2015 in at least one watershed
About Shared Value Solutions Ltd.
Shared Value Solutions Ltd. is one of the first 100 B Corporations in Canada, andan affiliate of the Shared Value Initiative, a global community of practice among leading companies, civil society, and government organizations to drive adoption and implementation of shared value strategies. We bring the best environmental peer review, strategic advice, community engagement and traditional knowledge, land use, and socio-economic research expertise to address your challenges and opportunities.