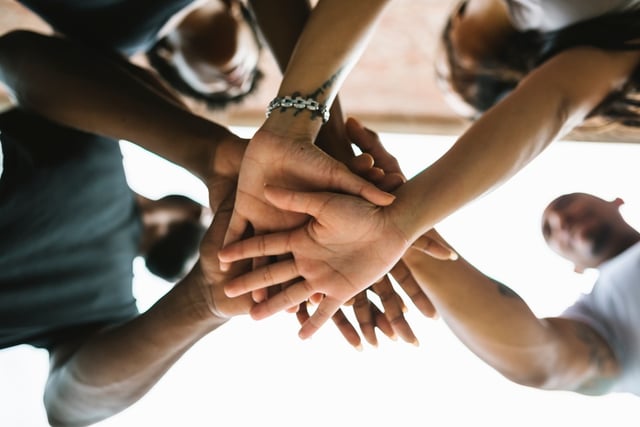 Community Well-being Through Theatre
To register for Shared Value Solutions' Theatre for Living Workshop on Saturday, April 30th, 2016 1-5pm please email zoe.barrettwood@sharedvaluesolutions.com or call 226-706-8888 x122
See Theatre for Living Poster Below!
Within the context of social justice and community building, what comes to mind when you hear the words "struggle, conflict, problem, barrier"? What comes to mind when you think about "success, achievement, opportunity, pathway"?
How can we explore the integrated complexities of community social justice issues in a way that re-connects and empowers us beyond written and spoken words?
On Saturday, April 30th, 2016 from 1-5pm, in Guelph, Ontario, Shared Value Solutions' very own Theatre for Living Certified Instructor Zoë Barrett-Wood will guide us though the systems-based Theatre for Living process to explore these questions together.
The original Theatre for Living approach was developed by David Diamond. It has grown out of Diamond's experience with Brazilian Augusto Boal's Theatre of the Oppressed, his study of Systems Theory, and his extensive theatre background.
While Theatre for the Oppressed focuses on a binary language and model of "oppressor/oppressed", Theatre for Living has adapted and evolved to acknowledge the community as an integrated, living organism, and to welcome all individuals into the process of resolving difficult issues. Without polarizing the community into "good" and "bad", Theatre for Living provides the opportunity for community members to share, learn from one another, and connect on a level that enables meaningful change.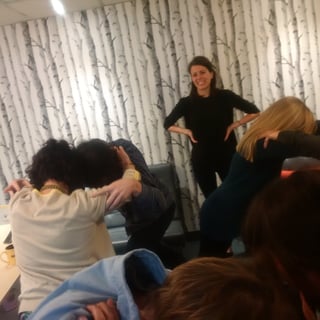 Theatre for Living Certified Instructor Zoë Barrett-Wood
By approaching community conflict resolution, healing and social change through theatre, issues are explored in visceral and physical ways that result in a collective discovery of patterns and principles. At the core of this process is the concept of self-regulation, whereby systems self-correct through feedback (found in nature as well as organizations and communities). This process will be explored through activities that incorporate movement, sound, improvisation, and laughter.
At our April 30th workshop, people from Guelph and beyond will be learning how to apply Theatre for Living techniques to the work that they do – from community building to counselling, and environmental advocacy to art creation. This workshop is for anyone interested in social change and creative processes – strategic planners, change makers, thinkers, dreamers, doers… You! No theatre experience required.
For more information about the original Theatre for Living, David Diamond's work and his widely acclaimed book, Theatre for Living – The Art and Science of Community Based Dialogue, click here.
To register for Shared Value Solutions' Theatre for Living Workshop on Saturday, April 30th, 1-5pm please email zoe.barrettwood@sharedvaluesolutions.com or call 226 706-8888 x122
Some previous and popular Shared Value Solutions creative facilitation workshops, conferences and events include: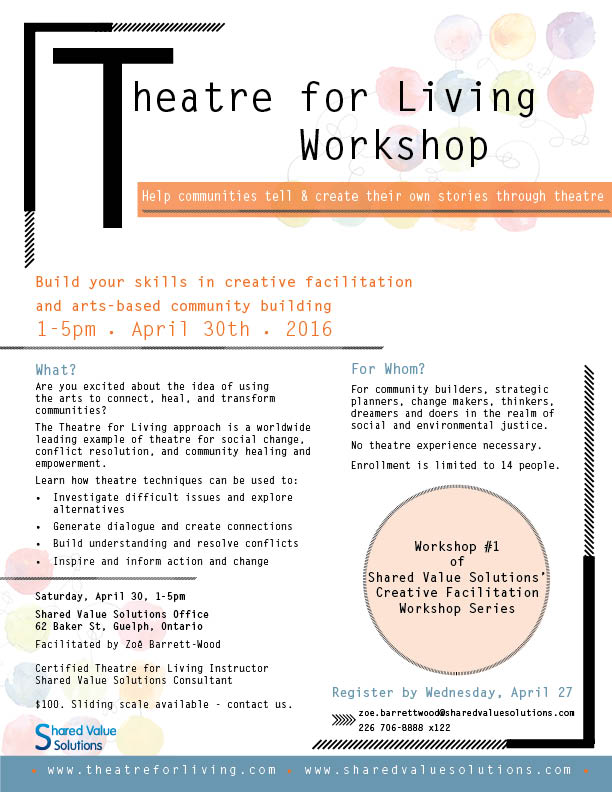 About Shared Value Solutions
SVS is a consulting firm whose core business is in regulatory and Environmental Assessment support and strategy; land use and occupancy and archaeology studies; Traditional Ecological Knowledge Studies & Traditional Knowledge Studies; Aboriginal-private sector business partnerships; and community consultation and engagement. SVS is certified to offer BEAHR training in Environmental Site Assessment, Environmental Monitoring, and Land Use Planning. We assist Indigenous and non-Indigenous nations and private sector companies across Canada in coming together to create shared value for all parties involved. Our mission is to "have fun, make money, do good, and do good work". For more information: