By Don Richardson, Managing Partner, Shared Value Solutions and Larry Sault, "Stewardship Warrior" and CEO of Anwaatin
This article is part of a series of articles on natural gas in relation to rural, remote and Indigenous community interests. We started the series in January, 2015 with "We Want You to "Get Gas"

Virtual Natural Gas Pipelines Off and Running as a Clean Energy Driver
"Virtual Pipelines" for rural, remote and Indigenous community natural gas distribution are no longer just fantasy concepts. In Australia, New England, Alaska, they are off and running for real. Virtual Pipelines are also gaining a foothold in Ontario, and, with some coordination, innovation and regulatory flexibility, rural and remote parts of the Northern Canada. It's only a matter of time before unserved First Nation and Inuit communities might see clean energy natural gas for home, business, and industry heating and power generation. In this post, we provide some perspective and showcase leading Virtual Pipeline projects in Australia, New England, Alaska and Québec. Scroll down to see those project examples.
"Virtual Pipelines" are an innovative method for natural gas delivery. A Virtual Pipeline is simply compressed natural gas (CNG) or liquid natural gas (LNG) sent by truck, rail or ship to the outskirts of towns where storage facilities connect to conventional gas distribution networks for homes, businesses and industrial facilities, or to fuel power generators. Typically delivery vehicles and unloading systems are owned and operated by a Local Distribution Company (LDC) operator. The gas purchasing, transport logistics, capital costs, and equipment maintenance are all handled by the LDC. The end-user needs to convert their heating or power generation equipment to run on natural gas.
While natural gas is available to nearly every urban household in southern Canada, it is not available to most of northern Canada - especially rural, remote and Indigenous communities. In Ontario, less than 20% of rural and Northern homes and businesses have access to low cost natural gas, and have to use more carbon-intensive fuels like heating oil and propane, or very expensive electric heat. In the case of very remote communities, people often rely on very inefficient diesel fueled electricity for electric heating. Where natural gas is available, it typically costs about one-third less than propane, and emits less carbon.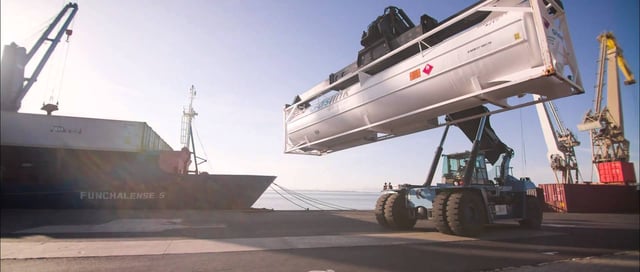 The process of delivering natural gas to regions not connected to a national grid is called a Virtual Pipeline and this photo shows Liquid Natural Gas (LNG) being transported from the shipping terminal in Sines Portugal to the island of Madeira off the coast of Africa, using a fleet of International Standards Organization (ISO) approved containers to fuel the island's only power station. You can watch a video of this process HERE.
Enabling Renewables
In most rural and remote areas, the electrical transmission grid works overtime in the winter, transmitting electricity to electric home, business and industry heating. The transmission grid gets "maxxed out", and this makes it difficult for renewable energy solutions to get connected to the grid. When electric heating can be replaced with natural gas, the massive heating loads are removed from the grid, and the transmission grid can be freed up to gain the capacity to transmit solar or wind energy. When natural gas replaces electricity for the major winter energy heat load, more renewables can come on stream. Access to natural gas is especially important for enabling Indigenous climate change action.
According to Worldwatch, the "distinction between gas and the other fossil fuels is often blurred, as is its potential to accelerate the transition to low-carbon energy. Together with renewable energy and energy efficiency, natural gas could transform the energy economy over the next few decades, drastically reducing climate pollution... Natural gas lends itself to a range of high-efficiency applications, and it can provide the flexible backup power that will allow high levels of reliance on wind and solar power... Moreover, in the future, fossil natural gas could be supplemented by renewable methane gas that is extracted from landfills, feedlots, and other biological sources."
Producing biogas or biomethane from Anaerobic Digestion (AD) is not new, but supplementing or replacing natural gas with biomethane (a.k.a. "Green Gas") as a renewable energy source is a realitvely new approach. AD is catching on
to reduce our reliance on fossil fuel natural gas,

to turn organic wastes into valuable heating and transportation fuel,

to better manage farm manure waste and

prevent contaminants in surface water systems and the spread of blue-green algae,

and to reduce greenhouse gas emissions via "renewable natural gas".
The biogas that comes out of the AD process can be combusted to provide heat, electricity or both. The biogas can also be 'upgraded' to pure methane, often called "biomethane", by removing other gases. Biomethane can then be injected it into the existing natural gas pipeline grid or LNG process, used directly as a vehicle fuel, or blended with pipeline natural gas for vehicle refueling. U.S. studies suggest that 5% to 20% of today's natural gas demand could be met with biomethane. (Click here to learn about some Ontario biomethane examples)
With climate change action progressing in parallel with efforts to deal with excess food waste and landfill wastes, Canadian jurisdictions may be able to catch up with European jurisdictions - including many northern jurisdictions - where AD and biomethane as a renewable fuel source are the norm.
Access to Low-Carbon, Low-Cost Heat - Not Just for People in the South
People in big urban Canadian cities take their access to low-cost, low-carbon natural gas for granted, and - troubling in the case of energy policy-makers - do not always understand how important and ubiquitous natural gas is for heating homes, businesses and industrial facilities where they live and work. Natural gas is a rare and valuable commodity in rural, remote and Indigenous communities. Households in the north can pay four times as much for heat energy as those in the south with access to natural gas. For Indigenous communities, where household incomes may be especially low, heat energy costs where there is no natural gas can be as much as one-half of household expenditures.
And for the record: It may be nice for southern Canadian environmentalists sitting in natural gas heated homes and offices to pretend that rural, remote and Indigenous communities can quickly shift to a Shangri-La world of pure solar and wind renewables, but without natural gas fueling their southern cities, these renewable purists would be awfully cold and be looking for all sorts of high carbon fuels to burn to stay warm!
Comparison of carbon dioxide emissions across heating fuels. Source: Volker Quaschning
Energy has always been a major topic in the North. And, more and more, climate change is a hot topic. This has families and business calling for governments to find ways to produce electricity and heat buildings and industries cheaper, AND shift away from high carbon energy sources to low carbon, clean energy options. According to the National Energy Board (NEB), energy use in the Canadian North is very different from the rest of the country. In the north, almost three-quarters of fuel consumption is a by-product of high-carbon oil (see NEB figure below). Most of the fuel consumption in the north is fuel oil or propane for heating (often with wood fuel as a supplement), and diesel fuel for transportation and electricity generation.
Natural gas, THE major heating fuel in Canada, and accounts for about 33% of Canada's overall energy use, but accounts for only 12% of energy use in the North (there is a small amount of local natural gas used in Inuvik and Norma Wells).
End-use Energy Consumption Fuel Share - All of Canada vs. the North. Source: National Energy Board
Reducing Greenhouse Gas Emissions and Pollution
According to the Worldwatch Institute, natural gas is the least carbon-intensive fossil fuel. Worldwatch has launched the Natural Gas and Sustainable Energy Initiative, an initiative designed to explore and communicate the potential of natural gas, renewable energy, and energy efficiency to work together to build a low-carbon economy. For decades, natural gas has been a neglected element in energy policy discussions, but that is changing. The Ontario Energy Board, for example, has launched a special regulatory hearing into ways to get natural gas services to rural, remote and Indigenous communities.
The Environmental Defense Fund says that "natural gas can provide a much needed exit ramp off our carbon highway, reducing emissions and helping to speed us toward increased use of truly clean, renewable sources of electricity," provided that natural gas is produced safely and methane leaks and emissions are curbed.
In comparison to fuel oil, natural gas significantly reduces the atmospheric pollutants associated with energy consumption:
32% ↓ of GHGs
99% ↓ of SO2 emissions
70% ↓ of NOx emissions
70% ↓ of fine particulates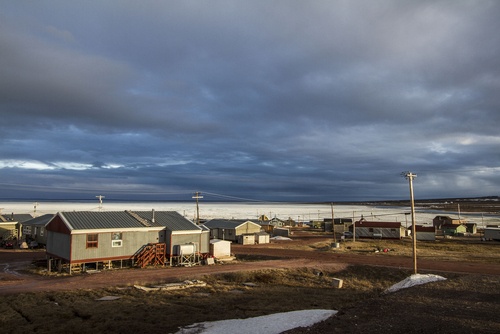 Baker Lake, or Qamani'tuaq - Located at the widening at the mouth of the Thelon River, the community is close to the geographic centre of Canada. For energy it is served by a stand-alone diesel generator operated by the Qulliq Energy Corporation using imported diesel. Qulliq Energy Corporation has had proposals through Manitoba to bring LNG by rail to the Port of Churchill and ship it to various Kivalliq communities.
Price Matters
The overall net cost to receive natural gas via a Virtual Pipeline can be more than double that of a traditional natural gas pipeline distribution solution due to the added production, transportation and storage costs. But for families in northern Canada paying $1,000 to $1,500 per month for other heating energy options, paying double the $100 per month cost of heating a similar home in southern Ontario is a bargain. For many low income families in the north, home heating costs can eat up as much as half of monthly household expenditures. It's time for southern energy policy-makers to pay a lot more attention to low-carbon natural gas.
Clean Technologies - Virtual Pipeline Examples
Australia
Brookfield Regional Networks (BRN) and Tas Gas, as part of the Brookfield group, have an agreement with the Victorian Government on the island of Tasmania, Australia to deliver natural gas to 11 regional towns and approximately 12,500 homes and businesses. Where distance and demand do not make investing in a traditional gas pipeline sensible, Brookfield's Virtual Pipeline offers an attractive alternative for gas distribution to end users, large commercial & industrial energy consumers.
The Brookfield Virtual Pipeline solution consists of four connected systems, a Compression Station where gas is compressed and transport modules are filled, a Transportation system, and Receiving Stations where the transported gas is delivered in volumes based on town consumption demand. In turn, gas is then distributed within each town via a conventional local gas distribution network.
New England
In New England several companies, including NG Advantage (see graphic below) compress and transport natural gas, creating virtual pipelines to deliver the cheap natural gas to customers outside typical natural gas utility service areas. Low natural gas prices provide an incentive along with new tractor-trailer technology designed to safely carry large volumes of compressed or liquid natural gas directly to large customers, or to storage facilities connected to local pipelines. NG Advantage's compressor station is fed by a Vermont Gas Systems pipeline that transports natural gas from Canada - much of which actually originates from Marcellus shale nearby, but which can't make the journey to Vermont via U.S. pipelines.
Alaska
In Faribanks, Alaska, a Virtual Pipeline provides natural gas to over 1,000 residential and business customers. Titan Alaska LNG, transports liquefied natural gas (LNG) by way of truck and trailer after condensing and storing it at its plant in Big Lake Alaska - the transport trucks themselves are fueled with natural gas. The LNG is stored outside Fairbanks and heated and converted back to natural gas and sent into an underground distribution system to homes and businesses throughout the community. Titan completes about six deliveries a day from Big Lake to Fairbanks – each trip is over 1000 kilometres. Each delivery contains about 9,500 gallons of LNG or 800,000 cubic feet of gas – enough to heat 30 average Fairbanks homes in the coldest winter months. Annually, Titan delivers about 10,000,000 gallons of LNG to local customers.
The Fairbanks project has been so successful that the the Alaska Industrial Development and Export Authority is moving forward with a system expansion called the Interior Energy Project (IEP) that has a goal of goal of "getting natural gas to as many Interior Alaska customers as possible, at the lowest cost possible, as soon as possible" The IEP will also significantly improve the region's winter air quality — some of the worst in the U.S. due to low-level atmospheric inversion that occurs and traps wood smoke and emissions from fuel oil furnaces.
The IEP includes build-out of a large Virtual Pipeline natural gas distribution system. Once the LNG is transported to Interior Alaska, it will be stored and then warmed back to a gaseous state prior to being distributed to customers by a network of local community pipes. The storage tanks will also help to meet peak demand during winter months. IEP proponents say the payback for investments made to convert homes and businesses to natural gas will take just a few years.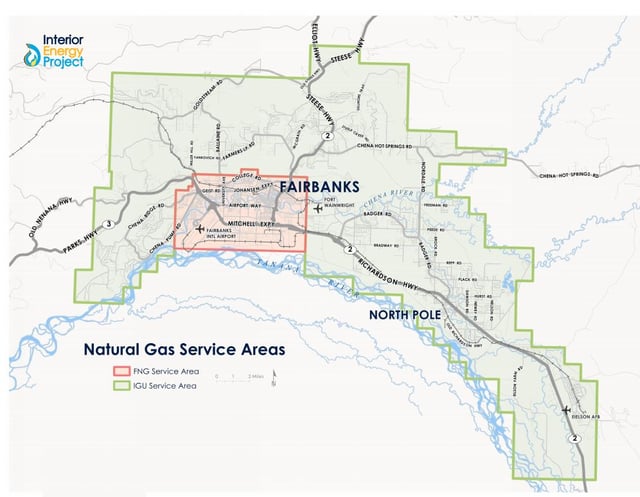 In Juneau and other Panhandle communities, Juneau's electric utility is looking to ship liquefied natural gas to communities, where it would be restored to a gas and piped to homes and businesses through a new distribution system. The Juneau proposal includes buying natural gas in Canada, having it converted to LNG, then trucking it to Puget Sound in large, trailer-size vacuum flasks. There it would be barged to Juneau, where it would be regasified and piped to Juneau neighborhoods. "There's a savings over home heating oil of about 35 percent, and over propane of 42 percent," according to Juneau utility spokesperson Jessie Wuerst.
Surrounding Juneau are remote villages that use diesel generators to produce electricity distributed by the Inside Passage Electric Cooperative. That utility is considering also switching to natural gas as a power supply. The remote villages receive state subsidies from the Alaska Power Cost Equalization program because of their reliance on costly diesel fuel. With natural gas replacing diesel, the state of Alaska would save on subsidy costs.
Are Virtual Pipelines Coming to Canada?
The price of natural gas has plunged in recent years. Natural gas prices are low and are predicted to remain low for many years. Heating with natural gas is much cheaper than heating with electricity, oil or propane. A recent Ontario Energy Board report predicts that by 2020, 80% of the natural gas consumed in Ontario will come from shale gas sources just south of the border in Pennsylvania and Ohio.
As more and more low cost natural gas comes into jurisdictions like Ontario, many rural and remote areas are unlikely to see many benefits unless Virtual Pipelines come on stream. Getting traditional pipelines to rural and remote areas with relatively few customers can be prohibitively expensive. That puts key major industries, employers and institutions, including medical facilities, schools, government offices, paper mills, mining operations, agribusinesses, manufacturers and other significant customers out of luck in terms of access to low cost fuel for heat and power.
Ontario - Transportation as a Virtual Pipeline Driver
More and more, LNG will play an important role in meeting Canada's transportation fuel needs and in helping the reduce greenhouse gas emissions. In the U.S. and Canada, small and medium sized LNG facilities are beginning to appear along major trucking corridors like the 401. When compared to other transportation fuels, LNG can lower energy costs by 30-40 per cent and reduce GHG emissions by up to 28 per cent. Heavy diesel vehicles in Ontario are the fastest-growing sources of GHG emissions. The benefits of LNG have prompted marketplace plans to build refueling stations in the United States and Canada along main trucking corridors. With LNG facilities advancing for the transportation industry, more LNG options for Virtual PIpelines and community natural gas services become available.
Two small-scale LNG facilities are advancing in Ontario, with more likely to follow:
1) Northeast Midstream plans operating a LNG facility in 2016 based in Thorold Ontario in the Niagara Region, and another facility in Northwestern Ontario.
In 2015, the communities of Schreiber, Terrace Bay, Marathon, Manitouwadge and Wawa signed franchise agreements with Northeast Midstream. The proposed Virtual Pipeline project, with regulatory approval, would potentially extend gas to service to approximately 11 000 northern residents and businesses by using LNG. The President Northeast Midstream, Joshua Samuel, said: "The high cost of traditional infrastructure means that Northern Ontario communities rely on provincial funding support to promote and develop innovative solutions. Natural gas via LNG will provide Northern Ontario residents and businesses with a more cost-effective, reliable and cleaner source of energy."
2) Union Gas is expanding its Hagar LNG facility east of Sudbury. On April 9, 2015, the Ontario Energy Board released its decision to allow the new service at Hagar and was satisfied a competitive market for liquefied natural gas as a transportation fuel exists. The availability of LNG is will open up new opportunities in northern Ontario and support the use of low-carbon fuels for trucking, industry and shipping.
Eastern Canadian LNG for the Far North?
Much of the marine transportation for goods travelling to the Far North begins in Quebec or the Maritimes. Specialized ships and takes goods to dozens of remote communities across the Far North. It may not be long before some of those ships are transporting LNG.
While a lot of attention has been on LNG projects in B.C.,
projects in Nova Scotia are moving forward to construction
. Both the Goldboro LNG plant and the Bear Head LNG plant on Cape Breton Island have received regulatory approvals to move forward, and the Canaport LNG facility is already in operation in Saint John. But
Québec may be leading a new quiet revolution with LNG and Virtual Pipelines.
Québec - A New Quiet Revolution in LNG and Virtual Pipelines
Meanwhile, in Québec, LNG is moving very forward quickly with LNG and Virtual Pipelines. And with this revolution comes convenient shipping opportunities for Northern Canadian communities. SLNGaz in Bécancour hopes to showcase

Québec

as a global model for Virtual Pipelines on a regional scale and help meet the Québec government's greenhouse gas emission reduction objectives.
SLNGaz is planning to invest about $800 million in a significant Virtual Pipeline LNG project to provide to industries in Quebec not served by the existing natural gas pipeline distribution network. SLNGaz is also looking at exporting LNG outside of Quebec, to supply industrial customers in Atlantic and Northern Canada, as well as to customers in Europe and the United States.
GNL Québec plans to build a LNG terminal
near the Grande-Anse maritime facilities managed by the Saguenay Port Authority in Quebec. GNL's $7 billion "Énergie Saguenay" project includes an
agreement with the Councils of three Innu First Nations
– Mashteuiatsh (Pekuakamiulnuatsh), Essipit and Pessamit. According to its regulatory filing, Énergie Saguenay includes construction of a 42-inch, 650 kilometre-long pipeline connecting the plant to TransCanada's "eastern triangle" natural gas pipeline system. The company recently received NEB approval
up to 12.65 million tons of LNG per year for a period of 25 years
from supply sources in North America, making the project one of the larger LNG projects in the world.
What's Next?
Will we see virtual pipelines for Canadian rural and remote communities? Stay tuned!!! In Ontario, the province has announced a new program that combines a $200 million Natural Gas Access Loan with a $30 million Natural Gas Economic Development Grant. Both initiatives are targeted to areas of the province that are not currently served with natural gas, especially rural and remote areas and agri-business. Ontario says the program is designed to attract new industry, make commercial transportation and agriculture more affordable, help to create jobs, provide more energy choices and lower electricity prices for businesses and consumers across Ontario.
The Ontario program initiatives are thus far relatively silent on engagement of Indigenous communities in Ontario. Anwaatin is advocating meaningful consultation with Indigenous communities that may be able to harness benefits and switch from high-carbon fuels or expensive electric heat to natural gas heat - saving families thousands of dollars in annual home heating costs. As part of its efforts, Anwaatin is participating in an Ontario Energy Board hearing on Rural, Remote and First Nation natural gas community expansion projects.
Encouraging Indigenous ownership and a meaningful say in the planning of rural/remote natural gas projects contemplated by the new $230 Million Rural Ontario Natural Gas Economic Development Program makes sense. As Indigenous law expert Oliver McLaren reports, the existing Ontario Aboriginal Loan Guarantee Program has "leveraged $130 million in approved loan guarantees supporting the investments of eight First Nation communities, representing over 10,000 Aboriginal people, in four projects that have invested over $2.8 billion in the province." The proof is in the pudding: the 2014 Ontario Budget announced the expansion of the ALGP envelope to a total of $650 million.
To keep tabs on "Natural Gas Innovation for Ontario" join the LinkedIn Group of the same name.
Anwaatin is an Indigenous business working with Indigenous communities in linked Cap and Trade markets that include Ontario, Quebec, Manitoba and California. Anwaatin was founded by Larry Sault, former Grand Chief of the Iroquois and Allied Indians, and former Vice President, Canadian Executive Services Organization (CESO) Aboriginal Services with oversight of seven regional offices, budgets, staff and a mandate of assisting First Nations across Canada in developmental stages of growth within their communities. Larry provided a Keynote Address to the Opening of the Climate Summit of the Americas, July 2015. Anwaatin means "calm weather" or "calm climate". Anwaatin focuses on:
Territorial climate action,
Readiness for emerging Cap and Trade markets,
Strengthening biodiversity and resilience in the face of climate change,
Partnerships to create Indigenous carbon offsets to sell competitively on Cap and Trade markets,
Low-carbon Indigenous energy generation and energy efficiency projects, including Aboriginal Community Energy Plans
Anwaatin is based on this premise:
"Two pathways – fighting climate change and revitalizing treaty relationships – are now coming together. And that's a good thing for everybody. When you're battling climate change, you need warriors. We are those warriors. Our weapons are not guns. We're armed with wisdom and love for the natural world. We are Stewardship Warriors."
~ Larry Sault, President and CEO, Anwaatin – Keynote Address to the Opening of the Climate Summit of the Americas, July 2015
Businesses and organizations are made up of people. So are communities. Imagine a world where people in industry and government, and people from towns of all sizes, get together to make amazing things happen – things they couldn't have dreamed up alone. A world where people from corporations get together with people in government or NGOs to explore innovative ways to do business while enhancing the natural and social environment. Join us in Creating Shared Value!
At Shared Value Solutions, we speak your language. And we know that the impossible is possible – with the right people in the circle.
We are an Ontario B Corp and we bring the best engineering, design, environment, architecture and other technical discipline expertise to address your challenges and opportunities:
Strategic Environmental Assessment guidance, coordination and support

Collaborative land and resource use planning and management- process design and delivery

Traditional Ecological Knowledge Studies & Traditional Knowledge Studies

Traditional Land Use Studies (TLUS)/ Traditional Land Use and Occupancy Mapping

Design and delivery of programs promoting/supporting positive behaviour change- environmental stewardship, community-based social marketing, health/environmental health promotion, Aboriginal community energy plan initiatives

Contributing human environment considerations to technical assessments and management plans in sectors such as water resources, remediation, land use, mining, oil & gas, linear corridor development, forestry, renewable energy, nuclear waste, contaminated sites, brownfield redevelopment, watershed planning, drought planning, water use planning, waste management and waste diversion

Aboriginal and Industry Partnerships working with First Nation, Inuit and Métis communities

Value Engineering & Value Analysis: we facilitate project teams to optimize a project by understanding functions, objectives, costs and social, cultural and environmental considerations.
Shared Value Solutions ® is a trademark registered by Shared Value Solutions Ltd.
Text Copyright Shared Value Solutions, 2016