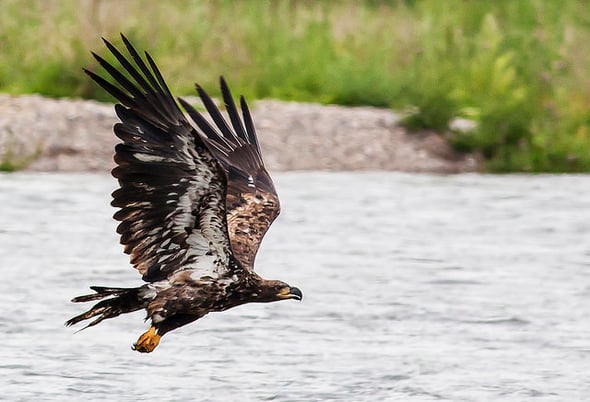 We've always got our eyes open for shifts in policy and legislation, and the initiatives and funding opportunities that result from them. "Eagle Eye" posts will keep you in the loop on changes we're seeing unfold across Canada and what they mean for Indigenous communities.
We've got our sights set on a number of funding deadlines in the coming months that will be of interest. If you have any questions about any of the programs below or need support with an application process please feel free to contact us, we're happy to help.
Energy Partnerships Program - Ontario
Independent Electricity System Operator
Deadline: July 22, 2016
Eligible Applicants: Indigenous communities
This funding initiative promotes participation in Ontario's energy sector by providing funding support to Indigenous communities to develop energy projects. The program is divided into three streams:
Partnership stream - Legal technical and financial due diligence to assess and develop partnerships
Maximum Amount Available: $50,000 for up to 80% of total project costs
Project Development Stream - Soft costs associated with developing projects, such as environmental assessments and site specific studies
Maximum Amount Available: $250,000
Remote Projects Development Stream – Developing renewable energy solutions to offset diesel use
Maximum Amount Available: $500,000
Community Grants Program - Seed Grants - Ontario
Ontario Trillium Foundation
Deadline: August 17, 2016
Eligible Applicants: Community organizations and partnerships
This program is focused on supporting the research and implementation of new social initiatives that contribute to the well-being of people and communities.
Maximum Amount Available: $75,000
Aboriginal Economic Development Fund Regional Partnership Grant - Ontario
Ministry of Northern Development and Mines
Deadline: August 26, 2016
Eligible Applicants: Indigenous communities and partnerships
These grants support economic development through investments in regional and province wide projects that that improve skills training opportunities and provide financing for promising opportunities. Regional Partnership Grants can also help smaller projects with potential to expand to multiple communities or go province wide.
Maximum Amount Available: $250,000
Lands & Economic Development Services Program - Canada
Aboriginal Affairs and Northern Development Canada
Deadline: On-going, expires when all program resources have been awarded
Eligible Applicants: Indigenous communities and Partnerships
The program supports First Nations who want to take on a broad scope of land and environmental responsibilities on behalf of the Minister, pursuant to sections 53 and 60 of the Indian Act, including land use planning, environmental management, and compliance in order to better take advantage of economic development opportunities. Readiness Assessments can be submitted indicating a community's intent to increase their responsibility for land management to increase annual funding allocations.
Maximum Amount Available: Not Specfied

Businesses and organizations are made up of people. So are communities. Imagine a world where people in industry and government, and people from towns of all sizes, get together to make amazing things happen – things they couldn't have dreamed up alone. A world where people from corporations get together with people in government or NGOs to explore innovative ways to do business while enhancing the natural and social environment.
At Shared Value Solutions, we speak your language. And we know that the impossible is possible – with the right people in the circle.
We are an Ontario B Corp and we bring the best engineering, design, environment, architecture and other technical discipline expertise to address your challenges and opportunities:
Oral History, Traditional Knowledge, Land Use and Occupancy Studies

Strategic Regulatory and Environmental Assessment Process Support

Multimedia Storytelling

Community Consultation and Engagement

Indigenous Private Sector Business Partnerships
Shared Value Solutions ® is a trademark registered by Shared Value Solutions Ltd.