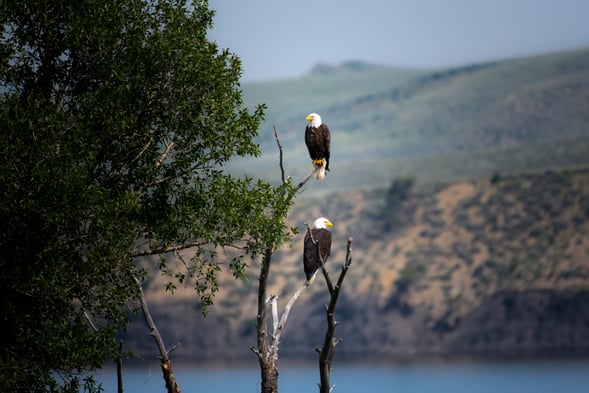 We've always got our eyes open for shifts in policy and legislation, and the initiatives and funding opportunities that result from them. "Eagle Eye" posts will keep you in the loop on changes we're seeing unfold across Canada and what they mean for Indigenous communities.
Our sights are set on a number of funding deadlines in the coming months that could be of interest to our client community. If you have any questions about any of the programs below or need support with an application please feel free to contact us, we're happy to help.
Habitat Enhancement and Restoration Grant (British Columbia)
Habitat Conservation Trust Foundation
Deadline: November 4, 2016
HCTF enhancement grants are available to anyone who has who has an understanding of what benefits fish, wildlife and habitat in British Columbia. Grants are provided to projects that:
focus on freshwater wild fish, native wildlife species and their habitats
have the potential to achieve a significant conservation outcome
best represent the interests of the Trust Foundations' contributors
maintain or enhance opportunities for fishing, hunting, trapping, wildlife viewing and associated outdoor recreational activities
Maximum Amount Available: $10,000 - $100,000 annually
Ontario Trillium Foundation
Deadline: November 16, 2016
Eligible Projects: Community organizations and partnerships
This program supports projects that increase the reach and effectiveness of community improvement initiatives. Projects funded in this stream deliver positive change which is achieved by replicating, adapting or scaling existing programs with proven results.
Maximum Amount Available: $50,000 - $200,000
Ministry of Northern Development and Mines
Deadline: November 25, 2016
Eligible Applicants: Indigenous communities and partnerships
These grants support economic development through investments in regional and province wide projects that that improve skills training opportunities and provide financing for promising opportunities. Regional Partnership Grants can also help smaller projects with potential to expand to multiple communities or go province wide.
Maximum Amount Available: $250,000
Recreational Fisheries Habitat Funding (Canada)
Fisheries and Oceans Canada
Deadline: December 9, 2016
Eligible Applicants: Indigenous communities, conservation organizations and recreational fishing groups
This program's objective is to restore rebuild and rehabilitate recreational fisheries habitat. Commonly funded projects include:
stream, lake and floodplain habitat restoration
fish access improvements
stream channel and bank erosion control and stabilization
chemical manipulations to improve water quality
Maximum Amount Available: $250,000
The Aboriginal Fund for Species at Risk (Canada)
Environment and Climate Change Canada
Deadline: December 9, 2016 (expression of interest for new applicants due November 18)
Eligible Projects: Community organizations and partnerships
AFSAR provides funding to support projects aimed at developing Indigenous capacity for participation in the recovery of species at risk, protection of their habitat, and preventing species from becoming a conservation concern.
Maximum Amount Available: $40,000 - $100,000
Lands & Economic Development Services Program (Canada)
Aboriginal Affairs and Northern Development Canada
Deadline: On-going, expires when all program resources have been awarded
Eligible Applicants: Indigenous communities and Partnerships
The program supports First Nations who want to take on a broad scope of land and environmental responsibilities on behalf of the Minister, pursuant to sections 53 and 60 of the Indian Act, including land use planning, environmental management, and compliance in order to better take advantage of economic development opportunities. Readiness Assessments can be submitted indicating a community's intent to increase their responsibility for land management to increase annual funding allocations.
Maximum Amount Available: Not Specfied

Businesses and organizations are made up of people. So are communities. Imagine a world where people in industry and government, and people from towns of all sizes, get together to make amazing things happen – things they couldn't have dreamed up alone. A world where people from corporations get together with people in government or NGOs to explore innovative ways to do business while enhancing the natural and social environment.
At Shared Value Solutions, we speak your language. And we know that the impossible is possible – with the right people in the circle.
We are an Ontario B Corp and we bring the best engineering, design, environment, architecture and other technical discipline expertise to address your challenges and opportunities:
Oral History, Traditional Knowledge, Land Use and Occupancy Studies

Strategic Regulatory and Environmental Assessment Process Support

Multimedia Storytelling

Community Consultation and Engagement

Indigenous Private Sector Business Partnerships
Shared Value Solutions ® is a trademark registered by Shared Value Solutions Ltd.