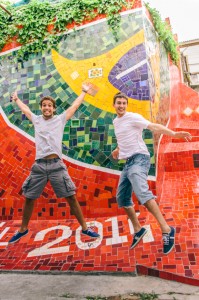 You might think at first that the guys pictured right can't wait for the 2014 FIFA World Cup starting this June. A common mistake.
In fact, they are actually really excited that they just registered for "GroundSwell: Conference on Groundwater Innovation" and they can't wait to learn, collaborate, and identify new opportunities for groundwater innovation in Guelph this June! http://groundswellconference.com
Here are four great reasons why you need to attend:
1. You'll get to know lots of other people who care about groundwater protection
Have real conversations and discover practical solutions with people from cross-cultural and cross-sector perspectives. Learn about groundwater from scientific perspectives, Traditional Ways of Knowing, decision-makers, water monitors, researchers, consultants, technicians and more.
2. You'll learn what they know and share what you know
The desire to collaborate is innately human. When people come together over difficult issues, amazing solutions can bubble up. At GroundSwell, we will create opportunities for facilitated, targeted dialogue, which will help feed into positive and meaningful post-conference actions.
3. You'll find out about the latest technical innovations and different ways of thinking about groundwater issues
Hosted in a region internationally known for ingenuity in water research and preservation, GroundSwell will bring together innovations from technological, ecological, social, and governmental perspectives. Sponsorship for the event comes from innovators such as MANTECH and UNU-IWEH.
4. You'll come away knowing what you can do to make a difference
Through a better understanding of our watersheds, we can start to identify what the local issues are and what we can do about it. Our goal is for every single participant to have something they can do next.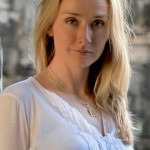 Alexandra Cousteau, National Geographic Emerging Explorer and granddaughter of Jacques Cousteau, is our keynote speaker at an evening event open to the public on June 16, 2014. A passionate water advocate, Cousteau empowers and inspires people to explore their connection with their watersheds – preserving natural water systems, while taking into account the numerous demands, threats, and developments within a watershed.

So sign up today – and tell all your friends and colleagues (they're probably already registered!)

GroundSwell: Conference on Groundwater Innovation June 16-18, 2014 Rozanski Hall, University of Guelph, Guelph, Ontario, Canada
Space is Limited – Register early and save up to 8%