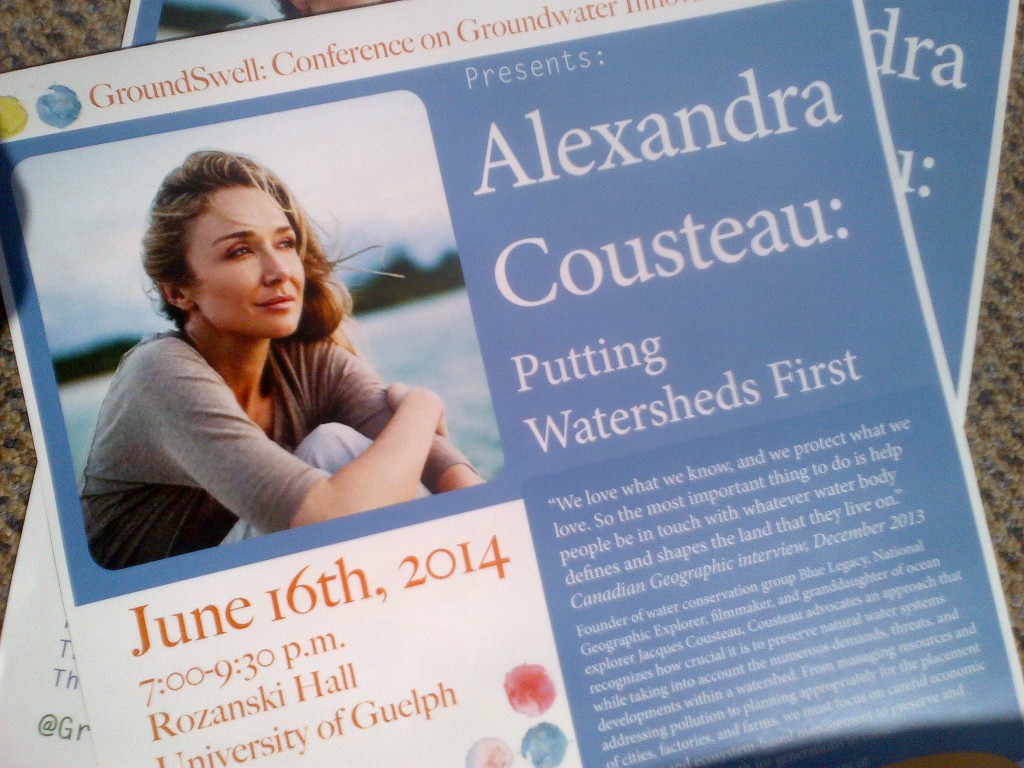 If you read this all the way to the end, you'll find a link to a cute video of a Painted Turtle laying eggs near a wetland in the Guelph area! A great reason for Putting Watersheds First!
MEDIA RELEASE:
GUELPH, ON- On the evening of June 16, 2014 Alexandra Cousteau will be at the University of Guelph to deliver a keynote address titled Putting Watersheds First. Cousteau is RBC's Blue Water Ambassador, a Natural Geographic Explorer, filmmaker, and founder of the global water advocacy foundation Blue Legacy. The event is open to the public.
Cousteau, granddaughter of ocean explorer Jacques-Yves Cousteau, will speak about the importance of putting our watershed first through preserving water resources in the face of increased demand and threats that can impact the vitality of water resources.
As a groundwater community, this presentation will prove to be valuable to the residents of Guelph as we continue to work towards managing and caring for our water for future generations.
Cousteau will be joined by Mike Nagy, the chair of Wellington Water Watchers and Mark Mattson, the founder and president of Lake Ontario Waterkeeper for the event where local, regional and global water stories and perspectives will be shared.
The evening is part of the GroundSwell, Conference on Groundwater Innovation- a convening of researchers, First Nations community leaders, technical innovators, policymakers, community members and students to engage in dialogue, share stories, and design solutions to pressing water resource challenges prominently in the field of groundwater. The conference will be an opportunity for participants to roll up their sleeves and contribute to dialogue and action for innovation in the world of water. Community members are invited to come out to the evening keynote talk by Cousteau, or take part in the entire conference.
Cousteau's keynote talk is being made possibly by generous sponsorship from the RBC Blue Water Project and Shared Value Solutions Ltd., with support from Lake Ontario Waterkeeper, Wellington Water Watchers, Borealis Grill and Bar, and The Woolwich Arrow.
Tickets, $20 for adults and $10 for youth under 18, are now available for the evening at the Bookshelf and Thomas Video as well as at www.groundswellconference.com . Registration for the full GroundSwell conference is also still available at www.groundswellconference.com .
For Media Enquiries Contact
Leah Culver
Human Environment Consultant & GroundSwell Conference Chair
leah.culver@sharedvaluesolutions.com
Office & Mobile: 226-706-8888 x 112
Alexandra Cousteau Promotional Video: https://www.youtube.com/watch?v=6LoIOOVLtiE
And here's the link to the video of A turtle laying eggs near a wetland near Guelph, Ontario!