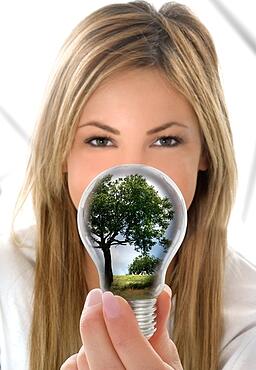 Circular Economy Brilliance: Landfill Gas Fuels Ontario Recycling Plant
Climate change is perhaps the single greatest threat to humanity of our generation. With Canada's emissions set to continue rise, we are nowhere near the targets we've set as a nation. Not content to wait for federal action, Ontario is embarking on a "subnational" effort to change that. Ontario climate action innovation is helping change Canada's image as a climate action laggard to that of a global climate action leader.
We're going to provide input to Ontario's climate change discussion paper, and help support a high-productivity, low-carbon economy. To develop our input, we're going to learn from some of the "early adopters" pushing Ontario climate action innovation - people and organizations building Ontario climate policy from the ground up. The great thing about the people of Ontario is they don't wait for federal climate policy to innovate and make climate change action happen.
Ontario is brimming with sustainable innovations and amazing people working to make communities within the province leaders in the fight against climate change. We recently reported on a range of creative sustainable innovations in Niagara around the wine industry in an article titled Sustainable Niagara Wine Pairings - Landfill Gas, Sheep & LEDs. Part of that article looked at a GE Report on the use of landfill gas to power to the region and the innovators at the Walker Environmental Group (WEG) headquartered in Niagara.

WEG is quickly moving to the forefront of the renewable natural gas in North America. Also known as "green gas", "renewable gas" or "biomethane", renewable natural gas is emerging as a powerful tool in the fight against climate change.
Now maybe you are wondering: Why do we care about a landfill project in Niagara? Here are 9 reasons:
1) 375,000 tonnes of CO2: For those of you wondering does this actually work? The short answer is ABSOLUTELY! In fact it works so well that WEG just hit a major milestone of producing enough renewable energy to heat the equivalent of 80,000 homes- that's akin to preventing 375,000 tonnes of CO2 from entering the atmosphere and taking 79,000 cards off the road!
2) WEG limits greenhouse gas emissions by capturing landfill gas and converting it into renewable energy that can used to displace the need for fossil fuels. In the process of creating Ontario "green gas", WEG can create units of greenhouse gas offsets that displace previously consumed and emitted greenhouse gases with a cleaner alternative.
3) Here's the circular economy kicker - much of that renewable natural gas goes to fuel a nearby paper mill that produces newsprint from 100% recycled paper! The 'forest' that feeds this paper mill: your blue and grey recycling boxes, and paper recycling facilities right across Ontario and Northeastern USA. A brilliant example of a "circular economy" in action.
4) Even more compelling is the method of offsetting greenhouse gases being applied here. According to an assessment released by the Pembina Institute and the David Suzuki Foundation, the best offsetting method is to invest in renewable technologies and projects (like this project from WEG). This renewable energy project displace the need for energy generated from burning fossil fuels- the largest human contributor to climate change, while building a sustainable energy economy in Ontario.
5) We love crazy sweaters: For the last three years we've participated in WEG's #DialDownPullOn winter Crazy Sweater Challenge to reduce greenhouse gases and increase awareness about climate change and the need for action. Working with WEG, we've had fun, engaged our community and occasionally got to dress up as polar bears! In the process, WEG has helped us learn how to take meaningful action on climate change.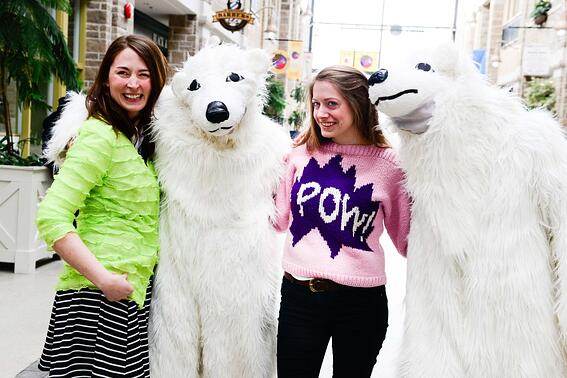 We're Not Just Ordinary Bears for Climate Action: Crazy Sweater Day Fun with Nichole Fraser MacDonald, Trieneke Gastmeier, Leah Culver and Karen Nasmith
6) We like to practice what we preach. The team here at Shared Value Solutions is now really big on sustainable local renewable energy and climate action in Ontario. For example, in June 2014 we threw our support behind WEG's landfill gas utilization project by fully offsetting the GroundSwell: Conference on Groundwater Innovation headlined by global water advocate Alexandra Cousteau. With the help of great sponsors like the Ontario Ministry of the Environment and Climate Change, Constance Lake First Nation, the RBC Blue Water Project and Ontario Centres of Excellence, the conference brought people from the far north, east and west and across southern Ontario.
7) A lot of conference gas - With participants flying and driving from every part of Ontario we created a lot of carbon emissions at the GroundSwell conference. The Walker Environmental Group stepped up to generously provide the local Ontario carbon offsets they produce from landfill gas to work with us to make the entire event carbon neutral. Walker volunteers sat at the conference entrance and tracked the origins, travel modes and distance traveled from all the attendees, calculated our carbon footprint. They then determined how much renewable natural gas produced from their landfill in Niagara would be required, in the form of greenhouse gas offsets, to make the entire event carbon neutral. Cousteau's flight to the conference from Germany, and all other conference travel was offset courtesy of Walker Environmental Group and landfill gas carbon credits.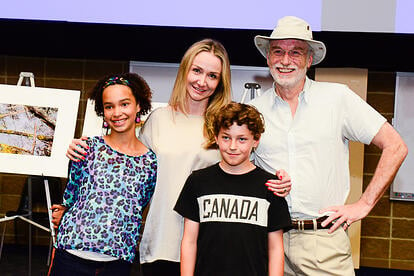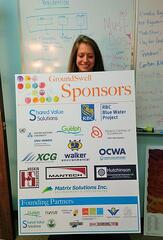 Photos - Left: National Geographic Explorer, Filmmaker and Water Advocate Alexandra Cousteau (2nd from left) with GroundSwell Conference on Groundwater Innovation "What Water Means to Me" Photo Contest Winners Alia Krueger & Eamon Hagarty with Simon Bell, Executive Director of Focus on Nature. Right: GroundSwell Sponsor Poster with Leah Culver, Conference Organizer.
8) Climate change action isn't about slogans: it takes commitment, work and investment. What was interesting for our team wasn't just being able to declare a "carbon neutral" event but being able to see the detailed steps the team at WEG took to carefully measure, report and communicate on the event's environmental performance. Through the meticulous calculating and reporting on part of WEG meant that we were able to achieve carbon neutrality AND receive a strong set of recommendations to consider for all our future convening activities. And as a group of facilitation enthusiasts we know this isn't the last time we'll be bringing people together around sustainability innovation in Ontario - now we can bring people together for conferences and workshops sustainably.
9) We think "Local is the New Black", so we're motivated to make these types of local business connections to advance sustainable innovation in Ontario. This makes us big fans of WEG because they model local and regional business creativity and leadership for environmental enhancement - and positive change. WEG is growing its innovative services across Ontario, Canada and into the U.S., bringing fresh sustainability ideas, technical creativity and business acumen to new regions... including our own!
Businesses and organizations are made up of people. So are communities. Imagine a world where people in industry and government, and people from towns of all sizes, get together to make amazing things happen – things they couldn't have dreamed up alone. A world where people from corporations get together with people in government or NGOs to explore innovative ways to do business while enhancing the natural and social environment. Join us in Creating Shared Value!
At Shared Value Solutions, we speak your language. And we know that the impossible is possible – with the right people in the circle.
We are an Ontario B Corp and we bring the best engineering, design, environment, architecture and other technical discipline expertise to address your challenges and opportunities:
Strategic Environmental Assessment guidance, coordination and support

Collaborative land and resource use planning and management- process design and delivery

Traditional Ecological Knowledge Studies & Traditional Knowledge Studies

Traditional Land Use Studies (TLUS)/ Traditional Land Use and Occupancy Mapping

Design and delivery of programs promoting/supporting positive behaviour change- environmental stewardship, community-based social marketing, health/environmental health promotion

Contributing human environment considerations to technical assessments and management plans in sectors such as water resources, remediation, land use, mining, oil & gas, linear corridor development, forestry, renewable energy, nuclear waste, contaminated sites, brownfield redevelopment, watershed planning, drought planning, water use planning, waste management and waste diversion

Aboriginal and Industry Partnerships working with First Nation, Inuit and Métis communities

Value Engineering & Value Analysis: we facilitate project teams to optimize a project by understanding functions, objectives, costs and social, cultural and environmental considerations.