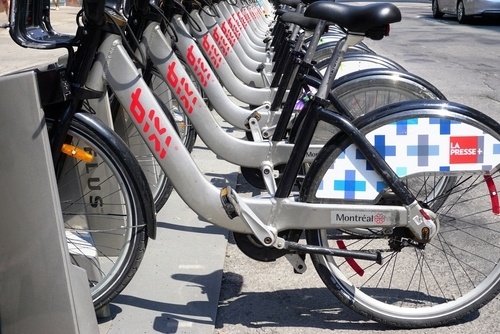 Québec has introduced its new low carbon energy policy for 2016-2030: "Politique énergétique 2030, L'énergie des Québécois – Source de croissance" (Energy Policy 2030, The Energy of Quebecers – a Source of Growth).
This is not your grandfather's energy policy!
The new energy policy is unique to Quebec realities and considerations, but includes several innovative directions of note for other Canadian provinces and territories.
Quebec's energy policy is focused on promoting a low carbon economy, including energy efficiency, responsible consumption, optimizing available energy resources and stimulating related technical and social innovations.
By the target date of 2030, Quebec aims to reduce consumption of petroleum products by 40%, eliminate the use of thermal coal energy, increase renewable energy production by 25% and increase energy efficiency by 15%. The policy also includes putting one million electric and hybrid vehicles on the road by 2030.
Quebec wants all citizens to get seriously engaged in its new energy policy, calling the citizen investment a "new energy pact".
Five Take Homes
1) Keeping Electricity Costs in Check: Hydro-Québec will carry out a strategic review that includes attaining efficiencies in order to ensure that increases in electricity rates are lower than inflation. Wind power is a major focus of the energy policy, but Quebec is clear that developing wind energy only works when the impact on electricity costs is limited and there is balance with any additional supplly of energy needed to meet annual fluctuatinos in electricity needs.
2) Small Hydro for Local and Indigenous Communities: Small hydro projects will act as economic engines for local and indigenous communities, provided that the projects meet high environmental and social acceptability standards.
3) Natural Gas Expansion: Natural gas is recognized as a key transition energy source for Quebec and will play a key role as an energy source for northern communities and industries. The province seeks to ensure reliable, secure and stable access to natural gas throughout Quebec wherever demand and economic efficiency are met. Quebec plans to expand the current natural gas network, develop a supply network for liquefied natural gas (LNG) and increase production of renewable natural gas (RNG). Ontario is doing some similar things with natural gas expansion, but not with the same pinpoint focus.
4) Safe and Responsible Use of Fossil Fuels: Given the controversy over the TransCanada Energy East oil pipeline project in Quebec, it is no surprise to see the province focus on the safe transportation of oil and petroleum products and the social acceptability of hydrocarbon projects in host communities where hydrocarbons will be developed inside Quebec. New hydrocarbon legislation is on the horizon to provide the legal framework for Quebec hydrocarbon projects.
5) This is Not Just an Energy Policy: Erik Richer La Fleche of the law firm Stikeman Elliott says that this ambitious plan "is more than an energy policy. It is also a climate change policy, a regional development policy and an industrial policy. Quebec hopes that "green energy" will boost innovation, entrepreneurship and foreign investment."
What are people saying?
Sophie Brochu

, the President and Chief Executive Officer CEO of Quebec's Gaz Métro said that

"Québec's Energy Policy 2030 gives a clear signal to the players in our industry that they must be proactive and imaginative in putting forward solutions in response to the challenges involved in reconciling climate change with economic development in Québec in order to bring about a greener, more prosperous future."

Jean-François Nolet, vice president of CanWEA said, "This policy will send a clear signal that Quebec wants to play a leading role across the continent," comments . "Its implementation will be the opportunity to move from words to action and attract investment, including by ensuring that the northeastern U.S. market has access to electricity produced by Quebec wind farms."
Erik Richer La Fleche of the law firm Stikeman Elliott said, "the Energy Policy... is Quebec's keystone policy and, while it has been the subject of considerable debate within government, it is likely to be the foundation of [Premier] Couillard's political legacy."

Businesses and organizations are made up of people. So are communities. Imagine a world where people in industry and government, and people from towns of all sizes, get together to make amazing things happen – things they couldn't have dreamed up alone. A world where people from corporations get together with people in government or NGOs to explore innovative ways to do business while enhancing the natural and social environment. Join us in Creating Shared Value!
At Shared Value Solutions, we speak your language. And we know that the impossible is possible – with the right people in the circle.
We are an Ontario B Corp and we bring the best engineering, design, environment, architecture and other technical discipline expertise to address your challenges and opportunities:
Strategic Environmental Assessment guidance, coordination and support

Collaborative land and resource use planning and management- process design and delivery

Traditional Ecological Knowledge Studies & Traditional Knowledge Studies

Traditional Land Use Studies (TLUS)/ Traditional Land Use and Occupancy Mapping

Design and delivery of programs promoting/supporting positive behaviour change- environmental stewardship, community-based social marketing, health/environmental health promotion, Aboriginal community energy plan initiatives

Contributing human environment considerations to technical assessments and management plans in sectors such as water resources, remediation, land use, mining, oil & gas, linear corridor development, forestry, renewable energy, nuclear waste, contaminated sites, brownfield redevelopment, watershed planning, drought planning, water use planning, waste management and waste diversion

Aboriginal and Industry Partnerships working with First Nation, Inuit and Métis communities

Value Engineering & Value Analysis: we facilitate project teams to optimize a project by understanding functions, objectives, costs and social, cultural and environmental considerations.
Shared Value Solutions ® is a trademark registered by Shared Value Solutions Ltd.
Text Copyright Shared Value Solutions, 2016