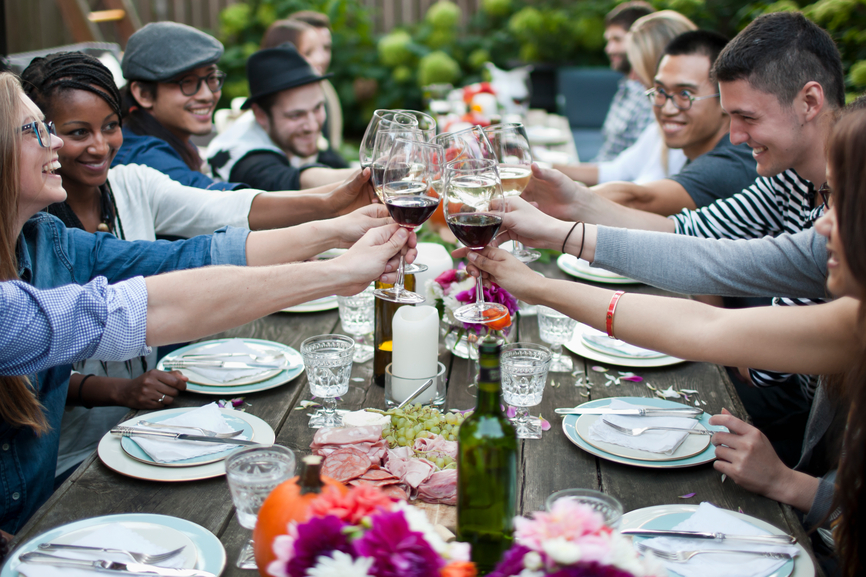 "Wine is a gateway drug to environmentalism."
~ Katherine Cole, author of the Complete Wine Selector
Wine pairing is popular. So is sustainable thinking. What happens when you combine the two in the Niagara Region? You get some very creative sustainable Niagara Region wine pairings!
An odd pairing of a recent YouTube video on a Niagara Region landfill gas project championed by Walker Industries, and chance encounter with the Canada Green Building Council's "Sustainable Wineries Bike Tour" of the region got us thinking... There's a lot of quiet sustainability innovation in Ontario, particularly to address climate change and advance renewable energy opportunities in Ontario - and a lot more going on in the Niagara wine region than we ever imagined!
As one of one of the first B Corporations in Ontario, we believe that "Local is the New Black." We've been researching opportunities for harnessing methane gas from local rural sources to create sustainable energy opportunities for agri-business in southern Ontario. We're also looking at ways to make it easier for average people to help invest in local greenhouse gas reduction and local carbon off-sets. And we've been writing about Ontario ClimateAction, including Ontario's City-wide District Energy Network in our local community of Guelph. So, when we discovered these sustainable Niagara Region wine pairings in our local region, we decided to raise a glass in support!
---

Seven Sustainable Niagara Region Wine Pairings
Here are seven, innovative and sustainable Niagara wine pairings we've uncovered - and there are many more!
1. Collaboration - Regional and Cross-Sector
Knowledge sharing and pairing across sectors seems to be the norm in the Niagara Region. Through guidelines and other good practice assistance, Niagara wineries embrace a range of sustainable solutions, including energy and water saving technologies and processes that significantly reduce energy needs and thus reduce greenhouse gas emissions - everything from wetland biofilter systems to use recycled water for irrigation to LEED certification for buildings. Niagara Region wineries collaborate and share information about sustainable wine making - and they work with businesses and organizations outside the wine sector, as evidenced by the numerous pairing's between Niagara's Walker Industries and several of the sustainable innovations profiled below.
2. Profit and Sustainable Solutions
Some people don't find it easy to see how you can pair profit with sustainable solutions - for Niagara wineries, "sustainable" is not a buzzword, but a path to profitability. From rain water capture, to natural light wells, to energy efficient cellar lighting systems, Niagara wineries are saving money through resource and energy efficient solutions. In doing so they attract growing consumer demand for sustainable products. For example, consumers in Japan are asking for wines based on both quality and demonstrated sustainability practices - including wines from the Niagara Region that can demonstrate sustainable results.
3. Sheep
Sheep and wine making - not a typical pairing. At Southbrook Vineyards, sheep serve as lawnmowers and eat the weeds and bugs that might otherwise harm vines and grapes - while fertilizing with high quality manure as they go. In 2008, Southbrook became the 1st wine estate in Canada to receive both organic and biodynamic certification for its vineyard and winery. It's pavilion also achieved LEED Gold certification and includes onsite stormwater (bio-swale) and wastewater treatment (biofiltration), insulated glass, a reflective PVC roof, extensive focus on indoor air quality, and daylighting measures.
4. Quarries
Over 15 years ago, Walker Aggregates Inc., a division of Walker Industries, and the University of Guelph partnered to study the viability of transforming the quarry lands into a vineyard - a remarkable example of sustainable land use. The Vineland Quarry has about 28 acres of high-quality vines of Cabernet Sauvignon, Cabernet Franc, Merlot, Pinot Noir, Sangiovese, Syrah, Petit Verdot and Malbec. The quarry site also provides the only south facing slope in the Niagara Region - a micro climate that supports varieties of grapes that would be difficult to cultivate elsewhere in Ontario. In 2002, the Niagara Escarpment Commission recognized Walker Aggregates Inc. for its innovative sustainable land use and quarry rehabilitation with the presentation of their Achievement Award.
5. Landfill Gas

This unusual pairing is profiled in a recent GEReports article and Youtube video: Walker Industries, which operates Niagara landfills, captures methane and pipes it to GE Jenbacher turbines. The turbines produce electricity that supplies power to the region, including all of Niagara's wineries, which provide some 10,000 jobs and attract tourists and wine aficionados from around the world.
6. Carbon Neutral Wine Visitor & Education Centre
The Wine Visitor & Education Centre at Niagara College houses the Niagara College Teaching Winery, visitor centre services and research projects. It's an 8,500-square-foot facility for education and applied learning in wine and viticulture for students and the public. To go carbon neutral, Niagara College worked with the Walker Environmental Group (WEG), a division of Walker Industries. WEG provides a carbon neutral building service to work with businesses and organizations to make sustainable building operations practical and achievable. WEG worked to reduce emissions onsite and conducted a building operations greenhouse gas inventory. With the purchase of carbon offsets from a local Niagara-based offset project, the Centre was able to achieve certified carbon neutral building operations.
7. Solar
One of several examples of Niagara Region wineries going solar, the Hinterbrook Winery has a sustainability commitment that includes a near zero carbon footprint, geothermal heating and cooling, energy efficient LED lighting, rainwater collection, and a solar energy system that supplies 100% of the winery's electricity needs while contributing surplus power to the region's electricity grid.

We'll Toast to That!
So, what happens when you combine wine pairing and sustainable thinking in the Niagara Region? You get high quality partnerships, sharing, innovation and profitable business development. We'll toast to that!
Shared Value Solutions Ltd. is one of the first 100
B Corporations
in Canada. We bring the best environmental peer review, strategic advice, community engagement and traditional knowledge, land use, and socio-economic research expertise to address your challenges and opportunities. Working with leading companies, civil society, Aboriginal communities and government organizations, we drive shared value solutions.
---