3 Ways to Celebrate Bike to Work Week in Style
Scott Mackay, CEO/CFO (and avid cyclist)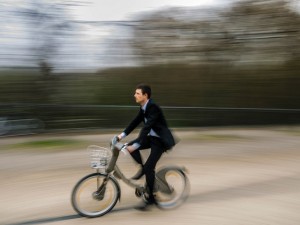 Bike to Work week is having its 20th anniversary this year, and as we near our second anniversary Shared Value Solutions is celebrating this important week in style. Here are three ways we are making it matter:
Providing incentives: We are giving away gift certificates to local cycling shops to an employee who commutes by bike to our office every day this week, and to the employee who shows up with the most stylishly (or outlandishly) decorated bike.
Starting a dialogue: On Wednesday, we will be holding an employee dialogue about additional ways that our company can support active transportation to work.
Sharing experiences and connecting with others: We will be sharing our experiences on social media all week, and connecting with others in Downtown Guelph and elsewhere to increase the buzz about active transportation to work- especially on the beloved bike!
Why does Bike to Work week matter to Shared Value Solutions? It's a matter of values. Our corporate values are simple- have fun, make money, do good, do good work. We see cycling to work as an excellent way to support a healthy lifestyle, a healthy and livable city, and a healthy planet- so it helps us to do good in our work while we get to and from work. Staying active helps us to work better, which helps us do good work. Commuting in a car is expensive so biking to work helps us individually cut costs and make more money. And of course who doesn't find whizzing down the road with the wind in your hair a bit more fun than an air conditioned car?
As CEO, I will be walking the talk this week by riding to work. I hope you'll join me!