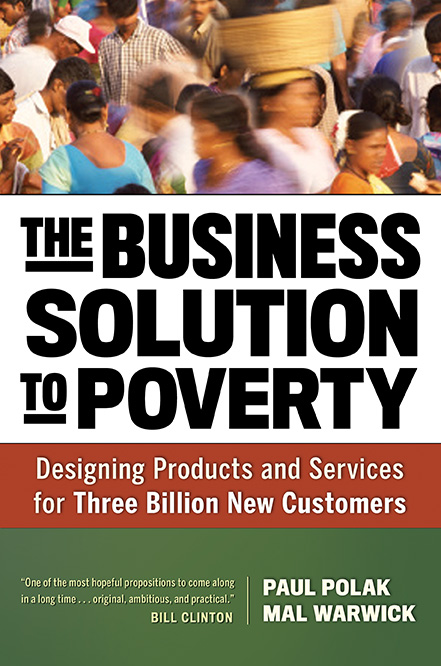 By: Don Richardson | Managing Partner at Shared Value Solutions Ltd. | September 8th, 2013
[Note - a version of this book review is also posted via the Shared Value Initiative website here]
Paul Polak and Mal Warwick's new book The Business Solution to Poverty is, as Bill Clinton says on the cover note, "one of the most helpful propositions to come along in a long time… original, ambitious and practical." If you're an entrepreneur looking to break into emerging markets, a development practitioner trying to figure out how to harness private sector smarts and local entrepreneurship, or if you are a corporate executive seeking to get beyond glossy "Corporate Social Responsibility" reports and actually get things done that make a difference, buy this book, read it and share it.
The concept of Creating Shared Value has emerged in the last couple of years as an anchor for businesses seeking to make a difference, make profits and scale their offerings for real social and economic benefits. In their well known Harvard Business Review article from 2011, business thought leaders Michael Porter and Mark Kramer provide us with the conceptual building blocks for Creating Shared Value. Polak and Warwick provide a practical "how-to" manual for people looking for a no-nonsense, solutions-focused approach to Creating Shared Value in some of the toughest markets in the world.
Three billion new customers are waiting for innovations and business savvy that target their needs and aspirations. These three billion customers are willing and able to put cash on the table to buy goods and services that they can use to lift their families out of poverty. They are hungry for products and services that will improve their lives.
The Business Solution to Poverty guides you to better understand who these customers are, how they interact with supply chains, and how you can get to know them better. It provides key success factors, a brilliant list of 20 "takeaways", and plain language case studies from the field. Polak and Warwick are the real deal – seasoned entrepreneurs with the scars and business development mileage necessary to write a book that you can pick up and start using right now to build your business solution to poverty.