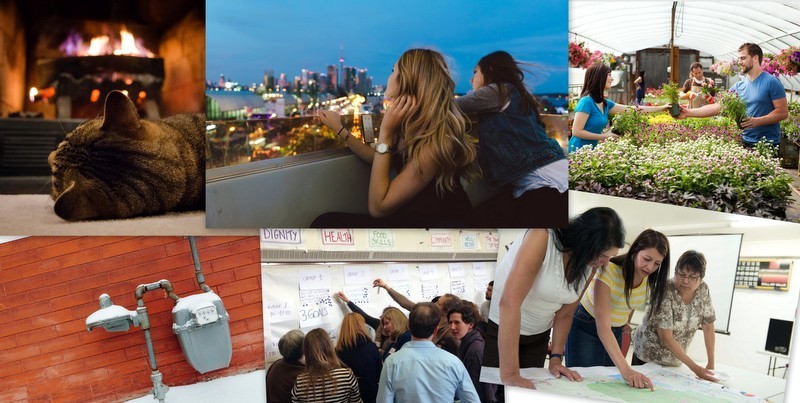 We Want You to 'Get Gas' in 2015! Natural Gas Innovation for Ontario
Several of our clients in Ontario are involved with gas related infrastructure projects - pipeline infrastructure, biogas methane initiatives, or city-wide district energy systems and regional energy stewardship initiatives. 2014 was definitely a year we spent "getting gas" – learning about changes in natural gas infrastructure and use across Ontario.
What we find most fascinating is how so many others don't "get gas". Most of us use it every day to heat homes or cook meals, but we don't know much about where it comes from, how it can be used, how it's priced or how it's changing our economy. Much our energy consumption in Ontario is natural gas - about one-third of the overall energy mix (according to Union Gas).
Most people in Ontario are unaware of the massive natural gas infrastructure changes happening, the influx of low cost natural gas to Ontario from U.S. shale gas sources, the changes in the natural gas market, and how those changes will connect with economic, social and environmental aspirations of people who live in Ontario. In 2015, we're on a mission to help others in Ontario "get gas".
To help share what we're learning and the developments we're tracking, we've created a LinkedIn Group: Natural Gas Innovation for Ontario. Through this networking group, we'll share relevant news, project updates and regulatory matters related to innovations in Ontario natural gas use, including:
We're strategic environmental assessment practitioners and we're keen on sustainability innovation in Ontario, so we believe in the importance of accurately understanding the impacts of change, harnessing change appropriately, and acknowledging and addressing negative impacts. We recognize that there are potential positive and negative impacts to the changes in natural gas infrastructure and use across Ontario. To really "get gas" you need to look closely at the benefits, trade-offs and potential negative impacts.
---
It is estimated that there is over 150 years of continental natural gas supply in North America. With new technologies and new discoveries, there is more natural gas on the market and more new pipelines coming to Ontario. A few years ago the price of natural gas was in the $7 to $8/gigajoule (GJ) range. Today, prices are around $3/GJ and may approach $2/GJ. A gigajoule of natural gas is about 25.5 cubic metres at standard conditions – a gigajoule of natural gas is about the same as 26 litres of gasoline or 277 kilowatt hours of electricity.
Imagine paying $2 or $3 for half a tank of gas in a car and you can start to see why it's important to "get gas"!
---
The economic advantages of low cost natural gas are real. The economic impacts are being felt in sectors such as power generation, transportation, mining, agriculture (especially fertilizer production, grain drying, livestock operations, and greenhouses), and community infrastructure (especially community and district energy system retrofits and new communities). Some businesses and institutions, such as hospitals and universities, are finding benefits from Combined Heat and Power (CHP) facilities to generate electricity on-site while capturing and re-purposing waste heat as thermal energy for heat. These facilities yield additional benefits of increased resiliency in the face of power outages and climate change weather disasters, and gain significant cost savings that benefit their client groups and taxpayers.
There are environmental benefits and drawbacks to natural gas. Natural gas is a fossil fuel (with the exception of "green gas" discussed below). Burning natural gas produces nitrogen oxides and carbon dioxide. Natural gas is a relatively clean burning fuel, with the lowest carbon content of any fossil fuel, producing significantly lower emissions than burning coal or oil. But, when released into the atmosphere as uncombusted methane it is a very potent greenhouse gas. Methane can be released as it is being extracted, as it is being transported and at fuel use sites. Research suggests that the most significant source of methane release in the life cycle of natural gas is at extraction sites using hydraulic fracturing ("fracking"). Technical mitigation approaches are available and methane emissions from hydraulic fracturing are regulated in some jurisdictions (e.g. Alberta) or are being proposed in others (across the United States through the U.S. Environmental Protection Agency).
Growth in natural gas infrastructure and use can impact renewable energy initiatives, causing concern that the adoption of renewable energy technologies will slow down. Fracking processes used to extract natural gas at U.S. sources can have a range of local and regional environmental, social and economic impacts. At the same time, low cost natural gas can help communities move forward with affordable energy supplies for families and businesses, and to create innovative district energy systems to maximize energy efficiencies and tie in renewable energy and energy efficiency initiatives.
We believe that bringing open, credible and discussion forward will better enable people across Ontario to make informed decisions. The changes in natural gas infrastructure and use are coming, and it's a good idea to get informed so that beneficial changes can be harnessed and negative impacts can be addressed. It's important to "get gas".
Here are five of the ways we "got gas" in 2014:
1) The changes coming to Ontario are massive and "game changing". To harness benefits and reduce negative impacts requires strategy, planning and action. If we passively watch these changes, we may see benefits elude us and may experience increased negative impacts. In an August, 2014 blog post we covered Greg Ebel' address to the Economic Club of Toronto. Ebel is the Canadian born CEO of Spectra Energy – parent company of Union Gas. Ebel outlined Ebel outlined five recommendations for an Ontario energy strategy that is inclusive of low cost natural gas:


Treat natural gas as a strategic asset to attract industry

Utilize natural gas to reduce the cost and environmental impact of transportation fleets

Expand natural gas access to rural Ontario families and businesses

Improve energy efficiency and sustainability by deploying more combined heat and power (CHP) opportunities in Ontario

Find ways and means of using natural gas to develop the vast mineral wealth of Northwestern Ontario's 'Ring of Fire'
You can read more about Ebel's in the Union Gas white paper on natural gas and Ontario energy strategy : "Ontario's Economic Renaissance Fueled by Natural Gas"
Spectra Energy and DTE Energy are proposing the Nexus Gas Transmission pipeline to transport Appalachian shale gas to markets in the U.S. Midwest, connecting with the Enbridge Tecumseh storage facility and the Union Gas Limited Dawn Hub in Ontario, transporting 2 billion cubic feet per day of natural gas
2) We have new opportunities to get low cost natural gas to rural and remote parts of Ontario and accelerate economic development. Premier Wynne and the Government of Ontario are paying attention to changes in natural gas infrastructure and economic development. On September 25, 2014, Premier Wynne released 30 mandate letters she has written to her ministers with priorities and action items. These priorities and action items include:
A commitment to create a new Natural Gas Access Loan — which will provide up to $200 million over two years to help communities partner with utilities to extend access to natural gas supplies.

Establishing a $30-million Natural Gas Economic Development Grant to accelerate projects with clear economic development potential - to provide consumers in underserved communities more energy choices, make commercial transportation more affordable, attract new industry to Ontario, and benefit agricultural producers.

Working with municipal partners to ensure that municipalities participate meaningfully and effectively in the decision-making process for the placement of renewable energy projects, including wind and natural gas.
3) Now is the time to support biogas and "green gas" innovation. We see major synergy between the push to get natural gas pipelines out to rural and remote areas, the push for cleantech and clean energy, the desire for further waste diversion, and the challenges of agricultural nutrient management and related source water quality issues. We see potential to advance research, pilots and incentives for rural/agricultural biogas producers to use available agricultural waste products and additional waste diversion to put clean biogas - Ontario green gas - into the natural gas pipeline transportation system. Natural gas pipelines don't necessarily have to be one-way delivery systems - there is potential to have rural/agricultural biogas producers contribute clean energy – "green gas" - into the systems. This is beginning to happen in other provinces such as B.C.
In Europe and California, there is a move to create "Green Gas Grids" to biogas to biomethane - primarily from fermentation is animal manure, organic household waste, energy crops, food residues and food processing industries - for injection into the natural gas grid. Biomethane can be used in the same efficient and versatile manner as natural gas: for transportation, heat and electricity.
4) Ontario's Aboriginal communities have roles to play in energy policies programs that are inclusive of natural gas. While Ontario's Aboriginal communities are included in many parts of Ontario's Long Term Energy Plan, they are not demonstrably part of the Government of Ontario's policy and strategy mix when it comes to natural gas. Given the growing role of Aboriginal economic development in Ontario's energy businesses - due in part to Ontario's Aboriginal Energy Partnerships Program with the Aboriginal Renewable Energy Fund, Aboriginal Transmission Fund and the Aboriginal Community Energy Plan Program , so many new emerging energy technologies, Ebel's ideas for the Ring of Fire, Ontario's push to extend natural gas infrastructure to rural and remote areas –where Aboriginal communities are already leading energy stewardship initiatives – there are strong arguments for natural gas policies and programs that are fully inclusive of Ontario's Aboriginal communities. Some of the most devastating conditions of poverty and highest energy prices are in Ontario's Aboriginal communities – natural gas could help change this.
This will require a lot of people to roll up their sleeves and enter creatively and openly into new partnerships with Aboriginal communities, as discussed in our recent post "Get Engaged with the New Canada and its Aboriginal Communities". It will also require Ontario to put a strong effort behind the six principles for Ontario pipeline regulations espoused by Ontario's Minister of Energy, Bob Chiarelli for assessing pipeline proposals (discussed in a recent post on "Aboriginal Rights and Interests: Current Ontario Regulatory Direction for Pipeline Projects"). We see the Ministry of Energy and the Ministry of Aboriginal Affairs playing important roles together. Aboriginal communities can also benefit from extension of natural gas pipeline infrastructure, can be biogas and "green gas" producers, and can benefit from advances in gas-fired generation and liquid natural gas or compressed natural gas supply.
5) Ontario will get the majority of its natural gas in the next 2 to 3 years from hydraulic fracturing extraction in Pennsylvania and Ohio. New pipelines are coming quickly to Ontario, in part because in southern Ontario we have some of the largest natural gas storage facilities in North America. Today, just under 30% of the natural gas used dailing in Ontario is from nearbuy U.S. shale gas sources. With major new pipelines on the horizon, like Nexus and $4.3 billion USD Rover pipeline that are both headed for southern Ontario, the vast majority of Ontario natural gas will shift from Canadian sources (mostly Alberta) to U.S. shale gas.
We're big consumers of natural gas in Ontario - Ontario industries are keen to adopt low cost, clean energy sources, Ontario communities are keen to advance district energy systems, and households are keen to get their warmth, hot water and energy for cooking from efficient, accessible and affordable energy sources. We'll continue to track pipeline and natural gas transportation developments, especially developments that deliver natural gas to customers who currently don't have access.
Many of our clients are encouraging us to keep tracking changes in natural gas infrastructure in Ontario. We're happy to oblige and share what we learning with others. 2014 was definitely a year we spent "getting gas" – learning about changes in natural gas infrastructure and use across Ontario. We look forward to learning and sharing more about natural gas infrastructure projects - pipeline infrastructure, biogas methane initiatives, or district energy and regional energy stewardship initiatives.
Businesses and organizations are made up of people. So are communities. Imagine a world where people in industry and government, and people from towns of all sizes, get together to make amazing things happen – things they couldn't have dreamed up alone. A world where people from corporations get together with people in government or NGOs to explore innovative ways to do business while enhancing the natural and social environment. Join us in Creating Shared Value!


At Shared Value Solutions, we speak your language. And we know that the impossible is possible – with the right people in the circle.
We are an Ontario B Corp and we bring the best engineering, design, environment, architecture and other technical discipline expertise to address your challenges and opportunities:
Strategic Environmental Assessment guidance, coordination and support

Collaborative land and resource use planning and management- process design and delivery

Traditional Ecological Knowledge Studies & Traditional Knowledge Studies

Traditional Land Use Studies (TLUS)/ Traditional Land Use and Occupancy Mapping

Design and delivery of programs promoting/supporting positive behaviour change- environmental stewardship, community-based social marketing, health/environmental health promotion

Contributing human environment considerations to technical assessments and management plans in sectors such as water resources, remediation, land use, mining, oil & gas, linear corridor development, forestry, renewable energy, nuclear waste, contaminated sites, brownfield redevelopment, watershed planning, drought planning, water use planning, waste management and waste diversion

Aboriginal and Industry Partnerships working with First Nation, Inuit and Métis communities

Value Engineering & Value Analysis: we facilitate project teams to optimize a project by understanding functions, objectives, costs and social, cultural and environmental considerations.