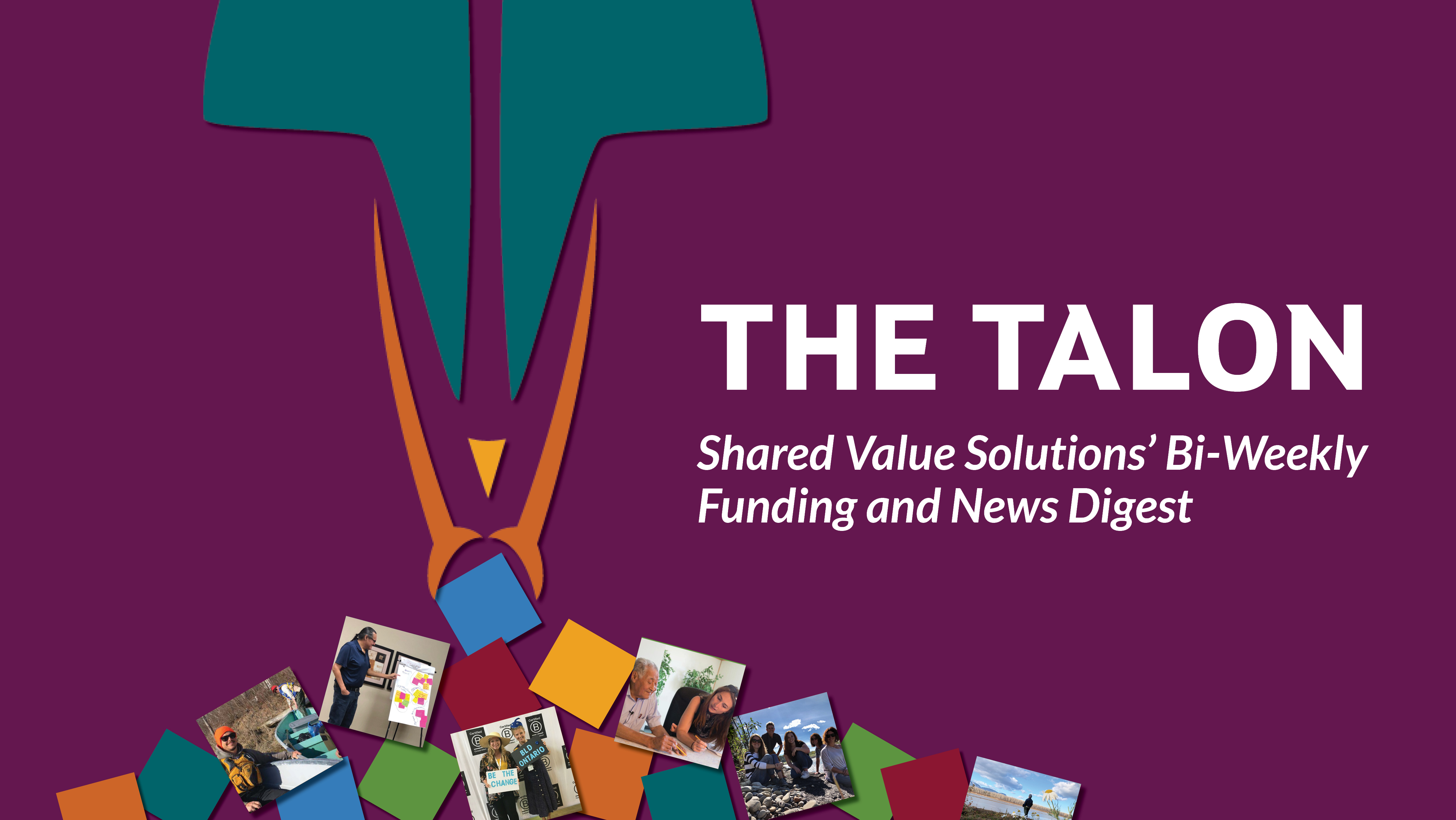 Welcome to Shared Value Solution's funding and news digest. We hope it finds you well.
We hope that everyone is enjoying the bounty that summer has to offer, but also acknowledge that many of you may be experiencing disruption, change and devastation in your communities due to ongoing wildfires. In this issue, we have compiled a list of funding sources to support in those situations. We sincerely send our best wishes to those dealing with the fallout from this crisis.
Also in this issue, we share the date for the next installment in our ongoing Indigenous Data Sovereignty Webinar Series: "Demystifying Data Sovereignty: Tools and Technologies," which will be held on August 17th. Our first webinar was at full capacity (420 people signed up), so be sure to grab a spot before it fills up! Read on for details on how to sign up!
As always, we have included new funding opportunities for across Turtle Island and our opportunities round up for smaller community projects. Feel free to reach out to the SVS team for assistance with any of these funding sources.
Lastly, read our current #womencrushwednesday article featuring the inspiring career of Jenny Lou Campbell of Anishnabek Nation, and a feature on SVS's training services!
---
SVS Indigenous Data Sovereignty Webinar series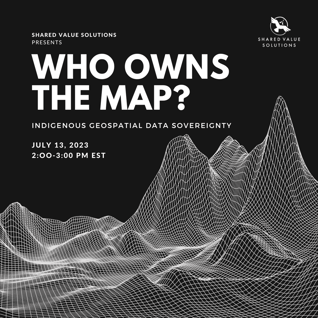 In case you missed the first webinar in the Indigenous Data Sovereignty Webinar Series, keep your eye out for a recording which we will be posted on our website! SVS's Jeff Hackett hosts a stellar panel of speakers: Christine MacRae, Annita Luchessi and Rudo Kemper talk about the need for Nations to have control and access to their data and share new ideas on Indigenous led mapping.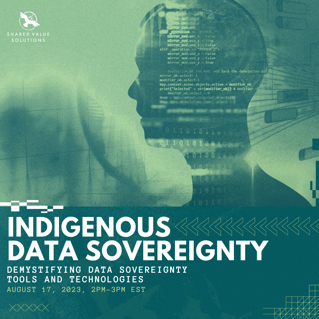 The next webinar in the series, "Demystifying Data Sovereignty, Tools and Technologies" is happening on August 17th.
Join us as we explore the intricate realm of technology and its role in empowering Indigenous Data Sovereignty. In this webinar, we will examine how technology can serve as a catalyst for Indigenous self determination, cultural preservation, and decision-making processes. Our guest speakers will discuss the opportunities and challenges that arise when implementing technologies to support the pursuit of Indigenous Data Sovereignty.
Register here.
---
The Importance of Groundwater Protection
Attention all Ontario Aboriginal Lands Association members!
The SVS Science team presents a free webinar on July 26th from 1-3pm ET
Presenters:
Alison Gamble, Senior Environmental Scientist and Environmental Team Lead, Shared Value Solutions Ltd.
Robin Heavens, Water Resources Engineer, Shared Value Solutions Ltd.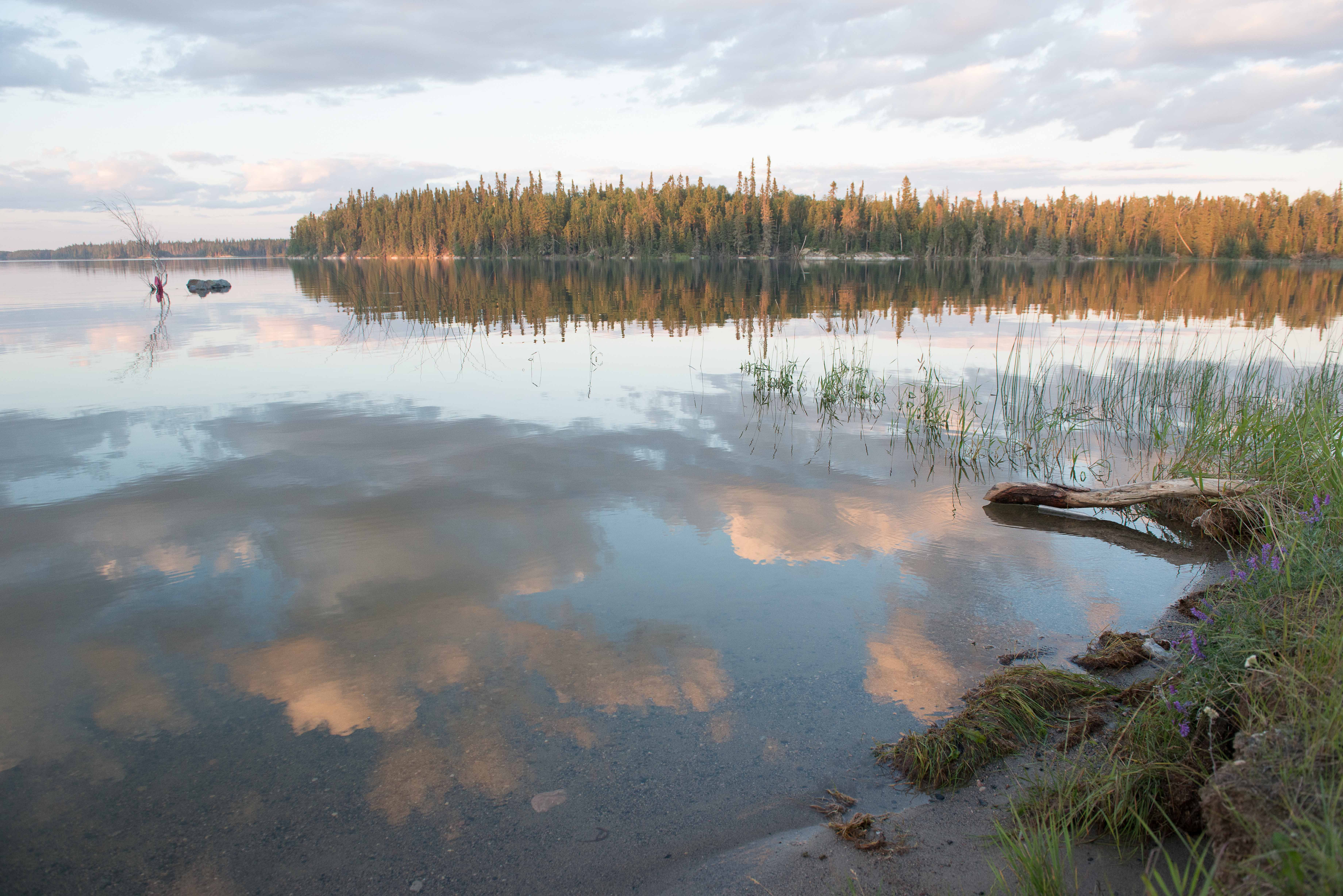 DESCRIPTION:
Though groundwater lies hidden beneath our feet, its impact is visible everywhere. It is the lifeblood for wetlands and rivers. Groundwater keeps our rivers flowing throughout the year, even in times with no rainfall. It is a key drinking water source for many communities across Ontario. Groundwater, like so much of our natural world, is under threat from pollution and overuse. In this webinar, we will take a closer look at groundwater quality and quantity, including some of the common threats to maintaining healthy groundwater. We will discuss groundwater abundance, scarcity and strategies for using groundwater sustainably. We will identify common contamination pathways and approaches for protecting groundwater. And most importantly, we will discuss what you can do to help manage this critical part of our earth.
Hope you can join us! Sign up information here.
---
12th National Land Managers Gathering
Register now! Mark your Calendars!
NALMA is calling all land managers to Winnipeg, Manitoba, on September 26-28 2023, for our 12th National Lands Managers Gathering.
Networking, learning, and celebrating First Nation successes.
Register Here: https://www.eventbrite.ca/e/nalmas-12th-national-lands-managers-gathering-registration-646681962157?aff=oddtdtcreator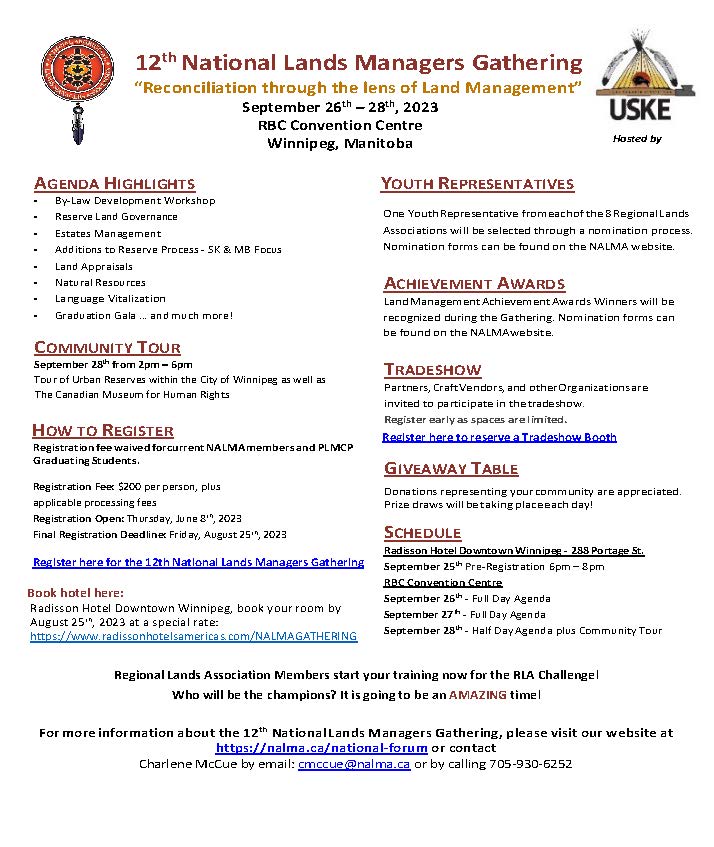 ---
#wcw for the month of July
Meet Jenny Lou Campbell! Jenny has a unique love of the underground and a passion for advocacy. She is a policy analyst for the @AnishnabekNation in their Lands and Resources Department, a role in which she wears many hats, and draws on her vast experience in the mining industry. Jenny has a unique career path and words of wisdom to share as our Women Crush Wednesday for the month of July!

Read the full article here: https://info.sharedvaluesolutions.com/blog/meet-our-wcw-jenny-lou-campbell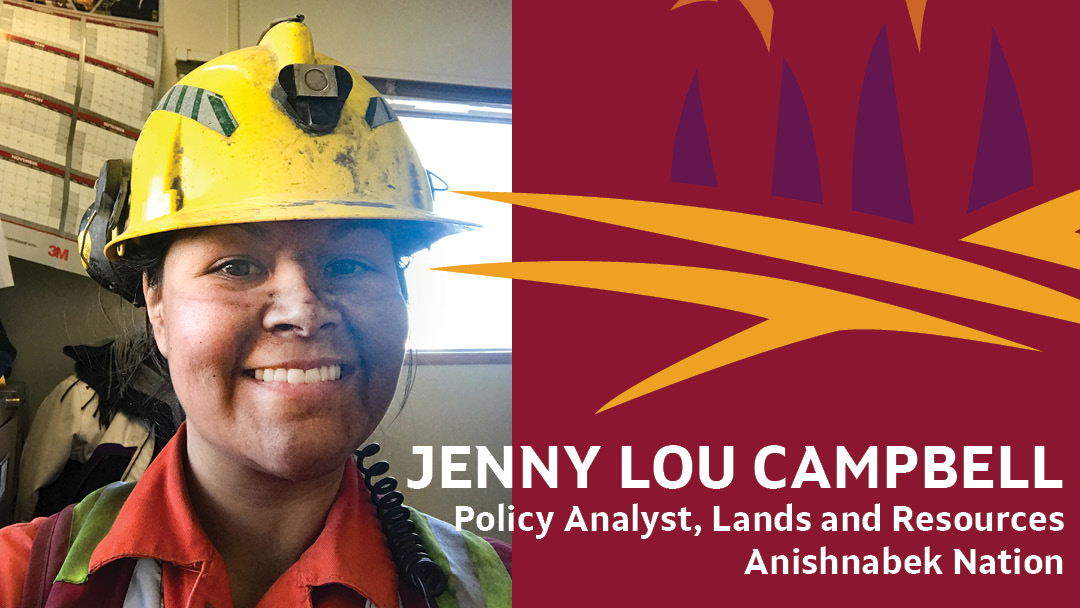 ---
Indigenous Funding Programs
NATION-WIDE HIGHLIGHTED PROGRAMS
Wildfire and Natural Disaster Support
For those communities being affected by wildfires or other impacts of natural disasters happening across the country, we wanted to share a few funding programs we've heard of, that can support.

• Fire Smart: Emergency Management FireSmart program (https://hubs.ly/Q01Xj39B0)
• BCs program: FireSmart Community Funding and Supports - Province of British Columbia (https://hubs.ly/Q01XhZGV0)
• Emergency Management Assistance Program: https://hubs.ly/Q01XhYWj0
• First Nations Adapt - can be used for climate change adaptation planning (https://hubs.ly/Q01XhW-v0)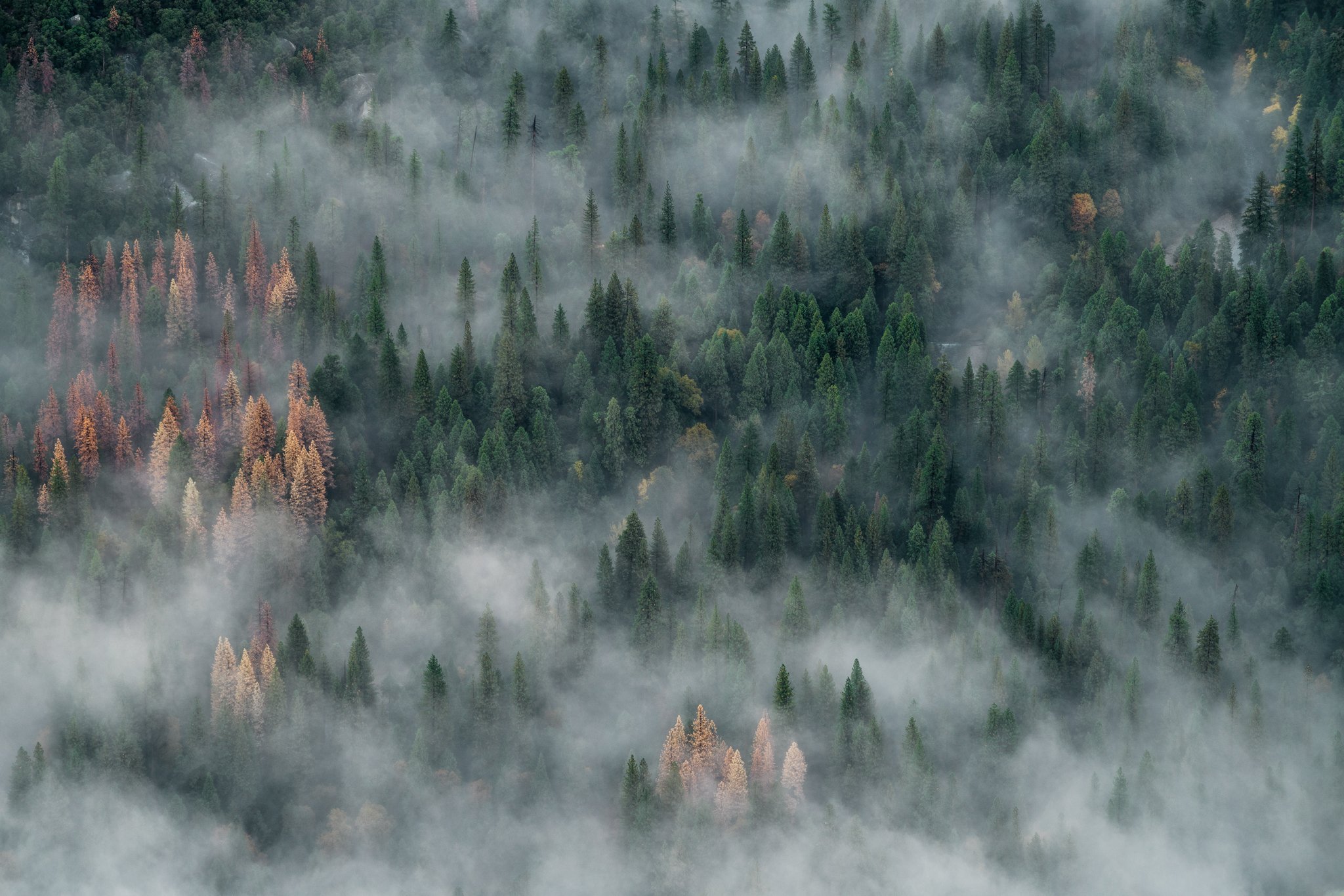 ---
The Indigenous Intellectual Property Program Grant—deadline to apply is August 8
The Indigenous Intellectual Property (IP) Program grant is designed to support increased engagement in the IP system by Indigenous Peoples in Canada. The grant funds eligible Indigenous organizations to support participation in World Intellectual Property Organization sessions, small-scale initiatives and projects related to intellectual property, Indigenous Knowledge, and Indigenous Cultural Expressions
.
The IIPP grant is administered by Innovation, Science and Economic Development Canada.
For more info and to apply, follow the link: https://ised-isde.canada.ca/site/intellectual-property-strategy/en/indigenous-intellectual-property-program-grant
Aquatic Invasive Species Prevention Fund—apply until August 31
The Aquatic Invasive Species Prevention Fund supports projects and partnerships that will help prevent the introduction and spread of aquatic invasive species.
This fund provides $8.75 million over 5 years to create such partnerships.
Priority will be given to projects to focus on:
Improving relationships with provinces and territories, Indigenous Peoples, and key stakeholders
Involving multiple partners
Providing Canadians with tools to take action on aquatic invasive species
Monitoring and prevention of aquatic invasive species
Click here for more info: https://www.dfo-mpo.gc.ca/species-especes/ais-eae/funding-financement/index-eng.html
Climate Change Adaptation Program- deadline to apply is September 22, 2023
Natural Resources Canada Climate Change Adaptation Program (2022–2027) helps to position Canada's regions and sectors to adapt to a changing climate. The Program aims to:
Support decision-makers in identifying and implementing adaptation actions;
Enhance adaptation knowledge and skills among Canada's workforce; and
Increase access to climate change adaptation tools and resources.
The Program is soliciting proposals for cost-shared projects that will make important contributions to advancing adaptation progress in Canada. Up to $15 million in funding may be awarded through this Call for Proposals.
More information here.
First Nations Baseline Assessment Program on Health and the Environment- deadline to apply is September 29, 2023
The First Nations Baseline Assessment Program on Health and the Environment aims to support First Nations in assessing the baseline status of human health and the environment in their communities prior to the implementation of large scale industrial projects on their traditional territories. Projects that focus on intergenerational knowledge translation with Elders and youth are particularly welcomed.
This program supports projects for a maximum of 2 years.
More information here.
First Nations Environmental Contaminants Program—deadline to apply is October 21, 2023
Indigenous Services Canada provides funding through the FNECP to help First Nations communities improve their health. The program supports these communities in identifying, investigating, and characterizing the impact of exposure to environmental hazards. Its activities include community-based:
Research
Monitoring
Risk assessment
Risk communication
Knowledge integration
Click here to learn more about this funding.
Hudson's Bay Foundation and the Gord Downie & Chanie Wenjack Fund Announce the Opening of Applications for Oshki Wupoowane | The Blanket Fund
Through two grant streams, The Blanket Fund will provide support for Indigenous cultural, artistic, and educational activities. Indigenous People, as well as Indigenous-led initiatives and organizations in Canada, are eligible. More information here.
Indigenous Forestry Initiative
The Indigenous Forestry Initiative provides financial support to Indigenous-led economic development projects in Canada's forest sector. Benefits of the program include increased Indigenous participation in forestry-related opportunities, businesses, careers, and governance. More information here.
WWF-Canada Announces New Fund for Indigenous Protected and Conserved Areas
The WWF will fund grants and contracts between $50,000 to $150,000 per year for up to three years to support Indigenous communities and organizations as they consider, establish, or maintain IPCAs.
IPCAs are defined and managed by Indigenous communities, and stewarded through Indigenous laws and knowledge systems. In the wake of the COP15 United Nations biodiversity summit, support for IPCAs will be increasingly important, as countries strive to protect 30 percent of the planet while upholding the United Nations Declaration on the Rights of Indigenous Peoples.
For more information, contact:
NORTHERN CANADA FUNDING:
Canadian Internet Registration Authority Grant for Infrastructure, Online Safety, and Policy Engagement
Canadian Internet Registration Authority (CIRA) grants fund community-led internet projects to build a resilient, trusted, and secure internet for all Canadians. CIRA aims to increase the number of Canadians who have access to a high-quality and high-performing internet. Through grants, CIRA funds community-led connectivity research, network planning, and solutions. Infrastructure solutions that CIRA will consider funding with grants must be community-led and community-owned, contributing to long-term community development.
More information here.
Government of the Northwest Territories Waives Change of Name Fee for Indigenous Residents of the NWT
The Government of the Northwest Territories (GNWT) announced today that it will waive the change of name fee for Indigenous residents of the NWT on an ongoing basis. Waiving the change of name for residential school survivors and their families advances the GNWT's commitment to improve the lives of Indigenous residents and help further the cause of reconciliation.
More info here.
WESTERN CANADA FUNDING:
Indigenous Cannabis Business Fund
The Indigenous Cannabis Business Fund provides non-repayable funding contributions to First Nation communities and businesses and Indigenous entrepreneurs in British Columbia that want to participate in and receive supports to advance economic development opportunities in the federally (production, distribution, and retail) and provincially (non-medical retail sales) regulated cannabis sector. More information here.
EASTERN CANADA FUNDING
Indigenous Services Canada Supporting First Nations Recovery From Hurricane Fiona as Part of Federal Government Response
Four million dollars has been made immediately available through the Emergency Management Assistance Program to address recovery efforts and various needs and expenses identified by First Nations communities. Read more.
MANITOBA-SPECIFIC FUNDING
Manitoba Government Provides Funding to Protect Fish and Wildlife
The Manitoba government is helping protect the province's natural resources by awarding over $1 million in funding for 35 fish and wildlife improvement projects from the Fish and Wildlife Enhancement Fund, Natural Resources and Northern Development Minister Greg Nesbitt announced.
See https://www.watercanada.net/manitoba-government-funding-protect-fish-wildlife/
ONTARIO-SPECIFIC FUNDING
City of Toronto Announces New Indigenous Climate Action Grants
The City of Toronto will award grants of up to $20,000 to Indigenous communities for projects and initiatives that address the climate emergency and protect the environment.
Applications will be processed in two batches. The first deadline is July 15 and the final deadline for the 2023 grants is September 15. More information about the Indigenous Climate Action grants and how to nominate someone for the application review committee is available on the city of Toronto's website.
---

Opportun

ities Round-Up:
The Government of the Northwest Territories (GNWT) announced today that it will waive the change of name fee for Indigenous residents of the NWT on an ongoing basis. Waiving the change of name for residential school survivors and their families advances the GNWT's commitment to improve the lives of Indigenous residents and help further the cause of reconciliation. More info here.
Small grants to support community based healing and remembrance. More information here: https://nctr.ca/memorial/na-mi-quai-ni-mak/na-mi-quai-ni-mak-community-support-fund/

The 4th National Indigenous Fisheries and Aquaculture Forum

The Fourth National Indigenous Fisheries & Aquaculture Forum (NAFF IV) happens in Nanaimo, BC, from October 16 to 19, 2023. Influential leaders across Indigenous fisheries and aquaculture, industry, and government will be present across this multi-day event highlighting innovation in industry, emerging markets, government programming, the evolution of aquaculture, and more. More information here.

Grants available for Emergency Response and Recovery for small Indigenous businesses and entrepreneurs in Central Interior BC. The program provides a monetary contribution to assist clients, Indigenous-owned businesses, entrepreneurs, and First Nation communities who have experienced business disruption and financial loss due to the 2021 floods. Applications will be accepted until the BC Emergent Response and Recovery Grant fund is fully allocated.

The Ontario Biodiversity Council is renewing its Ontario's Biodiversity Strategy and is seeking public input. More information here.

Micro-Loan Fund Available for Indigenous Women Entrepreneurs
The National Aboriginal Capital Corporations Association and participating Aboriginal Financial Institutions (AFIs) are pleased to announce the establishment of a new $5-million Women Entrepreneurship Loan Fund.
AFIs across the country are now delivering the Women Entrepreneurship Loan Fund on behalf of Innovation, Science, and Economic Development Canada. First Nations, Inuit, and Métis women entrepreneurs from across the country are now able to access loans up to $50,000 to start or grow their business.
Clean Energy in Indigenous, Rural, and Remote Communities. Environment and Climate Change Canada has announced an additional $300 million for clean energy projects. This funding supports projects that help advance Indigenous-led climate action, support local economic development, and create skilled jobs while reducing pollution and improving air quality. There is no deadline to apply.




Pathways to Safe Indigenous Communities. The Government of Canada is providing $103.8 million over 5 years to assist First Nations, Métis, and Inuit communities with implementing and developing Indigenous-designed community safety projects. There are several activities eligible for this funding, including initiatives that recognize the importance of Traditional Knowledge and practices in community safety and well-being. There is no deadline for this funding.




Assistance to be Offered to Residents of Mud Lake for Relocation

Assistance is being extended as a result of previous and potential flooding events which have been an ongoing concern for some residents. The decision to relocate or remain in the community will be up to each household. The amount of financial assistance payable to permanent residential property owners will be determined by the number of permanent residents living in the household. Residents who wish to discuss relocation assistance can contact Jacob Kimball, Manager of Legislation, at jacobkimball@gov.nl.ca or 709-729-5473 for further information.
The Southern Chiefs' Organization Launches New Survey Seeking Citizen Input on Reforming Justice System
The Southern Chiefs' Organization (SCO) has launched a new online survey with the goal of seeking input that will assist the SCO in advocating for the creation of an effective, equitable, and safe justice system from a First Nations perspective. The survey is the latest tool, part of SCO's overall First Nations Justice Strategy, which includes a focus on restorative justice. SCO's Restorative Justice Program serves several First Nations and has dedicated Community Justice Workers in six communities—Bloodvein, Long Plain, O-Chi-Chak-Ko-Sipi, Pinaymootang, Sagkeeng, and Sandy Bay First Nations. The program also serves Brokenhead, Dakota Tipi, Dauphin River, Ebb and Flow, Lake Manitoba, Lake St. Martin, Little Saskatchewan, Skownan, and beyond.
You can find the survey here: https://www.surveymonkey.com/r/SCO-IJS





United Brotherhood of Carpenters Canadian District Receives $37 Million to Support Employers Hiring First-Year Apprentices




This program will fund assist Small and Medium Enterprises (SMEs) to hire new, first-year apprentices in the skilled trades and provide extra support for employers to assist apprentices from equity deserving groups.




Apprenticeships offer a great way to get the hands-on work experience needed to pursue a career in the skilled trades, and small business plays a fundamental role in Canada's apprenticeship system.

Many SMEs do not have the resources to offer apprenticeship training opportunities. In an effort to change this situation, Rowe and the UBC Canadian District have launched a two-year, $37-million program funded by the government of Canada's Apprenticeship Service to provide support to SMEs in Canadian construction and manufacturing "Red Seal" trades to help them to hire new, first-year apprentices needing a leg-up to begin lucrative careers in the well-respected skilled trades.
In addition to financial supports, the program provides assistance to help employers navigate the apprenticeship system, onboard new apprentices, and set up the appropriate workplace training via a digital toolkit that can be found on their website at ubc-asp.ca.
---
SVS News- Yes, we offer Training!
Training is a service we have offered for years here at SVS! In case you didn't know it, we have a suite of Environmental Monitoring courses along with a full range of courses based on your Nation's needs.
Check out the new page on our website to learn more: https://sharedvaluesolutions.com/environmental-monitoring-training/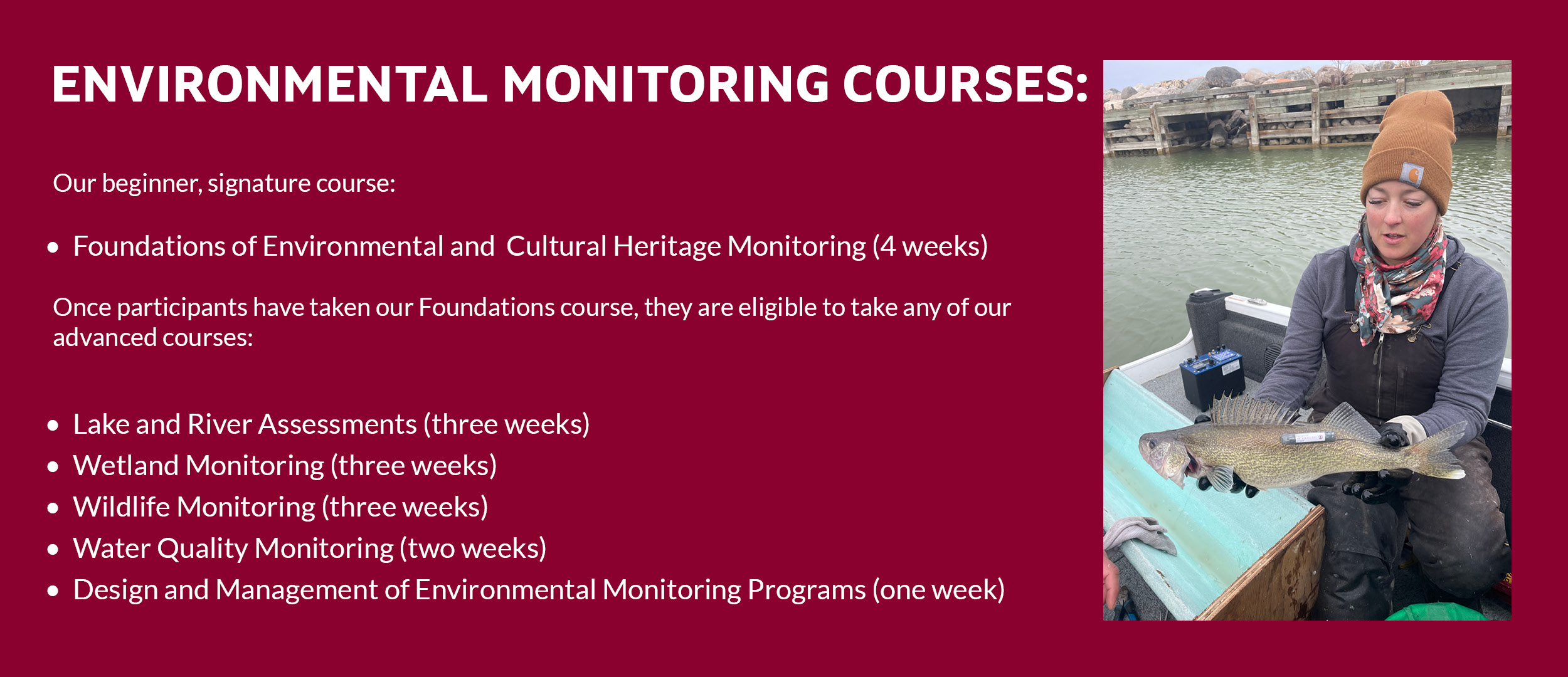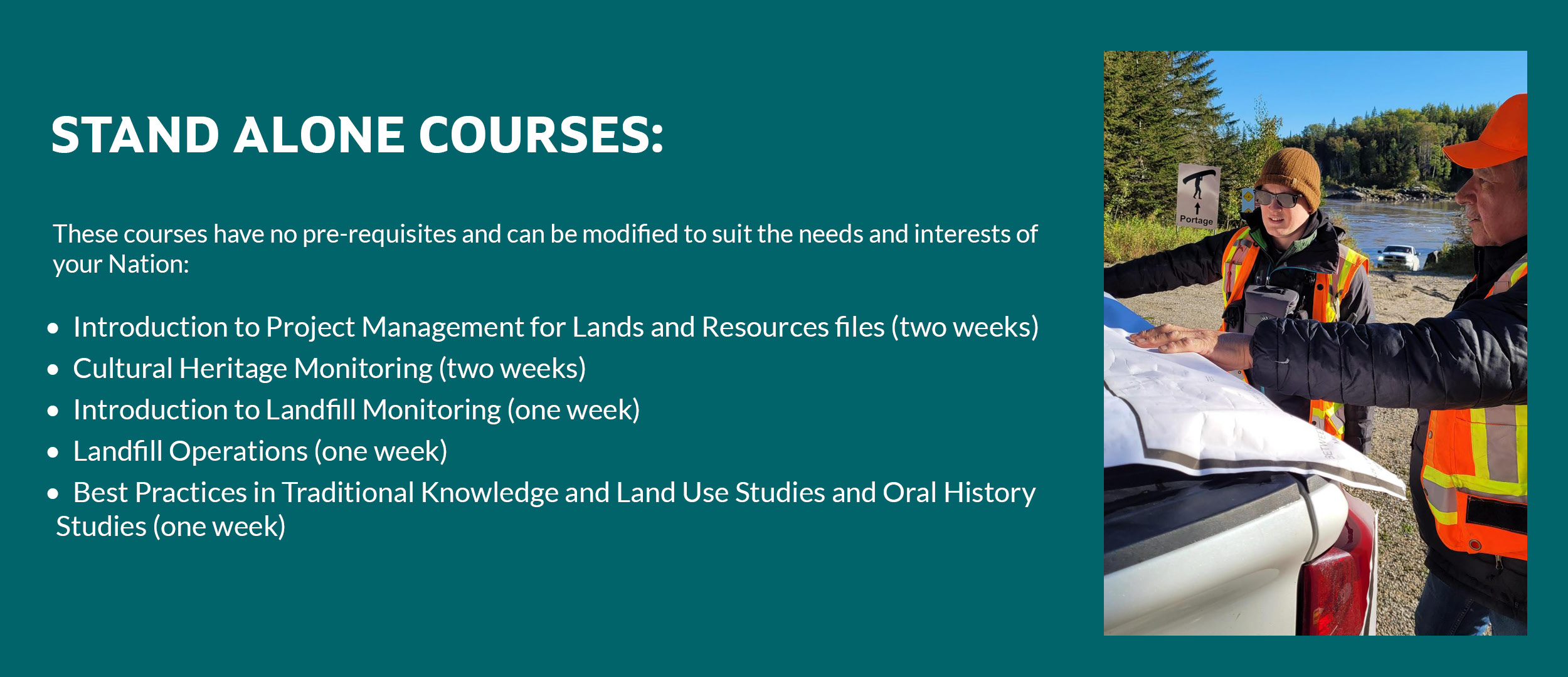 ---
SVS eBooks for Download: Collect Them All!
Check out our collection of informative eBooks that are available for free download:
Protecting What Matters: Environmental Monitoring Ideas Bundle for Indigenous Nations

Channeling the Wisdom of Indigenous Knowledge

Pandemic-Inspired Research Innovations

I

ndigenous Planning Cheat Sheet

Indigenous Business and the Resource Sector

Indigenous Planning Starter Kit

Indigenous Guardians and Development

GIS Intro Guide: Harnessing the Power of Maps

A Lands and Consultation Department Guidebook

Planning Starter Kit
We are a Canadian B Corp, and we assist Indigenous Nations with support throughout regulatory processes surrounding major development projects like mines, hydroelectric facilities, transmission lines, highway expansions, oil and gas pipelines, natural resource transport applications, and nuclear power.
We have deep context and experience behind the recommendations we provide, having worked for our clients on almost every major project in Canada over the last 10 years. For us, it's all about building long-term relationships with our clients. We want to get to know you and what you want to do so we can help you move your plans forward.
Core Services:

Impact Benefit Agreement Negotiation Support

Technical Reviews and Regulatory Process Support

Community and Economic Development Planning

Indigenous Knowledge and Land Use Studies

Environmental Monitoring

Guardians Program Development

Climate Change Readiness

GIS and Mapping

and a whole lot more...www.sharedvaluesolutions.com