Investors are speaking up - loudly - on the need for meaningful First Nation, Inuit and
Métis
partnerships in Canada
This quote from the Globe and Mail speaks loudly:

"Address us with an opportunity. The global investor would like to be approached with a joint venture [involving industry and Aboriginal communities]... You have to be world leaders [on social engagement]"
- Rick Rule, Chairman of Sprott US Holdings
Now it's time to act. Firms like Shared Value Solutions Ltd. are busy executing innovative and mutually beneficial Aboriginal and industry partnerships across sectors. But some companies, and some sectors, like the mining sector, has been slow to respond to the opportunities.
Some companies have a great deal of trouble recognizing the nature of Aboriginal nation-to-nation and government-to-government relationships that are the foundation of Aboriginal rights in Canada. Some companies have difficulty understanding Aboriginal goals for stewardship and creating beneficial and sustainable development and use of traditional lands and resources. But we are also seeing some companies really step up and break new ground with creative, innovative and practical business ventures.

Canada's resource industies need to listen closely to investors. Those investors will park their money anywhere on the globe where project risks are well managed. Canada's economy is dependent on those investors deciding to park their money in Canada.
In Canada, this means transcending the old approach of going through the motions on Mickey-Mouse "consultation" processes, hired Aboriginal community "handlers", and vacuous "open houses." It means transcending adversarial approaches that end up in courts. Enough already!
We are seeing a variety of joint ventures and new business arrangements, ranging from straight equity participation and royalty agreements to provision of Aboriginal environmental services, emergency management services, joint climate change action initiatives, joint venture construction and operations management businesses, win-win water and water treatment system ventures, and collaborative planning and "value engineering" to align project infrastructure with Aboriginal community infrastructure needs.
For the sake of Canada's economy and for the sake of Aboriginal community wellbeing and Aboriginal economic development, those of us with influence in the business and investment world need to pull our heads out of the sand - oilsands and otherwise - and get to work!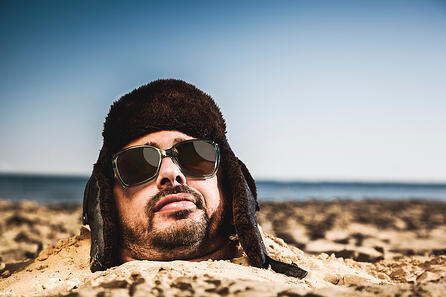 It's time to pull our heads out of the sand - oilsands and otherwise - and get to work!
In Canada, we need real business partnerships with Aboriginal communities. We need long-term Aboriginal and industry relationships involving approaches to projects and operations that include equity partnerships, revenue sharing and joint-venture businesses. Canada's future depends on these partnerships. At Shared Value Solutions, we look forward to continuing to work with innovative Aboriginal and busines leaders to help create that future.
Businesses and organizations are made up of people. So are communities. Imagine a world where people in industry and government, and people from towns of all sizes, get together to make amazing things happen – things they couldn't have dreamed up alone. A world where people from corporations get together with people in government or NGOs to explore innovative ways to do business while enhancing the natural and social environment. Join us in Creating Shared Value!
At Shared Value Solutions, we speak your language. And we know that the impossible is possible – with the right people in the circle.
We are an Ontario B Corp and we bring the best engineering, design, environment, architecture and other technical discipline expertise to address your challenges and opportunities:
Strategic Environmental Assessment guidance, coordination and support

Collaborative land and resource use planning and management- process design and delivery

Traditional Ecological Knowledge Studies & Traditional Knowledge Studies

Traditional Land Use Studies (TLUS)/ Traditional Land Use and Occupancy Mapping

Design and delivery of programs promoting/supporting positive behaviour change- environmental stewardship, community-based social marketing, health/environmental health promotion

Contributing human environment considerations to technical assessments and management plans in sectors such as water resources, remediation, land use, mining, oil & gas, linear corridor development, forestry, renewable energy, nuclear waste, contaminated sites, brownfield redevelopment, watershed planning, drought planning, water use planning, waste management and waste diversion

Aboriginal and Industry Partnerships working with First Nation, Inuit and Métis communities

Value Engineering & Value Analysis: we facilitate project teams to optimize a project by understanding functions, objectives, costs and social, cultural and environmental considerations.