The Canadian Chamber of Commerce says collaboration with Aboriginal communities is key in natural resource development.
The Canadian Chamber of Commerce recently published a report on one of the most critical issues facing Canada's natural resources sector: engaging and involving the First Nation, Inuit and Métis communities that live near or on the land where projects operate. The report is titled Aboriginal Edge: How Aboriginal Peoples and Natural Resource Businesses Are Forging a New Competitive Advantage.
Aboriginal and Industry Partnerships
There is a strong trend toward collaborative Aboriginal and industry partnerships. It's not always easy to move collaboration forward, but the trend is real. Despite much of what we may see and hear in the media about confrontational relationships between industry and First Nation, Inuit and Métis communities, the reality behind the scenes is that there is a trend toward constructive dialogue, efforts at collaborative planning, and successful collaborations. The Canadian Chamber of Commerce Report will help make it clear that constructive dialogue, collaboration and partnering is the "new normal" in Canada. We couldn't agree more.
We work extensively in this space - often supporting collaboration between Aboriginal communities and industry, and providing key environmental, economic and regulatory support to assist Aboriginal communities to create optimal long-term relationship and benefit agreements with businesses across extractive industry sectors. We are busy working with Aboriginal communities and business leaders and industry partners to help build partnerships, particularly in the environment, mining, energy and land stewardship sectors. To assist with establishing new ventures with Aboriginal partners, we've established Stackstone Ventures is a subsidiary of Shared Value Solutions Ltd., a registered B Corporation and member of Communitech.
We see the trend advancing everyday. We've written previously about key aspects of Aboriginal and Industry Partnerships and the need to "Get Engaged with the New Canada and its Aboriginal Communities" including:
We've also written about emerging partnership approaches, including:
Finally, those who follow our work will know that we have written extensively on:
From our perspective, with boots on the ground and canoes in the water helping protect and enhance traditional territories and watersheds, and sleeves rolled up in Bay Street boardrooms to advance collaborative ventures, we think the Aboriginal Edge report should be widely circulated to Boards of Directors, First Nation, Inuit and Métis governments and economic development leaders, and project managers involved in current and planned natural resource projects across Canada.
The Canadian Chamber of Commerce, has rightly made the lack of clarity around the duty to consult with Aboriginal peoples one of its Top 10 Barriers to Competitiveness on its annual list of the "self-inflicted wounds" Canadians impose on the economy. The Chamber's report is designed support positive trends and innovations "where innovative practices are emerging to help create mutually beneficial partnerships".
Five Key Points in the Aboriginal Edge Report
Five key points in the Canadian Chamber of Commerce report on the trend toward constructive dialogue, efforts at collaborative planning, and successful collaborations:
1) Collaboration works: The Chamber's report suggests that the increasing role of First Nation, Inuit and Métis communities in the development of natural resources creates better projects, improves relationshps and delivers increased financial power and influence to those communities.
2) Beyond Beads and Trinkets: The report makes it clear that the trend is not about token job quotas and similar "beads and trinkets" approaches, but a strong trend toward Aboriginal management, ownership and Aboriginal-private sector business partnerships.

3) The Trend is Real: The report notes that there are already more Aboriginal people employed or who own businesses in the natural resources sector than in any other sector in the Canadian economy.
4) Positive Impacts Across Canada: The positive economic impacts of First Nation, Inuit and Métis business in the sector has positive impacts in communities across Canada - all Canadians will do well to support this trend.
5) More Work is Needed: The Canadian Chamber of Commerce is planning further work in this space to develop specific recommendations "to ensure governments have the programs and processes in place to turn Canada's Aboriginal edge from a concept into a reality".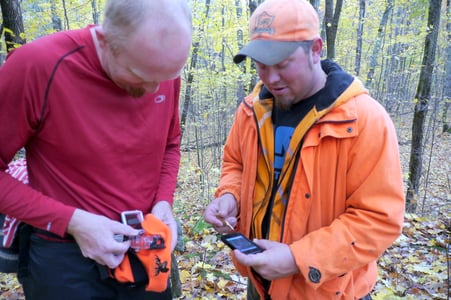 Boots on the Ground: Traditional Land Use and Occupancy Mapping, and Traditional Knowledge Studies, are key to effective Aboriginal- Industry collaboration around planning natural resource projects.
The Aboriginal Edge report makes it clear that "not everything is perfect, and there is still a long way to go". A major challenge we see, day-in and day-out, is the boardrooom-to-project-site challenge. This is the challenge of taking corporate Board support for adopting these trends down to the project design and engineering level. The collaborative concepts and approaches may get endorsed in boardrooms, but those decisions are effected at project sites and operations, where fixed budgets and critical schedules prevent adaptive management at the community, traditional territory and watershed level. Another challenge is the all-to-real challenge for Aboriginal governments to mobilize and sustain the legal, technical, financial and management capacity necessary to reach consensus on community goals and objectives and achieve those community goals and objectives.
The boardrooom-to-project-site challenge and the Aboriginal government capacity challenge are big challenges. Both of these challenges require a focus on the supporting people on the ground, far beyond Bay Street and Calgary head offices: the people in the communities, and the people making decisions with and for those communities, need support. Collaboration is hard work. The resources to support that hard work - including financial, corporate mandates and Board policies, community governance, and basic scheduling flexibility - have to be available to the communities and to the project and operations managers who will be on the ground collaborating. If project schedules and "cemented" engineering plans rule the day, vs. corporate and community visions and directions, collaboration either does not happen, or breaks down into confrontation.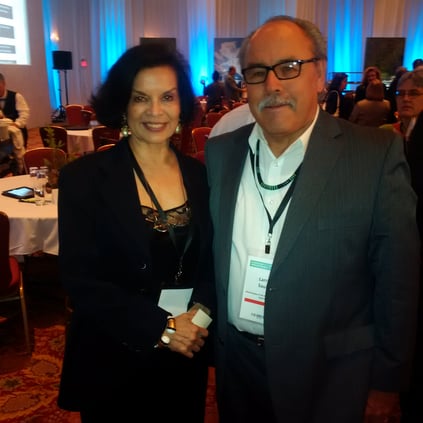 In the Boardrooms: On July 8, 2015, we had the opportunity to assist Larry Sault, Councillor for the Mississaugas of the New Credit for his "We Are Stewardship Wariors" address to the Climate Summit of the Americas - pictured here with Bianca Jagger, Senior Fellow with the International Law Research Program, Centre for International Governance Innovation
The Canadian Chamber of Commerce sees the trend toward collaboration as a trend that "could contribute to providing Canada with an edge in the global marketplace" while creating major benefits for First Nation, Inuit and Métis communities. This report shows that everyone benefits when a successful collaboration is established between natural resource companies and Aboriginal communities. We look forward to further installments on this them from the Chamber.
About Us - Shared Value Solutions Ltd.:
Businesses and organizations are made up of people. So are communities. Imagine a world where people in industry and government, and people from towns of all sizes, get together to make amazing things happen – things they couldn't have dreamed up alone. A world where people from corporations get together with people in government or NGOs to explore innovative ways to do business while enhancing the natural and social environment. Join us in Creating Shared Value!
At Shared Value Solutions, we speak your language. And we know that the impossible is possible – with the right people in the circle.
We are an Ontario B Corp and we bring the best engineering, design, environment, architecture and other technical discipline expertise to address your challenges and opportunities: