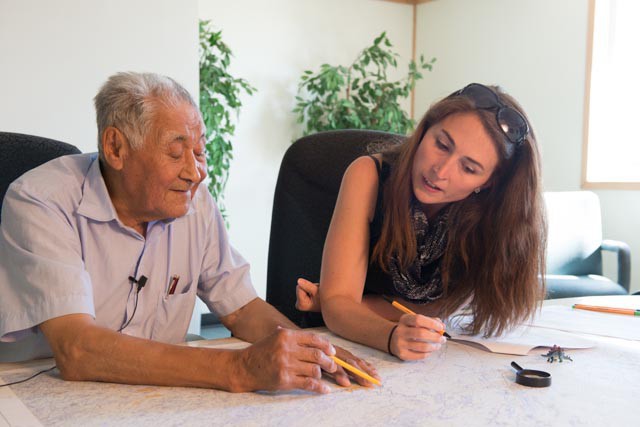 BEAHR Instructor Nichole Fraser-MacDonald with Pimicikamak Elder
"Not your ordinary BEAHRs"
At Shared Value Solutions Ltd., we are licensed to deliver BEAHR ECO Canada Environmental Training for Aboriginal Communities.
Training Program Features
Through our BEAHR Training Programs, you can build environmental capacity in your community with a series of short-term, culturally relevant, environmental training programs:
designed specifically for Aboriginal learners in First Nation, Métis, and Inuit communities
each program is community-based, integrating Aboriginal culture and local knowledge into practical field experience - touching on topics such as traditional land use and occupancy mapping, aboriginal land use planners, first nations approaches to water management, involvement of aboriginal knowledge holders, First Nation environmental assessments, traditional land and resource use, environmental assessment peer review, aboriginal and industry partnerships, aboriginal consultation and accommodation,
nationally-recognized training programs that are locally-relevant.
particpants gain practical certification and skills they can use immediately
delivered in the community, or tailored for off-site events
fieldwork, exercises, and group activities for practical, hands-on experience
blend both traditional knowledge and scientific knowledge - with the participation of local knowledge holders as a highlight of the training
suit a variety of community needs - we can adapt the training programs to , delivery locations, number of students and number of days
Our training programs prepare graduates for entry-level positions working in the environmental field - and they are ready to get to work fast!

Whether you're dealing with major pipeline projects, mining projects, energy projects or building Aboriginal-industry partnerships for long-term environmental monitoring programs, we tailor our training for your needs.

Who Benefits from BEAHR Training?
BEAHR Instructors Frances Dietrich O'Connor and Meaghan Langille with Pimicikamak Knolwedge Holders on the Land for a Traditional Land Use and Occupancy Study
Shared Value Solutions BEAHR Training Programs Include:
Environmental Monitoring Coordinator
This program has two specializations, with the option of taking one or both Aboriginal Environmental Monitors streams. Regulatory Monitors learn about legislative requirements and monitoring the activities of industry. Research Monitors learn how to perform various monitoring tasks such as wildlife counts, surveys, and sampling.
Land Use Planning Coordinator
Students gain an introduction to key land use planning concepts and receive instruction on how to assist in the development, execution, and implementation of a community land use plan.
Environmental Site Assessment Assistant
Students are trained in Environmental Site Assessment Phases I, II, and III for contaminated sites. Graduates are qualified to assist with project planning, gathering local knowledge, collecting and interpreting data, as well preparing reports.
This program prepares students to manage the household and commercial waste in their community.
Local Environmental Coordinator
This program prepares students to coordinate environmental projects for their community.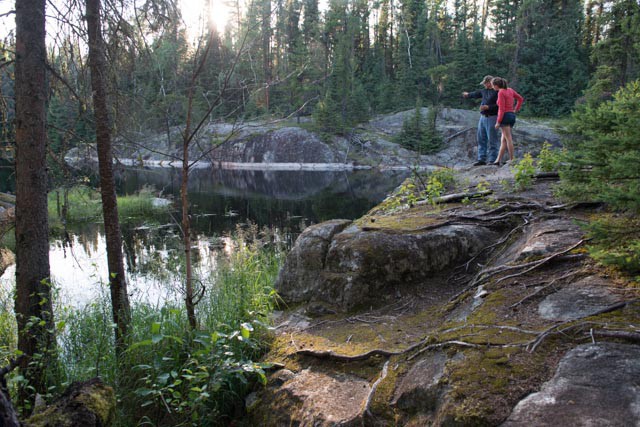 Our BEAHR Training includes practical work and getting out on the land

CONTACT US
Give us a call - we're ready to start planning your training program:
Main Office – Guelph, Ontario, Canada:
226-706-8888 Toll-free: 866-293-9042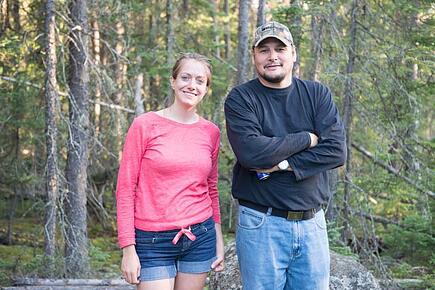 Human Environment Consultant, Leah Culver and Darrell Settee, Pimicikamak knowledge holder
Shared Value Solutions Ltd.
62 BAKER ST
GUELPH ONTARIO