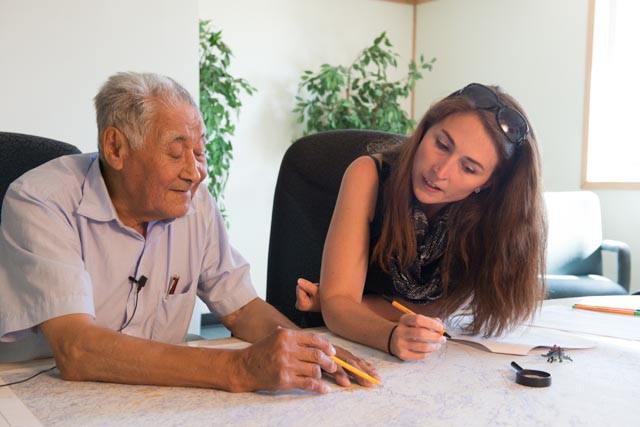 "Traditional Knowledge Matters" is our series of blog posts on the ways and means of influencing the environmental assessment and permitting process using Aboriginal traditional knowledge. See also:
Support for traditional knowledge and traditional land use studies is especially important for building relationships between communities and project proponents where there is a mutual desire to create real and meaningful partnerships to enhance Aboriginal community wellbeing. As new forms of Aboriginal and industry partnerships emerge, it is important for partnerships to start on a footing of protecting the lands, waters and way of life of Aboriginal community members and future generations. Combining scientific and traditional knowledge is important for designing adaptation strategies so that they are scientifically sound and truly connected to local value systems, needs and priorities.
There are many contributions of Aboriginal traditional knowledge to environmental assessments. We firmly believe that one of the key steps to make traditional knowledge truly influential in an environmental approvals process is to clearly lay out how that knowledge applies to, and should be applied to, environmental plans and assessments. Taking this approach allows the community to lay out the blueprint for the use of traditional knowledge and to truly "connect the dots" for government and industry to help protect and enhance Aboriginal community wellbeing.
With an emphasis on environmental assessments - although these are also more generically applicable to other types of environmental permits and approvals - here some ways that traditional knowledge can be applied.
Project Planning
Early identification of sensitive areas or resources; knowledge about the environment's potential effects (e.g. flooding, snow and ice accumulation, etc.) on the project for input to project design; considering traditional ecological knowledge and environmental change / climate change.
Scoping
Identification of Valued Components (Valued Ecocystem Compoents or VECs and Valued Socio-Economic Components or VSECs), indicators, and potential effects based on important areas, resources and knowledge about environmental values and response; establishing the spatial scope of study areas and the temporal scope relative to knowledge about environmental cycles, inter-relationships, and response times.
Baseline Studies
Direct involvement of key knowledge holders (e.g. trapline holders) in environmental baseline study design (e.g.- selection of sampling sites and strategy, knowledge about presence/absence and relative abundance of habitat and biota) and fieldwork.
Effects Assessment
Input to risk assessment frameworks and conceptual models (e.g. through participatory mind mapping or systems thinking diagrams); input to the selection and definition of assessment criteria related to Aboriginal community rights and interests; effects assessments related to traditional land and resource use.
Mitigation
Input to mitigation measures and their objectives; mitigation that includes traditional ecological knowledge and environmental change / climate change considerations.
Cumulative Effects
Input based on knowledge about environmental carrying capacity.
Monitoring and Adaptive Management
Input to the objectives and sampling design for monitoring programs and involvement of knowledge-holders in the delivery of monitoring programs (as per baseline studies above); leadership or co-leadership for monitoring programs which relate to community livelihood and rights interests.
Need Help? Get in touch.
We are an Ontario B Corp, and we assist Indigenous communities with support throughout regulatory processes surrounding major development projects like mines, hydroelectric facilities, transmission lines, highway expansions, oil and gas pipelines, natural resource transport applications and nuclear power.
We have deep context and experience behind the recommendations we provide, having worked for our clients on almost every major project in Canada over the last 10 years. For us, it's all about building long-term relationships with our clients. We want to get to know you and what you want to do so we can help you move your plans forward.