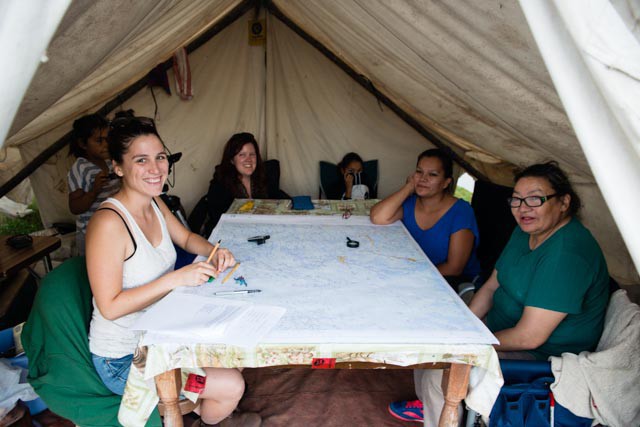 "Traditional Knowledge Matters" is our series of blog posts on the ways and means of influencing the environmental assessment and permitting process using Aboriginal traditional knowledge. See also:
Support for traditional knowledge and traditional land use studies is especially important for building relationships between communities and project proponents where there is a mutual desire to create real and meaningful partnerships and enhance Aboriginal community wellbeing. As new forms of Aboriginal and industry partnerships emerge, it is important for partnerships to start on a footing of protecting the lands, waters and way of life of Aboriginal community members and future generations. Combining scientific and traditional knowledge is important for designing adaptation strategies so that they are scientifically sound and truly connected to local value systems, needs and priorities.
The 2012 Canadian Environmental Assessment Act (CEAA 2012) says that the federal government can now "take into account" Aboriginal traditional knowledge as part of an EA (s. 19(3) of the Act). In other words, it can be considered as part of the evidence associated with the assessment of a project subject to a federal EA.
The scope of this consideration is limited to knowledge about changes to the environment which lead to specific environmental effects on Aboriginal peoples, including on (s. 5 (1)(c) of the Act):
o health and socioeconomic conditions
o physical, archaeological, and cultural heritage
o traditional land-use

It is a discretionary power- It is not mandatory that the federal government consider traditional knowledge in an EA nor is it mandatory that it go to great lengths to seek it out (by virtue of use of the word "may" in s. 19(3) of the Act versus "must" in s.19(1)).
The federal government can only enforce conditions on EA approvals which meet the test of federal jurisdiction- in other words, if the effects might otherwise happen as a result of a decision that the federal government has made and has power over. The limited scope and discretionary nature of the option to consider traditional knowledge in an EA puts the onus on practitioners and communities to "connect the dots" for the federal government - between traditional knowledge, changes to the environment, and environmental effects on Aboriginal peoples (the key federal jurisdiction at play here). Connecting the dots to us means:
Gathering and applying the most influential types of traditional knowledge to the EA context.
Ensuring that the knowledge-gathering process and its results are broadly supported by the community.
Ensuring that the knowledge-gathering methods are valid and effective.
Clearly laying out how the traditional knowledge should be applied to the EA.
CEA 2012 also includes attention to climate change, and thus provides opportunities to integrate traditional ecological knowledge and environmental change / climate change assessment. Projects that build in to the planning process Valued Ecocystem Compoents or VECs and Valued Socio-Economic Components or VSECs, have greater opportunities to enhance Aboriginal community wellbeing and produce better projects.
Need Help?
The staff and partners at Shared Value Solutions Ltd. are experienced, qualified researchers who can help you use traditional knowledge to influence the environmental approvals process for industry or infrastructure projects in your territory. We understand and work extensively with Aboriginal communities. Contact us for help with anything from training, to study design advice, to full study delivery. Contact us at:
(226) 706-8888