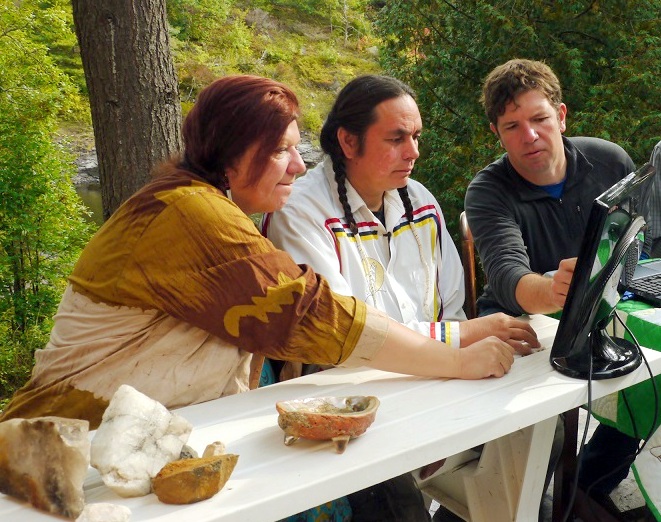 Scott Mackay of Shared Value Soutions (right) works with Aboriginal Knowledge Holders from Magnetawan First Nation

"Traditional Knowledge Matters" is our series of blog posts on the ways and means of influencing the environmental assessment and permitting process using Aboriginal traditional knowledge. See also:

Support for traditional knowledge and traditional land use studies is especially important for building relationships between communities and project proponents where there is a mutual desire to create real and meaningful partnerships. As new forms of Aboriginal and industry partnerships emerge, it is important for partnerships to start on a footing of protecting the lands, waters and way of life of Aboriginal community members and future generations. Combining scientific and traditional knowledge is important for designing adaptation strategies so that they are scientifically sound and truly connected to local value systems, needs and priorities.

Good study design and delivery is crucial to give traditional knowledge, and specific traditional ecologica knowledge, more influence in the environmental approvals process, and result in approaches to protect or enhance Aborginal community wellbeing. Use of established methods, ensuring a diverse and representative group of participants, and the involving qualified researchers increases the credibility and effectiveness of traditional knowledge.

Bottom line: Well designed traditional knowledge studies can make for much better infrastructure, mining and oil & gas projects - projects that move forward with respect and sensitivity to community needs now and for future generations.

Here are five key ingredients for traditional knowledge studies:
Involve qualified researchers in design and delivery- Anthropologists and social scientists trained in ethnography and with experience working in Aboriginal communities typically have the best skill sets to design and conduct this cross-cultural interviewing and group process work. They can also help to train community researchers to be involved in or deliver the study, providing guidance and oversight where needed. Other key members of a study team may include ecologists, environmental planners, and cartography/GIS specialists (involved in the mapping of traditional knowledge and land-use), all of whom are important in study design, delivery, and training of community researchers.

Use an ethnographic study design and "triangulate" with mixed methods

- Ethnography is a branch of anthropology which studies cultures, their interactions with their environments, and their knowledge and belief systems in a holistic way. We recommend use of an ethnographic study approach and design which uses a mix of related methods including individual and group interviews (focus groups, workshops), archival research, and participant observation. The mix of methods helps to triangulate or cross-check information and therefore increase the overall reliability of study results.

Gather knowledge in ways that fit

- It's important to try as much as possible to fit the knowledge-gathering process into existing cultural norms within a community instead of trying to get the community to fit the needs of the study. Go to community feasts, go out on hunting or fishing with people, join canoe trips to explore different areas of the community's territory. These compatible venues for gathering knowledge can be complimentary to the study and help people share knowledge by doing it in familiar ways and in familiar surroundings.

T

raditional land-use and occupancy interviews are a key component

- Traditional land-use and occupancy interviews – especially those using the methods pioneered by Terry Tobias- are excellent formats for gathering and sharing traditional knowledge. Such knowledge naturally flows out of an interview which focuses on how people use and relate to the land, and maps provide an important visual aid and cue in the process.

Select a representative cross-section of participants

- It's typical that different types of people within a community hold different kinds of knowledge. It's therefore important to understand who holds what knowledge and to engage a cross-section of knowledge-holders in your study. Some examples may include hunters and fishers, trappers, traditional healers, and clan leaders.
Need Help?
The staff and partners at Shared Value Solutions Ltd. are experienced, qualified researchers who can help you use traditional knowledge to influence the environmental approvals process for industry or infrastructure projects in your territory. We understand and work extensively with Aboriginal communities. Contact us for help with anything from training, to study design advice, to full study delivery. Contact us at:
(226) 706-8888