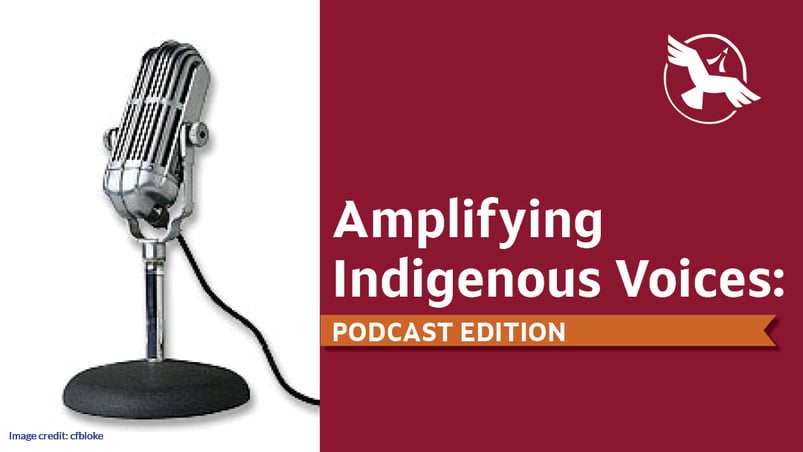 If you're looking for entertainment, education, and often a good dose of humour, then podcasts may be for you. Unlike other forms of media (think books or TV) podcasts also offer flexibility. Listen to your favourite series while you do dishes, get some fresh air and catch up on a recent episode while going for a walk. The possibilities are as endless as the available topics!
Lately, Indigenous voices have taken the world of digital media by storm. Indigenous creators are picking up the microphone to tell their stories: stories of reconciliation, struggle, and hope; untold stories; fresh perspectives; and much much more. With the popularity of podcasts and the potential to reach large audiences, this method of amplifying Indigenous voices has unlimited promise and we are loving every minute of it.
At SVS, we are continually expanding our minds by seeking out and engaging with Indigenous content in all forms. As part of our commitment to Reconciliation, we strive to support and highlight the work of Indigenous creators. The below list of podcasts include suggestions from our team members and others from our "Must Listen" list. Check them out!
New Fire
Indigenous youth are at the forefront of Lisa Charleyboy's podcast, where she gets frank on topics like music, identity and sex. Each episode, she moderates the conversation with a different group of millennials.
Matriarch Movement
Host Shayla Oulette Stonechild shares stories of Indigenous women from Canada to Turtle Island and beyond. Through interviews, issues facing Indigenous women are brought to light in ways that challenge the mainstream narrative around Indigenous identity. Matriarch Movement offers a new category of Indigenous role models to inspire the next seven generations.
Missing and Murdered
Investigative journalist Connie Walker recounts stories of missing and murdered Indigenous women and girls. The podcast has picked up many awards, including the Canadian Journalism Foundation's Jackman Award for Excellence in Journalism, a Canadian Screen Award, the inaugural award for best serialized story at the Third Coast International Audio Festival in Chicago, and was named one of the Best Podcasts of 2018 by Apple Canada.
All My Relations
This show features invite a roster of super-smart and relatable experts to join them to discuss topics like Native American mascots, Indigenous food and feeding the spirit, sexuality, and whether DNA test results should be linked to identity.Photographer Matika Wilbur, who is Swinomish and Tulalip, and academic Adrienne Keene, from the Cherokee Nation, spent the first two seasons of this podcast discussing what it means to be Indigenous. Three years later, they welcomed Desi Small-Rodriguez as co-host, while Keene took a sabbatical to finish writing her book. Recording remotely in Washington, they invite a roster of super-smart and relatable experts to join them to discuss topics like Native American mascots, Indigenous food and feeding the spirit, sexuality, and whether DNA test results should be linked to identity.
ᐃᓄᐃᑦ ᐅᓂᒃᑳᖏᑦ (Inuit Unikkaangit)
Host and Archivist Mary Powder reunites Inuit with stories from CBC North's vast Inuktitut language archives by replaying them for the descendants of the original storytellers, some of whom are hearing them for the very first time.
Pieces
Since the day he was old enough, Jeremy knew he was different. A mix of Indigenous and white heritage, he has experienced life through both vantage points – as well as the stereotypes. Join 19-year-old Jeremy Ratt on a journey of self discovery as he seeks to understand his roots and all of the distinct "pieces" that form who he is today.
Kiwew
An intriguing five-part podcast in which Governor General award-winning author David A. Robertson dives into his family's history and mysteries as he discovers and connects with his Cree identity.
Te

lling Our Twisted Histories
Words connect us. Words hurt us. Indigenous histories have been twisted by centuries of colonization. Host Kaniehti:io Horn brings us together to decolonize our minds– one word, one concept, one story at a time.
This Place
Based on the acclaimed graphic novel anthology, This Place is a 10-part journey through one-hundred and fifty years of Indigenous resistance and resilience. Through dramatizations and interviews, along with your host and time-guide storyteller Rosanna Deerchild, the series reveals the heroes, battles, triumphs and traditions which live outside and beyond the national story we have been taught ... to learn, to share, and to heal the future of "this place" we call Canada.
Indigenous (NATIVE COOKING) - Ologies with Alie Ward
Shoving elk into a dorm room freezer. The wildest tasting rice. Flower bulbs, acorn whoopie pies, frybread debates, mushroom foraging tips, corn magic, puffball mythology, decolonized diets, squash lasagna, bison harvests, small worlds, Instapots and — most importantly — food sovereignty with the WONDERFUL Indigikitchen cooking show host, environmental scientist Mariah Gladstone, who reminds us all the native foods aren't a part of a past, but an essential and exciting aspect of the future.
Unreserved
Unreserved is the radio space for Indigenous community, culture, and conversation. Host Rosanna Deerchild takes you straight into Indigenous Canada, from Halifax to Haida Gwaii, from Shamattawa to Ottawa, introducing listeners to the storytellers, culture makers and community shakers from across the country.
Grab your headphones and get listening. There is no shortage of Indigenous content to enjoy and learn from.
Are you listening to something that isn't on our list? Leave a comment below and let us know! We are always looking for the next great podcast to add to our list!
---
We are an Canadian B Corp, and we assist Indigenous communities with support throughout regulatory processes surrounding major development projects like mines, hydroelectric facilities, transmission lines, highway expansions, oil and gas pipelines, natural resource transport applications and nuclear power.
We have deep context and experience behind the recommendations we provide, having worked for our clients on almost every major project in Canada over the last 10 years. For us, it's all about building long-term relationships with our clients. We want to get to know you and what you want to do so we can help you move your plans forward.
Impact Benefit Agreement Negotiation Support

Technical Reviews and Regulatory Process Support

Community and Economic Development Planning

Indigenous Knowledge and Land Use Studies

Environmental Monitoring

Guardians Program Development

Climate Change Readiness

GIS and Mapping
And so much more:

www.sharedvaluesolutions.com