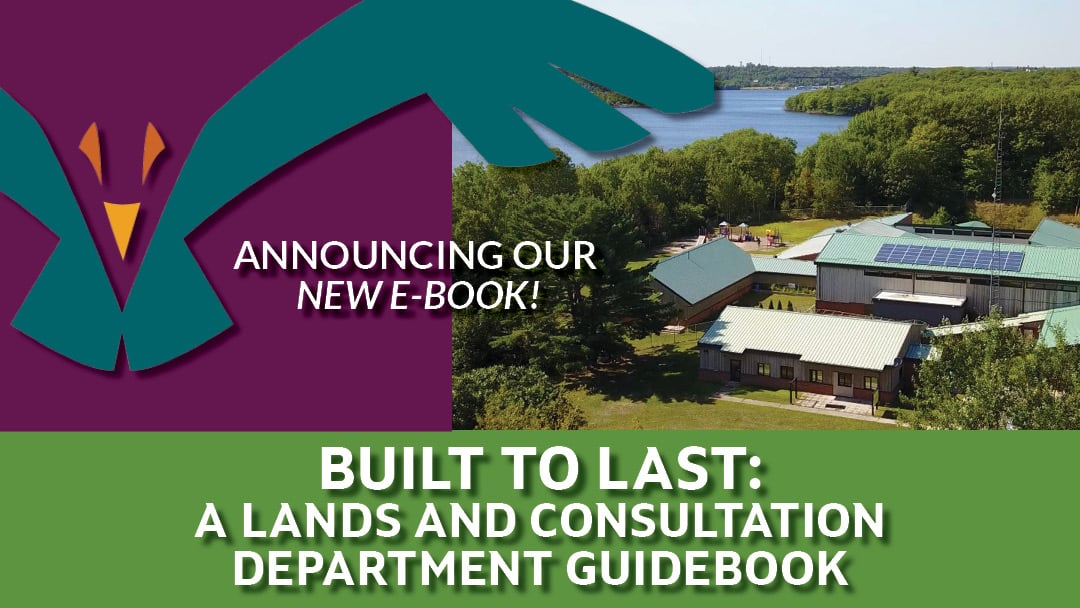 Are you caught in the delicate balancing act of protecting your Nation's Rights in the face of development, while furthering the prosperity of your people?
Announcing our new free eBook! Built to Last: A Lands and Consultation Department Guidebook
If you work in your Nation's lands, resources, or consultation departments, or hold these portfolios on Council, you likely know all too well what it feels like to be drowning in consultation emails! The sheer volume of incoming consultation and engagement requests makes it hard to take time for clear decision-making about priorities.
What's in this eBook?
We cover the main topics crucial to your success:
The Case for a Lands and Consultation Department

Anatomy of a Successful Lands Department: Purpose, Roles and Responsibilities

Catching the Big Ones: How to Screen Referrals and Engagement Requests

Funding Strategies for a Sustainable Lands and Consultation Department

Outsourcing the Lands Department: A Conversation with Chief Christine Minnabarriet of Cook's Ferry Indian Band
Over the past decade, we have had the privilege of working with the talented, dedicated, and visionary lands and consultation staff in First Nations, Métis, and Inuit communities and organizations across Turtle Island. As always, this eBook rests on the experiences and successes of the departments that we have helped to build and those we have worked alongside. We hope you find inspiration in their stories and find new ideas to add to your own plans.
Check out the rest of our growing eBook library for more ideas and inspiration on topics including environmental monitoring, Indigenous Knowledge research, planning, GIS and mapping, and more!
Looking for help with your Lands and Consultation Department?
Please give us a shout! Our team would love to chat through all the options available to you. Here are some the services we have offered to our clients in building their Lands and Consultation Departments:
Lands and Consultation Department Set Ups and Tune-ups
From systems to screen and prioritize consultation requests to roles and responsibilities, communication, workflows, and funding sources, we work with you to design or improve a structure you can build on and sustain.
Remote Contract Lands and Consultation Department
Under the direction of your leadership team, we can take care of managing all — or parts — of your department to achieve the best outcomes on reserve and territory wide. Short- or longer-term options available.
Custom Information Management Solutions
Intuitive software dashboards and tracking solutions make staying on top of your active files simple — helping you strengthen referral response. What's more, all your important documents — GIS and values data, lands management data, agreements and more — are organized, accessible, and secure.
Happy Reading!
About Us: Shared Value Solutions
We are an Canadian B Corp, and we assist Indigenous communities with support throughout regulatory processes surrounding major development projects like mines, hydroelectric facilities, transmission lines, highway expansions, oil and gas pipelines, natural resource transport applications and nuclear power.
We have deep context and experience behind the recommendations we provide, having worked for our clients on almost every major project in Canada over the last 10 years. For us, it's all about building long-term relationships with our clients. We want to get to know you and what you want to do so we can help you move your plans forward.
Impact Benefit Agreement Negotiation Support
Technical Reviews and Regulatory Process Support
Community and Economic Development Planning
Indigenous Knowledge and Land Use Studies
Environmental Monitoring
Guardians Program Development
Climate Change Readiness
GIS and Mapping