---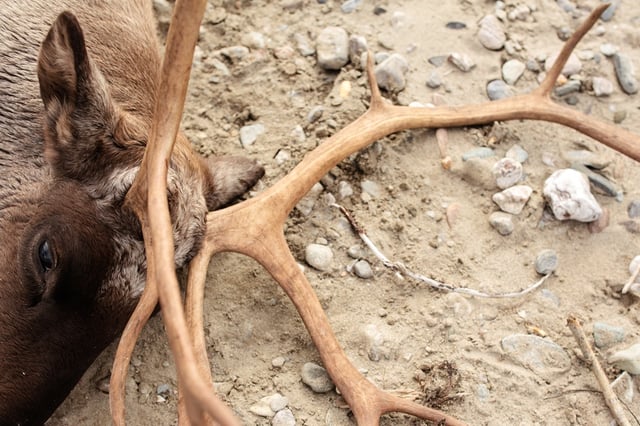 Check Your Pocket
The Caribou has been a Canadian icon since appearing on our quarters in 1936. But the Caribou on your quarter is in trouble in many parts of Canada, especially where their forest habitat is disturbed or fragmented.
The Aboriginal Fund for Species at Risk (AFSAR) call for proposals is now open. The program will be accepting Expressions of Interest until December 18th, 2015. The submission of an Expression of Interest is strongly encouraged, particularly for applicants who have not received AFSAR funding in the past or for those applying to a new stream. The deadline for proposal submissions is January 15th, 2016. Below, we provide six key steps for creating an AFSAR application.
---
About the Fund
The Aboriginal Fund for Species at Risk (AFSAR) aims to help indigenous nations build capacity to participate in the conservation and recovery of species and habitats. Established in 2004-2005, this fund is provided annually by Environment Canada and is open to all indigenous nations across Canada. Between 2004 and the end of March 2015, AFSAR invested over $29 million in 790 Species at Risk projects involving more than 200 communities, and benefitting more than 280 species that are listed under the Species at Risk Act (SARA). Projects have focused on both specific conservation projects and projects aimed at increasing awareness of species at risk, the development of strategies, guidelines and practices, and monitoring, surveying and inventorying studies.
Six key steps for creating a successful AFSAR application:
Step 1: Understand the AFSAR Program Goals
The AFSAR call for proposals is now open and available at: http://www.registrelep-sararegistry.gc.ca/default.asp?lang=En&n=100965FB-1
AFSAR's main goals are protecting aquatic and terrestrial habitat and contributing to the recovery of species at risk, as well as preventing other species from becoming a conservation concern.
According to program guidance, the Species at Risk Stream focuses on results in four main areas:
Strengthen capacity in Aboriginal communities for SARA implementation.

Mitigate threats to species at risk, be they individuals or populations.

Protect, improve or manage critical and important habitat

of species at risk.

Document and conserve Aboriginal Traditional Knowledge and Traditional Ecological Knowledge of species at risk and, where appropriate, help ensure their use in the development of recovery objectives.
The Prevention Stream focuses on the same results as the Species at Risk Stream but with a focus on species beyond those listed on Schedule 1 of SARA.
Step 2: Choose a Stream
Funds can be used to implement projects in support of one of two streams:
Species at Risk Stream: Projects dedicated to protecting and recovering Species at Risk, as defined under the Species at Risk Act (e.g. barn owl, queensnake, cucumber tree, caribou, wolverine, Blanding's turtle. Note: These species may change depending on your location)

Prevention Stream: Projects dedicated to protecting and enhancing other priority species within your traditional territory and/or reservation that are of cultural significance to your nation - preference is given to endangered species (e.g. Canadian toad, hooded seal, muskox, caribou, wolverine, yellow-billed loon, lake sturgeon, American eel)
Step 3: Deterimine a Topic
In previous years communities have used this fund for:
Training for nation members in the identification and monitoring of Species at Risk or other important species (e.g. as part of BEAHR training)

Increasing habitat quality and quantity

Gathering information on species population, abundance and habitat, including indigenous knowledge of such species

Traditional Ecological Knowledge interviews with elders, trappers and land users to:

Help guide species recovery planning

Encourage stewardship activities

Support the development of traditional land use management plans that help protect or enhance habitat for Species at Risk

Creating educational materials

Identifying known spawning and rearing sites

Identifying of the effects of climate change on the land and on wildlife
A good source of information on Canada's approach to protecting and recovering species at risk is the Species at Risk Public Registry
Based on previous community use of the AFSAR fund, you would be wise to be specific to your nation's capacity building needs around threats to species at risk, critical and important habitat of interest to your nation, and your nation's Traditional Knowledge and Traditional Ecological Knowledge expertise and related needs.
Step 4: Budget
AFSAR requires a minimum of 1 : 0.20 leveraging on funds that it invests so that, for every $1 provided by AFSAR, at least $0.20 is raised by project recipients. This leveraging can take the form of either financial or in-kind resources (volunteered labour, products or services). Partner funding and other support broaden the scope of projects, improve on-the-ground results, and strengthen the public and private collaboration that is essential to involving all Canadians in stewardship activities for all species.
Funding allotments vary, but we understand that successful applicants typically receive up to $50,000 per year for up to 3 years.
Step 5: Make Sure You are Eligible
Communities and organizations actively involved in the management of indigenous nation lands are eligible for AFSAR funding. If you are in doubt, check the program guidelines and/or contact an AFSAR regional office listed in the call for proposals. The types of organizations are listed as eligible for AFSAR funding, include:
Indigenous associations/organizations

Territorially based Indigenous groups

District councils / Chief and council

Traditional appointed advisory committees

Indigenous corporations

Tribal councils

Indigenous partnerships and groups

Indigenous school authorities

Indigenous cultural education centres

Indigenous land/resource management authorities

Indigenous co-operatives

Indigenous societies

Indigenous boards and commissions, and

Other organizations (Indigenous and non-Indigenous) if mandated by eligible recipients.
Step 6: Dovetail with Regional Priorities
AFSAR proposal activities that respond to regional priorities are reviewed and recommended for funding by five Regional Management Teams: Pacific and Yukon, Prairie and Northern, Ontario, Quebec, and Atlantic. The members of these teams represent the three responsible departments, Indigenous and Northern Affairs Canada as well as indigenous, provincial, territorial, conservation and other stakeholder interests. Submitting an Expression of Interest and reviewing that document with program staff will help make sure your AFSAR application maps onto regional and national priorities.
---
How We Can Help
Given the short time period to develop Expressions of Interest and submit applications for AFSAR we're reaching out to alert our clients - indigenous nations and businesses working with indigenous nations - where we are aware of needs and interests to protect aquatic and terrestrial habitat and contribute to the recovery of species at risk, or prevent other species from becoming a conservation concern. If you are not a client, but are interested in developing an application, Shared Value Solutions can:
Assist your community with understanding how this fund could best benefit your community

Provide assistance with the application process

If appropriate, assist with the implementation of the project
We're here to help. We work with Indigenous nations across Canada, and regularly support clients in successfully applying for funding opportunities that enhance environmental capacity.
If your community is interested in participating in AFSAR and wants assistance you can contact Trieneke Gastmeier or Don Richardson: 226-706-8888 or info@sharedvaluesolutions.com
Businesses and organizations are made up of people. So are communities. Imagine a world where people in industry and government, and people from towns of all sizes, get together to make amazing things happen – things they couldn't have dreamed up alone. A world where people from corporations get together with people in government or NGOs to explore innovative ways to do business while enhancing the natural and social environment. Join us in Creating Shared Value!
At Shared Value Solutions, we speak your language. And we know that the impossible is possible – with the right people in the circle.
We are an Ontario B Corp and we bring the best engineering, design, environment, architecture and other technical discipline expertise to address your challenges and opportunities:
Strategic Environmental Assessment guidance, coordination and support

Collaborative land and resource use planning and management- process design and delivery

Traditional Ecological Knowledge Studies & Traditional Knowledge Studies

Traditional Land Use Studies (TLUS)/ Traditional Land Use and Occupancy Mapping

Design and delivery of programs promoting/supporting positive behaviour change- environmental stewardship, community-based social marketing, health/environmental health promotion, Aboriginal community energy plan initiatives

Contributing human environment considerations to technical assessments and management plans in sectors such as water resources, remediation, land use, mining, oil & gas, linear corridor development, forestry, renewable energy, nuclear waste, contaminated sites, brownfield redevelopment, watershed planning, drought planning, water use planning, waste management and waste diversion

Aboriginal and Industry Partnerships working with First Nation, Inuit and Métis communities

Value Engineering & Value Analysis: we facilitate project teams to optimize a project by understanding functions, objectives, costs and social, cultural and environmental considerations.
---