Archaeology and Indigenous Rights: Mississaugas of the New Credit First Nation community member Carolyn King (left) monitoring an archaeological assessment in the Greater Toronto Area with Shared Value Solutions Archaeologist, Trieneke Gastmeier (right, facing camera)
Who owns the past? Who should have the right (ethically or otherwise) to dig it up? These are important questions one must consider when working in the field of archaeology.
In Ontario, the Provincial Government divides archaeological assessments into 4 stages (see below for a summary of these stages provided by the Ministry of Tourism, Culture, and Sport).
shortcoming in the way archaeology is carried out in Ontario, and in many other jurisdictions in Canada, is that it has traditionally – and in many ways continues to be – governed by non-indigenous peoples. Governance of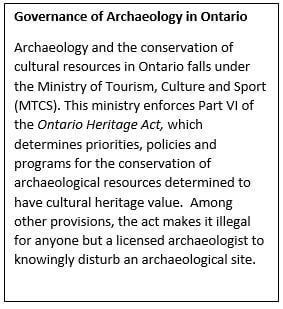 archaeology by non-indigenous peoples continues, despite the fact that in Ontario, and across Canada, a vast proportion of archaeological sites in the province are indigenous. These matters are important for Indigenous communities, but also for proponents wishing to more effectively engage with communities where project work will disturb soils, and regulators seek to integrate indigenous knowledge in environmental assessments.
"Aboriginal Engagement" was only introduced in the Ontario Provincial "Standards and Guidelines for Archaeologists" in 2011. This inclusion was in response to a mounting criticism over the exclusion of indigenous peoples in the archaeological process, and indeed the perceived entitlement of many non-indigenous archaeologists to the past (DeVries, 2014). Under the revised Standards and Guidelines, archaeologists are expected to include indigenous participation, however, consultation with indigenous communities is only mandated for a relevant Stage 3 assessment or higher, and thus there is much space for improvement (see The Four Archaeological Stages in Ontario below).
According to a draft bulletin that was issued by the Ministry of Tourism, Culture and Sport in 2011 – that still remains in draft form - consultant archaeologists are "encouraged" but not required (Ministry of Tourism, Culture, and Sport, 2011) to engage indigenous communities:
"In Stage 1, when conducting the Background Study, in order to identify information sources in local Aboriginal communities (e.g., for information on traditional use areas, sacred sites, and other sites)
In Stage 1, when evaluating archaeological potential and making recommendations to exempt areas meeting the criteria for low archaeological potential from further assessment, in order to ensure there are no unaddressed Aboriginal cultural heritage interests
In Stage 2, when assessing a property and determining archaeological sites that require Stage 3 fieldwork, in order to determine interest (general and site-specific) in the Aboriginal archaeological sites and ensure that there are no unaddressed Aboriginal archaeological interests connected with the land surveyed or sites identified
In Stage 3, when making recommendations regarding the excavation or preservation of Aboriginal archaeological sites of cultural heritage value or interest (other than those identified in the standards), in order to review the recommendations with the relevant, interested Aboriginal communities" (Ministry of Tourism, Culture, and Sport, 2011).
7 Ways Indigenous Nations Can Take the Lead with Archaeological Work
There are many ways for indigenous nations to take the lead when it comes to archaeology. In Ontario, the Standards and Guidelines are still quite new and leave much room for the field to grow with respect to indigenous rights and interests. Project proponents wishing to more effectively engage with communities may want to support indigenous leaders working to improve and enhance archaeological assessment. By getting significantly engaged and involved in archaeological work, indigenous nations can:
1) Push the envelope to have indigenous engagement mandated earlier in the archaeological assessment process – overall and for specific projects
2) Actively monitor and peer review archaeological studies within traditional territory (trained community members and/or licenced archaeologist working for the community)
3) Conduct archaeological research across traditional territory, driven by indigenous interests vs. proponent or government interests
4) Create indigenous facilities and museums to store/curate artifacts
5) Lead the progression of archaeology overall by broadening the scope of how archaeology is conducted and by whom
6) Create indigenous Standards and Guidelines for how archaeology is practiced on indigenous nation traditional territory
7) Reclaim indigenous history and tell it from an indigenous perspective
---
Backgrounder: The Four Archaeological Stages in Ontario
Source Ministry of Tourism, Culture, and Sport (2015).
Stage 1: background study and property inspection
The consultant archaeologist determines whether there is potential for archaeological sites on the property. He or she reviews geographic, land use and historical information for the property and the relevant surrounding area, visits the property to inspect its current condition and contacts this ministry to find out whether or not there are any known archaeological sites on or near the property. A Stage 2 assessment is required when the consultant archaeologist identifies areas of archaeological potential.
Stage 2: property assessment
The consultant archaeologist surveys the land to identify any archaeological resources on the property being developed. For a ploughed field, he or she will walk back and forth over it looking for artifacts on the surface. In forests, overgrown pasture areas or any other places that cannot be ploughed, he or she will dig parallel rows of small holes, called test pits, down to sterile subsoil at regular intervals and sift the soil to look for artifacts. He or she may use other strategies if properties are paved, covered in fill or have deeply buried former topsoils (such as floodplains or former sand dunes). The consultant archaeologist will help determine whether any archaeological resources found are of sufficient cultural heritage value or interest to require Stage 3 assessment.
Stage 3: site-specific assessment
This stage is for all archaeological sites that may be of cultural heritage value or interest. The consultant archaeologist accurately determines the size of the archaeological site, evaluates its cultural heritage value or interest and, where necessary, makes recommendations for Stage 4 mitigation strategies. To this end, he or she conducts further background research and fieldwork that expands the information gathered in Stage 2. He or she maps the spatial limits of a site and acquires further information about the site's characteristics by excavating one-metre by one-metre square test units across the site. Based on circumstances, some sites, for example ones that have been paved or are deeply buried, may require specialized methods of assessment.
Consultant archaeologists must engage Aboriginal communities at the following stages in Stage 3, when:
1) assessing the cultural heritage value or interest of an Aboriginal archaeological site that is known to have or appears to have sacred or spiritual importance, or is associated with traditional land uses or geographic features of cultural heritage interest, or is the subject of Aboriginal oral histories. [Standards and Guidelines for Consultant Archaeologists, Section 3.4]
2) when formulating a strategy to mitigate the impacts on the following types of Aboriginal archaeological sites through avoidance and protection or excavation at the end of Stage 3 [Sections 3.4 and 3.5]:
a. rare Aboriginal archaeological sites;
b. sites identified as sacred or known to contain human remains;
c. woodland Aboriginal sites;
d. aboriginal archaeological sites where topsoil stripping is contemplated;
e. undisturbed Aboriginal sites;
f. sites previously identified as of interest to an Aboriginal community.
When a consultant archaeologist has engaged Aboriginal communities as part of an archaeological project, he or she must provide a description of the engagement and a copy of any documentation arising from the process to the Ministry of Tourism and Culture. [Section 7.6.2]
Stage 4: mitigation of development impacts
This stage involves implementing conservation strategies for archaeological sites that are of cultural heritage value or interest. Determining the best approach for conserving the site may include reviewing possible strategies with the development proponent, the municipality or other approval authority, Aboriginal communities, and other heritage stakeholders.
Conserving archaeological sites that have cultural heritage value or interest does not mean stopping development. Conservation can involve putting long-term protection measures in place around an archaeological site to protect it intact. The site is then avoided while development proceeds around it. This is called protection 'in situ' and is always the preferred option for mitigation of development impacts to a site. If protection is not viable, mitigation can involve documenting and removing an archaeological site, through excavation, before development takes place.
---
Citations
DeVries, Megan, "Cultural Resource Management and Aboriginal Engagement: Policy and Practice in Ontario Archaeology" (2014). Electronic Thesis and Dissertation Repository.Paper 2454.
http://ir.lib.uwo.ca/etd/2454
Ministry of Tourism, Culture, and Sport (2011). Engaging Aboriginal Communities in Archaeology: Draft Technical Bulletin for Consultant Archaeologists in Ontario. http://www.mtc.gov.on.ca/en/publications/AbEngageBulletin.pdf
Ministry of Tourism, Culture, and Sport (2015). Archaeological Assessments. http://www.mtc.gov.on.ca/en/archaeology/archaeology_assessments.shtml
About Us - Shared Value Solutions Ltd.:
Businesses and organizations are made up of people. So are communities. Imagine a world where people in industry and government, and people from towns of all sizes, get together to make amazing things happen – things they couldn't have dreamed up alone. A world where people from corporations get together with people in government or NGOs to explore innovative ways to do business while enhancing the natural and social environment. Join us in Creating Shared Value!
At Shared Value Solutions, we speak your language. And we know that the impossible is possible – with the right people in the circle.
We are an Ontario B Corp and we bring the best engineering, design, environment, architecture and other technical discipline expertise to address your challenges and opportunities:
Strategic Environmental Assessment guidance, coordination and support
Collaborative land and resource use planning and management- process design and delivery
Traditional Ecological Knowledge Studies & Traditional Knowledge Studies
Traditional Land Use Studies (TLUS)/ Traditional Land Use and Occupancy Mapping
Design and delivery of programs promoting/supporting positive behaviour change- environmental stewardship, community-based social marketing, health/environmental health promotion, Aboriginal community energy plan initiatives
Contributing human environment considerations to technical assessments and management plans in sectors such as water resources, remediation, land use, mining, oil & gas, linear corridor development, forestry, renewable energy, nuclear waste, contaminated sites, brownfield redevelopment, watershed planning, drought planning, water use planning, waste management and waste diversion
Indigenous and Industry Partnerships working with First Nation, Inuit and Métis communities
Value Engineering & Value Analysis: we facilitate project teams to optimize a project by understanding functions, objectives, costs and social, cultural and environmental considerations.