The Canadian Aboriginal Minerals Association conference is coming up and Shared Value Solutions is proud to sponsor CAMA's pre-conference youth workshop on Saturday November 11th, 2017.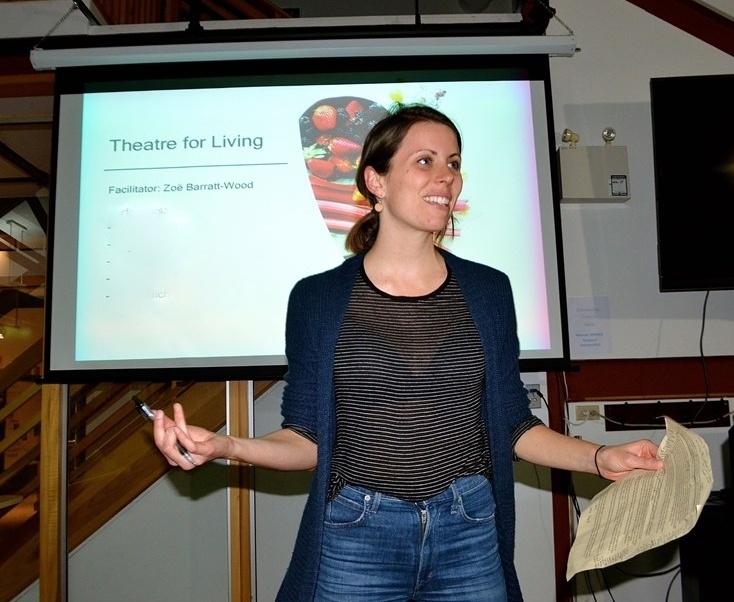 At the workshop youth will explore the elements of water, mining, balance through an experiential process based on the 'Theatre for Living' format facilitated by Certified Theatre for Living instructor, Zoë Barrett-Wood.
The "Theatre for Living" approach is a creative technique that will enable youth attendees to explore the conference theme and to connect youth with other attendees at the gala dinner. Zoë Barrett-Wood of Shared Value Solutions is an actor, improv teacher, and Theatre for Living facilitator. The vision for engaging youth at the conference and enabling audience interaction involves Theatre for Living and improv games.
What is Theatre for Living? What is improv?
The Theatre for Living approach uses theatre and storytelling as tools for people to explore complex topics, share perspectives, and imagine new possibilities for the future. Fun and engaging exercises followed by guided reflections help participants express themselves and connect with others. Improv or improvisation is best known as a form of comedy in which performers make up funny stories on the spot. Zoë harnesses the key elements of improv – listening, agreement, and building on each other's ideas – to help people connect, release inhibitions, and laugh.
Youth perspectives on mining and sustainability
This workshop will provide youth with an opportunity to share their knowledge, perspectives, questions and stories related to "water for life", "mining for need", and "achieving balance". Participants will learn from one another while building relationships with each other.
This focused exploration of the conference's themes is intended to youth feel like more active players in the conference, and help make the rest of the conference more meaningful to them. The workshop will help youth identify themes and ideas to be looking for during conference presentations, and help them identify questions that they want to try to answer through information presented at the conference. An interactive improv style ice-breaker, followed by a performance highlighting the outcomes of the youth Theatre for Living workshop will be presented at the gala dinner on Monday November 13th; giving a voice to youth and providing conference participants with insight into youth perspectives and priorities.
Interested in following along with conference updates on social media? Be sure to check out hashtag #CAMA2017Toronto and follow SVS at @SharedValueCA
Shared Value Solutions (SVS) has an unshakable commitment to a land where all peoples can reach their full potential, share prosperity, and uphold their rights. We believe all of this begins and ends with healthy lands and waters.
SVS is a small, rapidly growing 27-person environmental and community development consulting firm located in Guelph, Ontario, Canada, that works primarily for and with Indigenous clients.
We assist Indigenous and non-Indigenous communities and private sector companies in coming together to create shared value for all parties involved. Our values are to "have fun, make money, do good, and do good work".
We are a B Corp and we bring the best engineering, design, environment, architecture and other technical discipline expertise to address your challenges and opportunities:
Strategic Environmental Assessment

guidance, coordination and support
Collaborative land and resource use planning and management- process design and delivery
Design and delivery of programs promoting/supporting positive behaviour change- environmental stewardship, community-based social marketing, health/environmental health promotion
Contributing human environment considerations to technical assessments and management plans in sectors such as water resources, remediation, land use, mining, oil & gas, linear corridor development, forestry, renewable energy, nuclear waste, contaminated sites, brownfield redevelopment, watershed planning, drought planning, water use planning, waste management and waste diversion