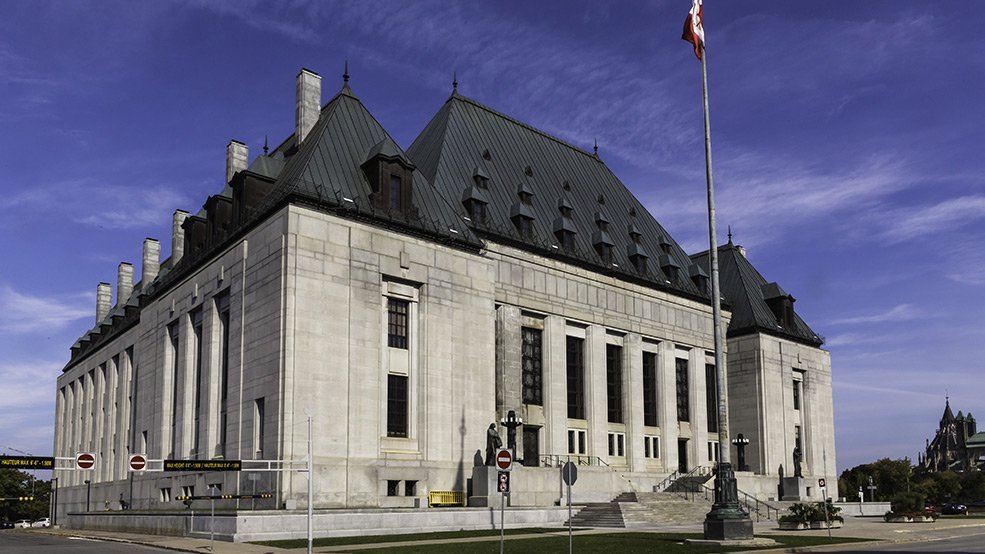 When Canada's Supreme Court ruled in October that Ottawa has no duty to consult with Indigenous people when drafting new legislation, a "magnitude 9.8 reconciliation quake" struck Canada, according to the good folk at Walking Eagle News.
The Quake Epicentre: Mikisew Cree Nation of Alberta
The Mikisew Cree Nation of Alberta argued all the way to the Supreme Court that the Harper government's 2012 Omnibus Bills, which gutted Canada's environmental laws and reduced oversight and protections for their lands and waters, should have required the Crown to consult with the Mikisew Cree and other Indigenous nations. This 2012 Harper government action lit the fire for Idle-No-More, and the Mikisew Cree did not stand idle.
The Supreme Court's ruling is a setback for Indigenous people dealing with major projects in their territories, such as mines and pipelines. Instead of requiring the Crown to consult in advance of enacting rights-affecting laws or making executive decisions about how these projects are regulated, it leaves Indigenous peoples to fight for their rights after the fact.
Collaborative Consent Survives the Quake
In spite of the Mikisew decision, Indigenous governments are working effectively to shift the rights agenda toward collaborative consent, and change the game. The folks at the POLIS Project on Ecological Governance and the Centre for Indigenous Environmental Resources (CIER) define it like this:
Collaborative consent describes an ongoing process of committed engagement between Indigenous and non-Indigenous governments— acting as equal partners, each with their asserted authority—to secure mutual consent on proposed paths forward related to matters of common concern and all aspects of governance. Collaborative consent is about changing how decisions at all levels are made: from individual projects up to law and policy. (emphasis ours)
How Does Collaborative Consent Shake Up Impact Assessments?
With its emphasis on outcomes, shared decision-making and satisfying everyone, collaborative consent is very different from the current Crown approach to consulting on Section 35 rights impacts related to major projects, which, most everyone would agree, is messy, difficult and unsatisfactory.
Many Indigenous governments are finding that Impact Assessments – environmental and otherwise – provide big openings to insert collaborative consent processes that lead to
strong Impact Benefit Agreements (IBAs),
deep environmental commitments,
important socio-economic commitments
a variety of meaningful conditions of approval, and
oversight with decision-making power (or "oversight with teeth" as we like to say) after a project is approved.
How to Bring Collaborative Consent to Impact Assessment
Here are some examples of ways to bring collaborative consent to Impact Assessment with projects that impact your lands and waters, and get better outcomes:
Create process agreements through early engagement with project proponents, defining long-term commitments, including consent-related terms
With legal advise, consider, and communicate, intentions to litigate if proponents are not willing to come to the table to negotiate agreements and IBAs
Demand pre- and post-Impact Assessment engagement by the Crown
Be a strong presence on Impact Assessment government review teams or advisory committees
Demand real control over early planning and baseline studies
Demand enhanced analysis of various project alternatives, refusing to accept a pre-determined "preferred alternative"
Be at the table for decisions on how Impact Assessments are designed
Determine the socio-economic impacts you want to avoid, and the positive socio-economic impacts that you want to create
Create and run Indigenous Advisory and Monitoring Committees (IAMCs)
Create and run Indigenous Guardians programs for project follow-up/compliance/monitoring phases
Demand environmental protections above and beyond regulatory requirements
The After-Shock: Indigenous-led Impact Assessments
A very important factor in how well collaborative consent works is - surprise, surprise- the spirit in which the parties enter into the process. When communities, proponents and/or the Crown are only interested in doing the minimum, "game" regulatory processes, or are focused only on their own interests, the process doesn't work well at all. Indigenous led Impact Assessments where Indigenous governments assert their jurisdictional rights are already happening, more are coming, and we may see these arrangements formally recognized as ways forward in new federal Impact Assessment legislation. Apparently, that's coming via Bill C-69 – fingers crossed.
Adapted from SVS's Scott Mackay's 2018 Ontario Association for Impact Assessment (OAIA) presentation with Anthony LaForge, Magnetawan First Nation.
SVS is a Canadian B Corp, and we assist Indigenous communities with support throughout regulatory processes surrounding major development projects like mines, hydroelectric facilities, transmission lines, highway expansions, oil and gas pipelines, natural resource transport applications and nuclear power.
We have deep context and experience behind the recommendations we provide, having worked for our clients on almost every major project in Canada over the last 10 years. For us, it's all about building long-term relationships with our clients. We want to get to know you and what you want to do so we can help you move your plans forward.