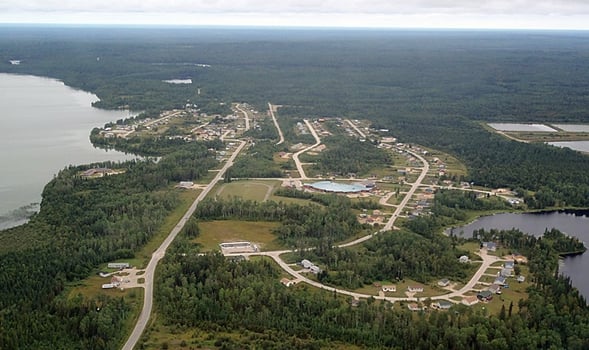 Constance Lake First Nation
Bad Water, Bad Headlines
The CBC News headline from October 15, 2015 reads:
Bad water: 'Third World' conditions on First Nations in Canada: Two-thirds of First Nations have been under at least 1 water advisory between 2004 and 2014. According to the article: "two-thirds of all First Nation communities in Canada have been under at least one drinking water advisory at some time in the last decade, a CBC News investigation has revealed. The numbers show that 400 out of 618 First Nations in the country had some kind of water problem between 2004 and 2014."
Fighting Bad Water and Winning
But we know it doesn't have to be this way. With the right people in the circle, the impossible is possible. We live in a world where, if they have the right intentions, people in industry and government, and people from towns of all sizes, get together to make amazing things happen – things they couldn't have dreamed up alone. We live in a world where, if they have the right intentions, people from corporations get together with people in local governments or NGOs to explore innovative ways to do business while enhancing the natural and social environment, and building community. In particular, we live in a world where Aboriginal and industry partnerships can achieve results that evade siloed government programs. We live in a world where shared value solutions are possible.
Constance Lake First Nation's Water Innovation Story
Seven years ago, a group of environmental scientists, environmental planners, and water specialists sat down for lunch with the elected leader of a distant community to hear the community's story of a watershed gone bad, years of contaminated water, and a seemingly permanent boil water advisory affecting the health of families and preventing economic development. The story was not from a Third World community, but from Constance Lake First Nation (CLFN) in northern Ontario.
Strongly affected by the story told by the Chief of CLFN, the members of the group around the lunch table decided to act. They decided to change the situation with CLFN citizens, whatever it took. At Constance Lake First Nation, the community's water supply was from a surface water source – Constance Lake – which had for many years been affected by toxic blue green algae. The members of the group around the lunch table formed a team to investigate the situation and search for solutions.
The team reached out to industry, government, and community resources to solve the problem. By July 2012, the team included planning leadership from Shared Value Solutions Ltd., experts and water engineers from AECOM and Hutchinson Environmental, technical support from water industry experts at Napier-Reid and GE Water, and government support from the Matawa Tribal Council, the Ontario Ministry of the Environment and Climate Change (MOECC), and Aboriginal Affairs and Northern Development Canada (AANDC). As the team spread the story that the Chief of Constance Lake First Nation had told them, more partners became willing to come to the table to act and make a change.
The first set of financial resources came from a generous MOECC Water Innovation grant, and funding from AANDC to look at water supply alternatives for CLFN. The team determined that a great deal of research needed to be done to understand the toxic blue green algae situation for Constance Lake. However, the community could not wait for the research. It needed to get clean, safe water, and to get off the boil water advisory through a quicker, permanent solution as soon as possible.
Overcoming a Third World Style Challenge in the Middle of Canada
CLFN conducted groundwater drilling investigations and discovered high quality and sufficient quantities of groundwater. Using the MOE grant to support the purchase of innovative Ontario water treatment technology from Napier-Reid to filter high iron content from the groundwater, the community was able to drill groundwater wells and gain access to safe water.
Now there was a terrific success story to tell to bring more partners on board – this was a story of unusual collaboration, planning and action to overcome a huge Third World style challenge in the middle of Canada. The story got told and heard, and with further planning and financial support from AANDC, the community was able to develop a long-term plan to rebuild its water treatment system around the new groundwater supply.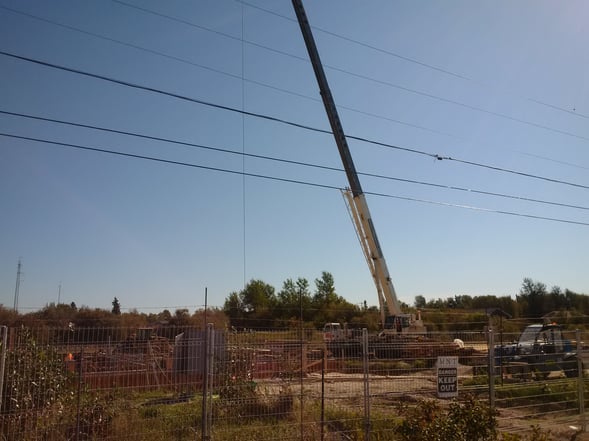 Construction starts for new Water Treatment Plant at Constance Lake First Nation, September, 2015
Moving from blue green algae contaminated surface water to a safe groundwater supply was a huge and important step for CLFN. The community then moved forward to finalize a comprehensive Water Management Action Plan with prioritized initiatives to keep momentum moving forward for safe and secure water for future generations, with a primary objective to revitalize the lake for fishing and recreational purposes.
Aboriginal Community Wellbeing Requires More Than Engineering Solutions
The key lesson learned from this story is that the path to enhanced Aboriginal community wellbeing requires more than engineering solutions – it requires people throughout a watershed to understand their watershed and the need to protect it and the ecosystem around it. It requires people telling stories, listening to stories, and moving to action. Groundwater sources require special attention from people because they are hidden from view.
The core group that first met with the Chief of CLFN for lunch seven years ago decided to get beyond technology and science and get more involved in storytelling and bringing people together to share stories. The next step was to create platforms for stories to be shared and for people to come together to create and implement action plans. The next step required a groundswell of interest in watersheds and groundwater. And so in June, 2014, with leadership from Constance Lake First Nation and Shared Value Solutions, GroundSwell, a conference on groundwater innovation for creating shared value for groundwater communities, researchers, and technical innovators was born.
During the GroundSwell conference, groundwater experts, accomplished scientists, researchers, practitioners, private sector suppliers, students, policy-makers from all levels of government, a large contingent of representatives from Constance Lake First Nation, and representatives from indigenous and rural communities convened at the University of Guelph. The purpose of the conference was to connect, share stories, identify challenges, opportunities, and paths forward with respect to water resource challenges- with a specific focus on groundwater. Conference sessions ranged from Indigenous storytelling about water issues to identifying emerging contaminants in local water supplies to identifying solutions and challenges for Native and rural communities to bridging the gap between Western science and Indigenous knowledge. The conference also featured presentations from Mark Mattson on Lake Ontario Waterkeeper, Mike Nagy from Wellington Water Watchers and filmmaker and RBC Blue Water Ambassador and founder of Blue Legacy Group, Alexandra Cousteau.
Through Constance Lake First Nation's steady and successful approach to First Nation water innovation through creative partnerships, many connections have been made, ideas generated, stories told, and passions heard. What comes next is all about building lasting connections, continuing to share resources and ideas and put those ideas into action for other indigenous communities across Canada. The connections formed have the potential to be both long lasting and drive positive impact for clean water in communities across Canada.
About Us - Shared Value Solutions Ltd.:
Businesses and organizations are made up of people. So are communities. Imagine a world where people in industry and government, and people from towns of all sizes, get together to make amazing things happen – things they couldn't have dreamed up alone. A world where people from corporations get together with people in government or NGOs to explore innovative ways to do business while enhancing the natural and social environment. Join us in Creating Shared Value!
At Shared Value Solutions, we speak your language. And we know that the impossible is possible – with the right people in the circle.
We are an Ontario B Corp and we bring the best engineering, design, environment, architecture and other technical discipline expertise to address your challenges and opportunities:
Strategic Environmental Assessment guidance, coordination and support

Collaborative land and resource use planning and management- process design and delivery

Traditional Ecological Knowledge Studies & Traditional Knowledge Studies

Traditional Land Use Studies (TLUS)/ Traditional Land Use and Occupancy Mapping

Design and delivery of programs promoting/supporting positive behaviour change- environmental stewardship, community-based social marketing, health/environmental health promotion, Aboriginal community energy plan initiatives

Contributing human environment considerations to technical assessments and management plans in sectors such as water resources, remediation, land use, mining, oil & gas, linear corridor development, forestry, renewable energy, nuclear waste, contaminated sites, brownfield redevelopment, watershed planning, drought planning, water use planning, waste management and waste diversion

Aboriginal and Industry Partnerships working with First Nation, Inuit and Métis communities

Value Engineering & Value Analysis: we facilitate project teams to optimize a project by understanding functions, objectives, costs and social, cultural and environmental considerations.