(This presentation was originally given by Shared Value Solutions' Scott Mackay on Wednesday, October 23, 2013 at the Ontario Association for Impact Assessment's annual conference in Toronto, Ontario, Canada.). We also have a series of blog posts, "Traditional Knowledge Matters", on the ways and means of influencing the environmental assessment and permitting process using Aboriginal traditional knowledge. with topics including:
Support for traditional knowledge and traditional land use studies is especially important for building relationships between communities and project proponents where there is a mutual desire to create real and meaningful partnerships. As new forms of Aboriginal and industry partnerships emerge, it is important for partnerships to start on a footing of protecting the lands, waters and way of life of Aboriginal community members and future generations. Combining scientific and traditional knowledge is important for designing adaptation strategies so that they are scientifically sound and truly connected to local value systems, needs and priorities.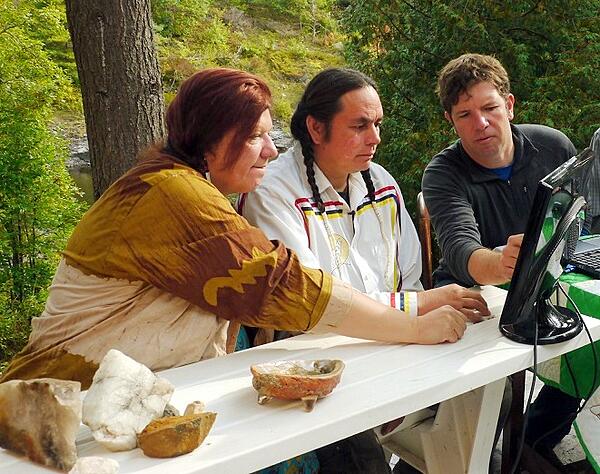 Scott Mackay working with Magnetawan First Nation knowledge holders in the field for traditional land use studies
It was my pleasure to present a case study of our Aboriginal traditional land use study work to the Ontario Association for Impact Assessment at their annual meeting last week. Shared Value Solutions organized a panel of key individuals involved in the study to speak to Aboriginal traditional knowledge and made the opening presentation to set the stage for further discussion.
Other panelists were from Magnetawan First Nation, the Ontario Ministry of Transportation, and AECOM engineering consultancy.
We convened the panel to present multiple perspectives about the value and lessons learned of working with the First Nation to conduct a traditional land use study (TLUS) as a contribution to the environmental assessment for a major highway development in Central Ontario. We also focused on how we "translated" study results into the environmental assessment context so that they were both meaningful and effective. We looked at how to fold into the project planning process, Valued Ecocystem Compoents or VECs and Valued Socio-Economic Components or VSECs that support or enhance Aboriginal community wellbeing.
During the presentation, I covered these topics:
1.Definitions
2.Case Study overview- Hwy 69 Four-Laning/MFN Traditional Land-Use Study & the Canadian Environmental Assessment Act
3.Methods and approach
4.Linking TLUS results to EIA/SEIA
5.Lessons Learned