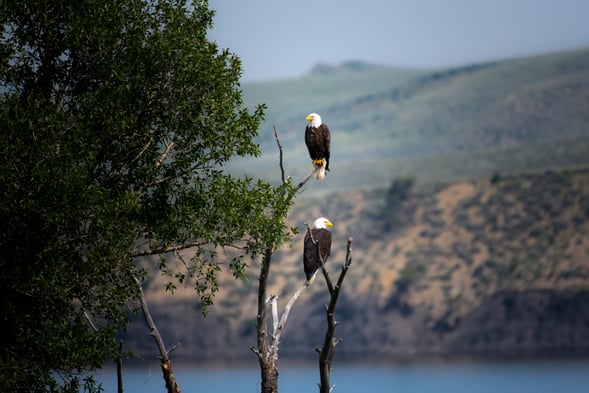 We've always got our eyes open for shifts in policy and legislation, and the initiatives and funding opportunities that result from them. "Eagle Eye" posts will keep you in the loop on changes we're seeing unfold across Canada and what they mean for Indigenous communities.
Our sights are set on a number of funding deadlines in the coming months that could be of interest to our client community. If you have any questions about any of the programs below or need support with an application please feel free to contact us, we're happy to help.
National Energy Board Modernization Participant Funding (Canada)
Natural Resources Canada
Deadline: January 31, 2017
Eligible Projects: Research, studies and position papers
This fund supports the development of input related to the six themes of the NEB Modernization review: (1) Governance; (2) Mandate; (3) Decision-making roles; (4) Legislative tools for lifecycle regulation; (5) Indigenous engagement; and, (6) Public participation. This is in addition to the funding that was made available to support the participation of Indigenous peoples.
Maximum Amount Available: $25,000
Creating, Knowing and Sharing (Canada)
Canada Council for the Arts
Deadline: April 15, 2017
Eligible Applicants: Indigenous artists and cultural carriers, and collaborations let by Indigenous members
This program is designed to support the reclamation, retention, renewal and transmission of First Nations, Inuit and Métis cultural knowledge and creative practice.
Maximum Amount Available: $30,000 - $300,000
Lands & Economic Development Services Program (Canada)
Aboriginal Affairs and Northern Development Canada
Deadline: On-going, expires when all program resources have been awarded
Eligible Applicants: Indigenous communities and Partnerships
The program supports First Nations who want to take on a broad scope of land and environmental responsibilities on behalf of the Minister, pursuant to sections 53 and 60 of the Indian Act, including land use planning, environmental management, and compliance in order to better take advantage of economic development opportunities. Readiness Assessments can be submitted indicating a community's intent to increase their responsibility for land management to increase annual funding allocations.
Maximum Amount Available: Not Specfied
Community Readiness and Opportunities Planning (Yukon, NWT, Nunavut)
Canadian Northern Economic Development Agency
Deadline: Not specified
Eligible Applicants: Indigenous governments, councils and organizations
This fund is intended to improve the economic development capacity of Aboriginal communities and increase economic development in the three territories. Funding is granted for activities related to planning, employment, employment and research.
Maximum Amount Available: 80% of project costs
Northern Ontario Internship Program (Ontario)
Canadian Northern Economic Development Agency
Deadline: March 31, 2017
Eligible Applicants: Private sector, public sector and not-for-profit organizations
The intent of the Northern Ontario Internship Program is to strengthen Northern Ontario's competitive advantage and build economic development capacity by attracting and retaining graduates in the North. The program provides recent graduates who are interested in launching and building their careers in Northern Ontario access to internships.
Maximum Amount Available: $31,500, 90% of salary
Indigenous BioCultural Exchange Fund (International)
The Christensen Fund
Deadline: February 16, 2017
Eligible Applicants: Indigenous individuals
This program provides financial assistance to an individual to attend global biocultural events/exchanges or meetings of international significance which impacts the applicant's home territory or region. It's designed to support indigenous peoples and local communities to have a voice in the policies and forums that concern biocultural diversity at a global level.
Maximum Amount Available: $5,000

Shared Value Solutions is a boutique human environment consulting firm based in Guelph, Ontario, Canada. We specialize in bashing down barriers to prosperity.
No matter what stage of a project you are dealing with, we've got you covered.
Oral History, Traditional Knowledge, Land Use and Occupancy Studies

Strategic Regulatory and Environmental Assessment Process Support

Multimedia Storytelling

Community Consultation and Engagement

Indigenous Private Sector Business Partnerships
Shared Value Solutions ® is a trademark registered by Shared Value Solutions Ltd.