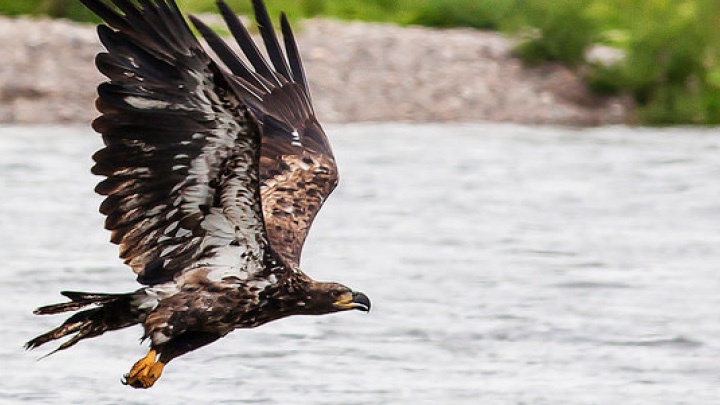 We've always got our eyes open for shifts in policy and legislation, and the initiatives and funding opportunities that result from them. "Eagle Eye" posts will keep you in the loop on changes we're seeing unfold across Canada and what they mean for Indigenous communities.
Our sights are set on a number of funding deadlines in the coming months that could be of interest to our client community. If you have any questions about any of the programs below or need support with an application please feel free to contact us, we're happy to help.
Read on to learn more about:
Climate Change Adaption Program
Northern Community Capacity Building Program
Climate Change Preparedness in the North
Participant Funding: Northern Manitoba All-Season Road
Natural Resources Canada
Program Details: Natural Resources Canada has published a call for proposals for projects that address climate change adaptation in the areas of coastal management, energy, mining, economics, infrastructure, forestry and training. The objective of the funding is to support the development, sharing and use of knowledge, tools and practices to enhance practical action on adaptation.
Application Deadline: November 27, 2017
Maximum Amount Available: 50% of total project cost
Northern Community Capacity Building Program
Northern Ontario Heritage Fund Corporation
Program Details: The Community Capacity-Building Program helps northern communities develop the capacity to promote, attract, and support economic growth. The program is made up of three streams: the Strategic Economic Infrastructure, Community Capacity Building Initiatives and Community Capacity Building Events.
Maximum Amount Available: $15,000 - $1,000,000, 50% of total project cost
Indigenous and Northern Affairs Canada
Program Details: This program funds climate change adaption and planning projects in Yukon, Northwest Territories and Nunavut. Eligible projects include:
vulnerability and risk assessment of climate change impacts

development of hazard maps and adaption plans

creation of a guide or best practices document related to climate change adaption
retrofit of vulnerable or at risk community infrastructure assets in areas effected by permafrost degradation
Candian Environmental Assessment Agency
Program Details: Manitoba Infrastructure proposes to construct 138 km of all-season road on provincial Crown land. The project, designed as a 2-lane gravel public highway, would consist of three sections of intersecting road located on the east side of Lake Winnipeg, Manitoba. These road sections would begin at the reserve boundaries of the Manto Sipi Cree Nation, the Bunibonibee Cree Nation and God's Lake First Nation. Two major bridges over God's River and Magill Creek could also be constructed as part of the project. Funding is available for eligible individuals and groups to assist their participation in upcoming steps of the environmental assessment
Application Deadline: December 1, 2017
To receive Eagle Eye updates directly to your inbox, sign up for our newsletter!
Shared Value Solutions (SVS) has an unshakable commitment to a land where all peoples can reach their full potential, share prosperity, and uphold their rights. We believe all of this begins and ends with healthy lands and waters.
SVS is a small, rapidly growing 20-person environmental and community development consulting firm located in Guelph, Ontario, Canada, that works primarily for and with Indigenous clients.
We assist Indigenous and non-Indigenous communities and private sector companies in coming together to create shared value for all parties involved. Our values are to "have fun, make money, do good, and do good work".
We are a B Corp and we bring the best engineering, design, environment, architecture and other technical discipline expertise to address your challenges and opportunities:
Strategic Environmental Assessment

guidance, coordination and support

Collaborative land and resource use planning and management- process design and delivery

Design and delivery of programs promoting/supporting positive behaviour change- environmental stewardship, community-based social marketing, health/environmental health promotion

Contributing human environment considerations to technical assessments and management plans in sectors such as water resources, remediation, land use, mining, oil & gas, linear corridor development, forestry, renewable energy, nuclear waste, contaminated sites, brownfield redevelopment, watershed planning, drought planning, water use planning, waste management and waste diversion

Aboriginal and Industry Partnerships

working with First Nation, Inuit and Métis communities