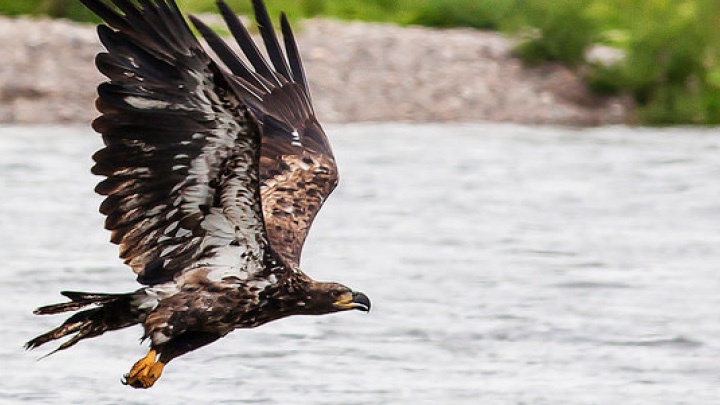 We've always got our eyes open for shifts in policy and legislation, and the initiatives and funding opportunities that result from them. "Eagle Eye" posts will keep you in the loop on changes we're seeing unfold across Canada and what they mean for Indigenous communities.
Our sights are set on a number of funding deadlines in the coming months that could be of interest to our client community, especially those interested in Indigenous funding. If you have any questions about any of the programs below or need support with an application please feel free to contact us, we're happy to help.
Read on to learn more about:
Indigenous Culture Fund
Great Lakes Guardian Community Fund
Species at Risk Stewardship Fund
Reserve Land and Environment Management Program: Call for Input
Indigenous Culture Fund (Ontario)
These programs support status and non-status First Nations, Inuit, and Métis community, culture and way-of-life projects in Ontario. There are three grant programs within the ICF, which differ based on the scale and length of projects.
ICF Small Grants
Program Details: There are five funding categories within this grant program, including: Community/Culture/Way of Life; Indigenous Language Projects; Cultural Research, Documentation, Tools, and Resources; Cultural Mentorship or Learning; and Travel.
Applications Deadline: Applications accepted year-round
Eligible Applicants: Ontario-based Indigenous organizations, groups, and individuals. First-time applicants, youth, and Elders are encouraged to apply
Maximum Amount Available: $5,000
ICF Project Grants for Individuals, Groups and Collectives & ICF Project Grants for Organizations
Program Details: There are two funding categories within this grant programs, including: Short-Term Projects and Long-Term Projects. Activities focused on Way of Life, Learning and Sharing, and Youth-Engaged Projects are encouraged.
Applications Deadline: November 1, 2017 at 1:00pm
Eligible Applicants: Ontario-based Indigenous organizations, groups, and individuals -including not-for profits, schools, service organizations, community centres, councils and more..
Maximum Amount Available: $30,000 - $60,000 (short-term) to $60,000 - $120,000 (long-term)
Ministry of the Environment and Climate Change (MOECC)
Program Details: This fund was launched in 2012 offer grants to community groups and organizations to help restore their own corner of the Great Lakes. Only projects with a direct environmental benefit and support at least one of the following three goals:
Goal 1: Protect water quality for human and ecological health
Goal 2: Improve wetlands, beaches and coastal areas
Goal 3: Protect habitats and species
Applications Deadline: November 19th, 5pm EST (Projects that receive funding must be completed by February 2, 2019).
Eligible Applicants: This fund is open to not-for-profit organizations, First Nations and Métis organizations.
Maximum Amount Available: $25,000
Climate Change and Health Adaptation Program for First Nations South of 60˚N (Canada)
Health Canada
Program Details: This program was developed to build capacity in research by funding community-based projects, enabling communities to develop health-related adaptation or action plans and communication materials that may help in adaptation decision-making at the community, regional and national levels with respect to human health and a changing environment. Projects must have a health focus, include the integration of local, Traditional and/or Indigenous Knowledge, and include a youth engagement and/or training component.
Applications Deadline: October 30th, 2017
Eligible Applicants: All First Nations communities south of 60˚N are eligible for funding
*Please not that First Nation communities in British Columbia are being supported through the First Nations Health Authority's Climate Change Program and are not eligible for this program.
Maximum Amount Available: $100,000 (per community)
Indigenous and Northern Affairs Canada (INAC)
Program Details: This is a comprehensive and integrated land, resource, and environment management program designed to provide funding to First Nations communities to enhance decision-making at the community level with regards to land use and land-based economic development opportunities, and to facilitate a community's transition beyond the Indian Act into a more sophisticated land management regime.
What is Needed: INAC is seeking input to develop options to improve the program, which includes:
Identifying First Nations' training needs for land and environment management on reserve lands to improve the Professional Lands Management Certification Program
Identifying practical improvements to RLEMP to ensure First Nations can continue to effectively manage their reserve lands
Engagement will focus on: community planning and land and environmental management, building lands and environmental management capacity, funding sources and the RLEMP funding formula, transitions into and out of RLEMP.
Submission Deadline: November 30th, 2017
Who Can Provide Input: First Nations interested in lands and environment management, national and regional Indigenous organizations, post-secondary educational institutions and training providers, and other interested stakeholders.
To receive Eagle Eye updates directly to your inbox, sign up for our newsletter!
Shared Value Solutions (SVS) has an unshakable commitment to a land where all peoples can reach their full potential, share prosperity, and uphold their rights. We believe all of this begins and ends with healthy lands and waters.
SVS is a small, rapidly growing 20-person environmental and community development consulting firm located in Guelph, Ontario, Canada, that works primarily for and with Indigenous clients.
We assist Indigenous and non-Indigenous communities and private sector companies in coming together to create shared value for all parties involved. Our values are to "have fun, make money, do good, and do good work".
We are a B Corp and we bring the best engineering, design, environment, architecture and other technical discipline expertise to address your challenges and opportunities:
Strategic Environmental Assessment

guidance, coordination and support

Collaborative land and resource use planning and management- process design and delivery

Design and delivery of programs promoting/supporting positive behaviour change- environmental stewardship, community-based social marketing, health/environmental health promotion

Contributing human environment considerations to technical assessments and management plans in sectors such as water resources, remediation, land use, mining, oil & gas, linear corridor development, forestry, renewable energy, nuclear waste, contaminated sites, brownfield redevelopment, watershed planning, drought planning, water use planning, waste management and waste diversion

Aboriginal and Industry Partnerships

working with First Nation, Inuit and Métis communities