---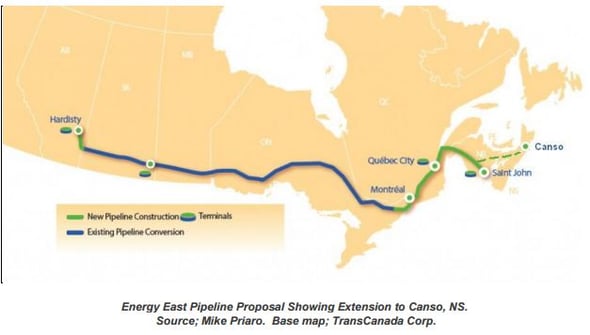 By Don Richardson, Managing Partner, Shared Value Solutions Ltd.
INTRODUCTION:
I was taken by surprise by the announcement that Nova Scotia's Strait of Canso Superport should be an ultimate destination for the Energy East pipeline. That's the recommendation of a new Senate Committee report released on December 7th, 2016. The report also highlights the Indigenous partnering, including benefit sharing and equity stakes, that the Senate Committee says are critical for any Canadian oil transportation strategy.
At Shared Value Solutions we provide environmental and regulatory consulting support for several First Nation clients across New Brunswick, Prince Edward Island and Nova Scotia. This new report from the Senate Committee on Transport and Communications has big implications for our clients, and will lead to important community decisions. And it is part of a constantly changing and complex political story that is Energy East.
Part of my job, which I couldn't do without my terrific colleagues, is to support Indigenous leaders and their communities, in getting the facts, conducting independent due diligence including land use and Indigenous knowledge studies, and making informed community decisions.
The Senate report, is largely supportive of Canadian oil and gas energy production policies and should be read with that understanding. It is titled Pipelines for Oil: Protecting our economy, respecting our environment and makes 6 key points about a proposal to direct the Energy East oil pipeline to a new port in Nova Scotia. Let's see what this means...
---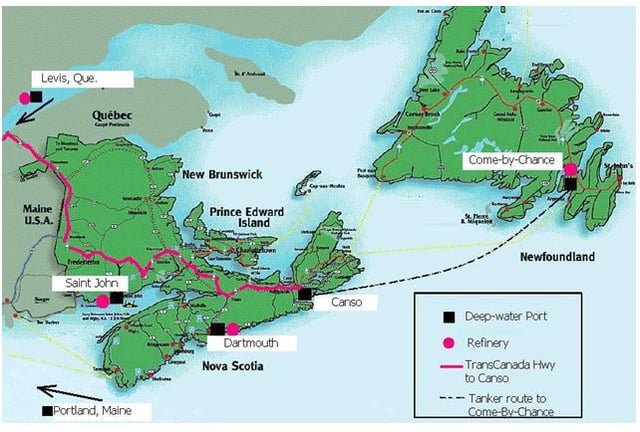 Atlantic Canada Deep-water Ports and Refineries; Source, Mike Priaro - "A Canada First Energy Strategy".
We've been following Energy East closely with Indigenous leaders and their legal advisors since 2013 (see previous posts including notes on TransCanada Energy East and First Nations). Bringing the Energy East oil pipeline to Nova Scotia would mean another big change for the Energy East proposal.
This massive project proposal requires a lot of attention from Indigenous leaders who are along the path, and have responsibilities to make good decisions about how to engage with Canada, provincial governments, and TransCanada to advance community rights and interests. I found it interesting that the Senate Committee's recommendations were released on the same day the Assembly of First Nations was debating the benefits and drawbacks of pipelines during its special chiefs assembly in Gatineau, Quebec.
The Senate Committee's proposal is unapologetically based on a "made in Canada" energy approach. In the Committee's eyes, directing the Energy East oil pipeline to Nova Scotia's Strait of Canso Superport is an obvious conclusion. Others, including TransCanada which has not commented on the idea, may disagree.
The Committee's report includes six key points that will need to be more thoroughly studied by those who might be impacted by the Committee's proposals:
1. Concern: Lack of participation from Nova Scotia in Energy East
The Committee expressed concern about the lack of participation of people, organizations, Indigenous Nations, and elected officials from Nova Scotia in the NEB's hearings for Energy East.
During its site visits and hearings in Nova Scotia, the Committee heard concerns that any increased activity on the Bay of Fundy would affect both New Brunswick and Nova Scotia, but the National Energy Board's focus has been on the pipeline route in New Brunswick.

"When you export through the East Coast of Canada you have to go through (Nova Scotia's) waters, there's no getting around that, whether it's the Bay of Fundy, the Strait of Canso or the Cabot Strait," said Senator Michael MacDonald, Deputy Chair of the Committee
2. Support: Senate Committee says bringing the Energy East pipeline to Nova Scotia has its supporters
The Senate Committee heard a proposal from Michael Priaro from the Association of Professional Engineers and Geoscientists of Alberta, to extend the proposed Energy East pipeline to the Strait of Canso between Cape Breton Island and the Nova Scotia mainland.
The Senate Committee conducted site visits to the Mulgrave Marine Terminal and the NuStar Energy Terminal in the Strait of Canso area, where representatives from both companies outlined the economic, environmental and logistical advantages of the port.
Nova Scotia's Minister of Energy and the Leader of the Official Opposition also support the proposal to route the pipeline to Nova Scotia - the Committee said that

Nova Scotia's Minister of Energy, Michel Samson, seemed receptive to the Nova Scotia option, and the leader of the official opposition of the province, Jamie Baillie, vigorously argued for the extension of the oil pipeline to the Strait of Canso.

A representative from TransCanada acknowledged that there has been some interest among stakeholders in Nova Scotia for the extension
When the

Gulf Oil refinery at the Strait of Canso was closed and mothballed in the late 1970s, it left behind 37 storage tanks with a capacity of 7,555,000 bbl, and 2 deep water mooring locations that can service very large vessels up to 400,000 deadweight tonnage (DWT), equivalent to tanker ships that can carry two million barrels at the Strait of Canso Superport. These facilities are now operated by

NuStar Energy LP, a large energy storage and transportation company that has apparently been advocating for this option since 2014.
3. Benefits: Committee says Nova Scotia will benefit
The Senate Committee cited advantages to Nova Scotia, including that the province shares in the risks of potential effects and ought to therefore share in any of the benefits of the pipeline
The Committee heard that a spur line from the Strait of Canso to the existing Dartmouth Nova Scotia refinery could revitalize the Nova Scotia refining industry and help spread economic benefits
Aerial View of Part of the Strait of Canso Superport. Source; Strait of Canso Superport Corporation.
4. Shorter: Quicker route to overseas markets
One of the documents cited in the Senate Committee report says that the existing Strait of Canso Superport is "perhaps the best and safest, ice-free, deep-water port on the East Coast, and the closest to Europe, the Suez Canal, and western India."
The distance from Canso NS to Mumbai, India would be an additional 450 miles shorter, or about one-and-one-quarter days less on the water at 12 knots, from Canso NS than from Saint John NB, according to the same document cited in the report.
5. Reduced Impacts: Senate Committee says impact of oil tanker traffic on the Bay of Fundy ecosystem will be reduced
A Nova Scotia alternative would reduce the impact of increased traffic on the environmentally-sensitive Bay of Fundy and providing a shorter route to overseas markets
The current proposed Energy East Saint John New Brunswick Canaport shipping terminal on the Bay of Fundy is in the middle of the environmentally-sensitive Bay of Fundy, home to some of the largest tidal variations and reversing tidal bores on earth (cited in

Michael Priaro report)

According to Tourism New Brunswick, e

ach day 160 billion tonnes of seawater flows in and out of the Bay of Fundy during each of two tide cycles —more than the combined flow of the world's freshwater rivers. One of the documents cited in the Committee report says that "a major spill near the expanded Canaport terminal would result in conventional crude or, much, much worse, dilbit being washed up and down the entire Bay of Fundy coastline twice-daily by tides of up to 63 feet."

According to the same document cited in the Senate report, an oil spill spill in the Bay of Fundy would likely cause significant ecological damage and have very high clean-up costs due to the sensitive ecosystem, providing environmental and fiscal costs advantages to extending the Energy East pipeline to Nova Scotia.

"There's a very strong argument to be made that it should be going out through the Strait of Canso because it's the deepest port, it's on the open ocean, it doesn't have the tide and environmental issues that the Bay of Fundy has," said

said Senator

Michael MacDonald,

Deputy Chair of the Committee
6. Indigenous Partnerships: Senate Committee says First Nations should share in benefits, including equity
The Senate Committee on Transport and Communications provides other recommendations about reforming the National Energy Board and greater involvement of Indigenous communities in oil and gas transportation. Among the key points with respect to Indigenous communities:
Indigenous partners should share in project benefits, including equity. The Senate Committee says that Indigenous partnerships provide the critical foundation for moving a Canadian oil transportation strategy forward

Start building Indigenous partnerships

early, well in advance of the regulatory process. The Committee says this is crucial for projects to move forward

The National Energy Board should appoint permanently an Indigenous

peoples' representative chosen in consultation with Indigenous communities

In collaboration with Indigenous peoples, industry and academia, Natural Resources Canada should develop and update annually a working document of best practices in building partnerships with Indigenous communities in the natural resources sector
---

CONCLUSION:
In short, the Senate Committee recommends "that the National Energy Board, as part of its hearings on the proposed Energy East project, examine the Strait of Canso area as an alternative end point of the pipeline."
For people already participating in the Energy East hearing process, this is a big new recommendation from a multi-party government committee with some clout. Reacting to the report, Robin Tress, Atlantic organizer for the Council of Canadians said, "The senate committee completely failed to think outside of the box of fossil fuel... They had an entire committee committed to think about ways to get more oil through more pipelines, rather than think about how to get away from fossil fuels. We all know we need to do that, it is only a matter of time."
The big question about this major new recommendation is:
What will the National Energy Board Panel will do with the Nova Scotia route alternative in their hearing process?
The Nova Scotia route would result in new impacts and a whole new set of interested parties and First Nations getting engaged between parts of New Brunswick and into Nova Scotia, possibly as far as Halifax/Dartmouth.
When the new Panel for Energy East finally assembles following the previous Panel stepping down in September 2016 due to accusations of bias, the Panel will no doubt look carefully at its obligations and the Senate Committee's Nova Scotia recommendation. The Panel will likely do what they are obligated to do, and consider the Energy East pipeline to Nova Scotia alternative in a careful and precautionary manner. An alternative like the Nova Scotia route, with characteristics that might avoid significant adverse environmental effects, and tabled by a multi-party Senate Committee, will be something they will have to seriously consider.
If the National Energy Board Panel for Energy East determines that this alternative is technically and economically feasible, then the Panel may require Energy East to analyze this alternative, including consultation, Indigenous community engagement, and application of Indigenous knowledge. The Panel will ultimately determine if this is route alternative should be brought forward for additional detailed effects assessment and additional scrutiny in the hearing process.
It is now likely that the Maritimes, the Bay of Fundy and the Straits of Canso will become focal points for Energy East in the next few months. Stay tuned, and...
Businesses and organizations are made up of people. So are communities. Imagine a world where people in industry and government, and people from towns of all sizes, get together to make amazing things happen – things they couldn't have dreamed up alone. A world where people from corporations get together with people in government or NGOs to explore innovative ways to do business while enhancing the natural and social environment.
At Shared Value Solutions, we speak your language. And we know that the impossible is possible – with the right people in the circle.
We are a B Corp and we bring the best engineering, design, environment, architecture and other technical discipline expertise to address your challenges and opportunities:
Strategic Environmental Assessment guidance, coordination and support

Collaborative land and resource use planning and management- process design and delivery

Traditional Ecological Knowledge Studies & Traditional Knowledge Studies

Traditional Land Use Studies (TLUS)/ Traditional Land Use and Occupancy Mapping

Design and delivery of programs promoting/supporting positive behaviour change- environmental stewardship, community-based social marketing, health/environmental health promotion, Indigenous community energy plan initiatives

Contributing human environment considerations to collaborative technical assessments and management plans in sectors such as water resources, climate change, remediation, land use, mining, oil & gas, linear corridor development, forestry, renewable energy, nuclear waste, contaminated sites, brownfield redevelopment, watershed planning, drought planning, water use planning, waste management and waste diversion

Indigenous and Industry Partnerships working with First Nation, Inuit and Métis communities

Value Engineering & Value Analysis: we facilitate project teams to optimize a project by understanding functions, objectives, costs and social, cultural and environmental considerations.
Shared Value Solutions ® is a trademark registered by Shared Value Solutions Ltd.
---