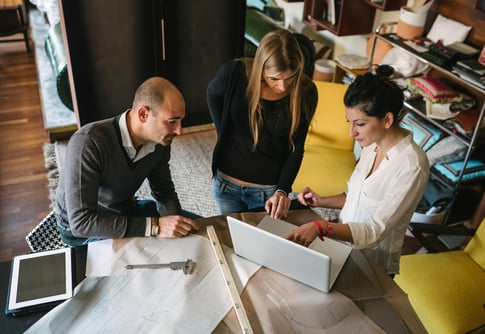 Who is the Energy Innovator Who Helped Inject $4.2 Billion into Ontario Construction, Putting Many Ontarians to Work While Generating Serious Environmental Issues?
His grandfather was a goat herder in Greece. His father ran a shoeshine and pressing shop in Texas.
Very late in his life he produced an energy innovation that reshaped the North American energy industry
His innovation has reshaped global geopolitics and the global economy
He's also responsible for helping inject at least $4 Billion into Ontario Construction in the next few months.
---
Note: This Post is part of our "Sustainability Innovation for Ontario" and "Unconventional Oil and Gas" series. We're strategic environmental assessment practitioners and we're keen on sustainability innovation in Ontario, so we believe in the importance of accurately understanding the impacts of change, harnessing change appropriately, and acknowledging and addressing negative impacts. We recognize that there are potential positive and negative impacts to the changes in natural gas infrastructure and use across Ontario. To really "get gas" you need to look closely at the benefits, trade-offs and potential negative impacts. You can keep track of recent developments at our Natural Gas Innovation for Ontario on our LinkedIn Group.
---
Meet George Mitchell
Most people have never heard of George Phydias Paraskevopoulos - better known as George Mitchell, the Greek-American businessman, real estate developer and philanthropist from Texas. Certainly, most people in Ontario have never heard of him, but everyday he touches our lives.
Mitchell's father, Savvas Paraskevopoulos, was a goat-herder in Greece who immigrated to the U.S. in 1901 and worked for a railway. The railway paymaster got tired of writing "Paraskevopoulos", so George's father took the paymaster's name and became Mike Mitchell. George Mitchell's father moved to Galveston, Texans and ran a shoeshine and pressing shop. From these humble beginnings, George Mitchell went on to fundamentally reshape global geopolitics and the North American Economy.
In 2013, a few days after George Mitchell's death on July 26, 2013, The Economist published an article praising his work, saying that "few businesspeople have done as much to change the world as George Mitchell."
George P Mitchell poses with a statue himself at The Woodlands at Town Green Park in The Woodlands, Texas.
In 2010, Mitchell joined the Giving Pledge sponsored by Warren Buffet and Bill and Melinda Gates, making the pledge to distribute the majority of his wealth to charitable causes. Cynthia Woods Mitchell and the George P. Mitchell, and the Cynthia and George Mitchell Foundation, have distributed or pledged more than $400 million in grants to causes, programs, and institutions, the majority of which is focused science, environmental sustainability, clean energy, water and natural gas sustainability. Mitchell also helped sponsor the work of Dennis Meadows, whose Club of Rome study The Limits to Growth was "a global wake-up call on the pressing need for sustainable energy technologies and food sources worldwide."
But it is not his philanthropic work that touches the lives of the people of Ontario the most: it is the engineering innovation he brought to the world of oil and gas extraction that impacts us everyday - in the natural gas for our hot water heaters and home heating systems, in the electricity we use that is generated with natural gas boilers and turbines, and through the natural gas production and distribution industry that extracts, transports and delivers natural gas.
Natural Gas Construction Projects Brought to Ontario via George Mitchell
George Mitchell's innovations are giving natural gas companies a huge incentive to completely reshape the natural gas pipeline network in southern Ontario. This is because George's innovation makes it possible to replace gas that once came from western Canada with cheaper and abundant gas closer to Ontario in Pennsylvania and Ohio.
Each of the new projects below is made possible by George Mitchell's engineering innovations, bringing over $4 billion in construction activity to Ontario in the coming months:
1) $1.2 billion: TransCanada Corporation's natural gas combined-cycle 900 Megawatt power plant in Napanee, Ontario. Work on building this power plant will be starting in 2015. This proposed facility will be located on the existing Ontario Power Generation (OPG) Lennox Generating Station site in the County of Lennox and Addington near the Town of Napanee.
2) $1.5 billion: TransCanada Eastern Mainline Natural Gas Pipeline is a proposed 250 kilometres of new natural gas pipeline facilities and the addition of nine 11 Megawatt compression facilities at five existing sites. The new pipeline will go from the city of Markham to the community of Iroqouis in the Township of South Dundas in southern Ontario. The proposed pipeline will be 36 inches (914 mm) in diameter and will primarily follow the existing route where TransCanada currently operates two natural gas pipelines. Construction is expected to start in mid 2016. TransCanada says the Eastern Mainline Project is needed to replace natural gas service when a portion of the existing Canadian Mainline natural gas pipeline is switched to carry oil as a part of the Energy East Project oil pipeline. TransCanada also notes that the new pipeline is required to add capacity to meet growing market demand for natural gas in the U.S. Northeast.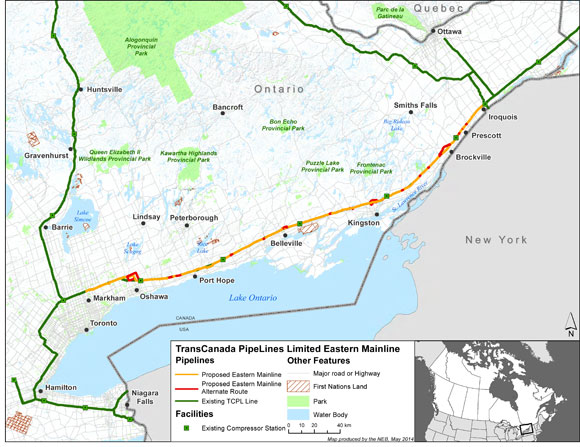 3) $500 Million: TransCanada's Vaughan Loop and King's North natural gas facility expansion projects in the GTA. King's North is a new natural gas pipeline in the parts of Vaughan, Brampton and Toronto to new Enbridge Gas Distribution pipeline facilities with TransCanada's facilities. TransCanada's Vaughan Loop begins at the terminus of the King's North Project and ends at a point on the TransCanada Mainline near the Maple Compressor Station in the City of Vaughan. Construction is expected in 2015/2016.
4) $575 million: Enbridge GTA Gas - additiona gas transportation infrastructure connected to Union GAs and TransCanada facilities and connected to the Enbridge Gas distribution network in the GTA
5) $203 Million: Union Gas Parkway Projects - the Parkway West interconnection with the Enbridge Gas system
6) $96 Million: Union Gas Brantford Kirkwall Looping - connecting to Dawn Parkway
7) $108 Million: Union Gas Parkway D Compressor
$4.2 Billion
The above projects represent $4.2 Billion worth of construction, in the next few months in Ontario, all directly attributable to George Mitchell's innovations. By comparison, Ontario spent only half that, or $2 Billion, on public transit infrastructure in 2013-14.
All of this natural gas transportation and power infrastructure is driven by a natural gas delivery chain that provides Ontario, Québec and the U.S. Northeast, with access to low cost natural gas at the massive Dawn Hub natural gas storage facility in southern Ontario from new supply sources in Pennsylvania and Ohio known as the Marcellus and Utica shales.
The combined U.S. Marcellus and Utica shale formation production has significantly reduced the need for Canadian natural gas imports to the Northeastern U.S. and Ontario and Quebec. It has taken only a few years for market forces to reshape Ontario's pipeline landscape, while also making it possible for projects like TransCanada's proposed Energy East pipeline to replace a now underused western Canada natural gas pipeline with an oil pipeline.
So what did George Mitchell innovate to help inject over $4 Billion into Ontario construction, push the reshaping of Ontario's natural gas pipeline network, and help create projects like Energy East?
---
Like this post? Then sign up for our Newsletter to stay in touch!
---
What did George Mitchell do to Help Inject over $4 Billion into Ontario Construction?
George Mitchell is known as "the Father of Fracking". George is credited with pioneering the economic extraction of natural gas from "tight" shale formations through a process known as hydraulic fracturing, or "fracking". He started the Mitchell Energy & Development Corp where fracking was born. Daniel Yergin, the oil-industry analyst and historian, says Mitchell's fracking technique is so far "the most important, and the biggest, energy innovation of this century." It is also one of the most controversial innovations in recent history.
In the late 90's, many oil and gas companies were attempting techniques to extract oil and gas from shale formations, but it was Mitchell and his engineers who pushed the most important innovations now used across North America and the world for hydraulic fracturing and horizontal-drilling techniques to unlock gas trapped beneath hundreds of feet of rock. In 1998, when George Mitchell was 79, his engineering team figured out a way to substitute water for the more complicated drilling fluids that had been previously used. Hydraulic fracturing significantly cut the cost of extracting natural gas from shale and turned Mitchell's drilling activities in the Texas Barnett Shale into a gold mine.
With Mitchell's natural gas extraction techniques, the United States rapidly became the world's biggest natural gas producer. And with similar techniques also being applied to extracting oil, by 2020, industry analysts say that the U.S. and Canada will become largely independent fossil fuel suppliers and make North America a global energy market powerhouse rivalling Saudi Arabia.
In his late 80s, Mitchell began supporting drilling in the Marcellus Shale in Pennsylvania with a company headed by his son, Todd, and Joe Greenberg, a geologist. The Marcellus Shale has since emerged as the largest U.S. gas resource,encompassing 104,000 square miles and stretching across Pennsylvania and West Virginia, and into southeast Ohio and upstate New York. Utica Shale lies under most of New York, Pennsylvania, Ohio, and West Virginia and extends under adjacent parts of Ontario and Quebec in Canada and Kentucky, Maryland, Tennessee, and Virginia in the United States.
Increasing flow of Marcellus and Utica shale gas in the U.S. and into/across Ontario. A recent Ontario Energy Board report says that by 2020, 80% of the natural gas used in Ontario will be from U.S. shale gas.
Utica Shale drilling and production began in Ohio in 2011. Ohio is becoming a major natural gas and oil producer from the Utica Shale in the eastern part of the state. Drilling and producing from the Utica Shale began in 2006 in Canada, in Quebec, in an area south of the St. Lawrence River between Montreal and Quebec City. Analysts say that Quebec's portion of the Utica shale formation may hold four trillion cubic feet of gas reserves, with the Utica shale having similar rock properties to the Barnett shale in Texas where Mitchell created his first natural gas "gold mine". The Province of Quebec imposed a moratorium on hydraulic fracturing in March 2012 The Utica Shale is proving to be rich in oil and natural gas and may store between 1.3 and 5.5 billion barrels of oil and between 3.8 and 15.7 trillion cubic feet of natural gas.
As the same horizontal drilling and fracturing techniques pioneered by Mitchell were applied to oil fields, crude oil production has more than quadrupled in places such as the Bakken formation in North Dakota and Montana in the past few years. The new wealth of cheap natural gas and new oil supplies have transformed the North American industrial landscape, making it economic for new investments in power plants that use natural gas to generate electricity (like the TransCanada 900 Megawatt facility in Napanee) and making it easier to get rid of older coal and nuclear plants that were more expensive to repair and operate.
Chemical manufacturers use the new sources of gas as raw material for ethylene based products and are building or new plants or expanding existing plants in Canada and the U.S. to take advantage of the new resources. Pipeline networks to carry the shale gas to all of these markets are mushrooming all across North America. This is resulting in a series of new innovations across industries touched by natural gas and prompting:
natural gas powered trucks and cars

liquified natural gas facilities to make it easier for fuel users to get access to low cost natural gas where pipelines don't exist or for vehicle and fleet refueling facilities

virtual pipelines

a major push for expansion of natural gas into rural and remote areas to replace expensive electrical heating or diesel powered electricity generation

expansion and innovation in renewable natural gas or biomethane, and biomethane injection into the natural gas pipeline grid
In a future post we'll discuss specific energy and renewable energy opportunities in Ontario driven by new natural gas infrastructure development, Ontario climate action initiatives and related sustainability innovation in Ontario.
The Environmental Challenges
What makes George Mitchell even more fascinating is his understanding of the environmental impacts of his innovations. In an important interview with the Economist shortly before his passing, Mitchell spoke about his focus on research and innovations to reduce the impacts of hydraulic fracturing. At the end of his life he was one of the most outspoken advocates for tougher regulation of the industry he started, seeking new rules to protect water resources and tackle methane emissions from fracking - a significant source of greenhouse gases.
As an article in Mother Jones points out, "the environmental downside to all [unconventional oil and gas through hydraulic fracturing and horizontal drilling], already significant, could be staggering for the future. The use of hydro-fracking to release all that shale oil has resulted in the diversion of vast quantities of water to energy production, in the process regularly posing a threat to local water supplies. In some drought-affected areas, oil drilling is now competing with farming for access to ever-diminishing supplies of fresh water. The growing use of railroads to carry shale oil—an especially volatile hydrocarbon substance—has also led to several lethal explosions, triggered by accidents involving old and inadequately reinforced tank cars."
George Mitchell was well aware of the downsides to his innovations. On methane emissions he called for "new rules calling for more controls over the most dangerous air pollution associated with hydraulic fracturing. The rules will also mitigate methane leakage during the drilling process. This is critical, since methane is a powerful greenhouse gas pollutant, and uncontrolled leakages call into question whether natural gas is cleaner than coal from a global climate perspective."
On the overall environmental impacts he said: "I have come to understand that the natural gas industry can no longer simply focus on the benefits of shale gas while failing to address its challenges. We know that there are significant impacts on air quality, water consumption, water contamination, and local communities. We need to ensure that the vast renewable resources in the United States are also part of the clean energy future, especially since natural gas and renewables are such great partners to jointly fuel our power production. Energy efficiency is also a critical part of the overall energy strategy that our nation needs to adopt. Some in the industry have been reluctant to support common-sense regulation, and that needs to change.
On future innovation to tackle the environmental issues he said: "Industry leaders, representing companies of all sizes, need to rally behind solutions based on hard science and technological innovation. To find these solutions, industry leaders must lend their best engineers and scientists to a national campaign, teaming up with counterparts from government, academia, and the environmental community, to develop strong state‐by‐state regulations and effective solutions to the environmental challenges of shale gas. We need to replace all-or-nothing arguments with a reasoned discussion that identifies a new path forward.
A foundation created by Mitchell now operates a Shale Sustainability program that supports a number activities, including methane leakage studies, linkages between renewable energy systems and natural gas, pushing new environmental regulations.
What's Next for Ontario and Shale Gas?
Seven things are fairly certain about what's next for Ontario and shale gas:
1) We're going to get a lot more of it.
2) We're going to use a lot more of it.
3) Ontario policy makers may finally start to take notice and respond with policies to promote efficient use and reduce environmental impacts, like methane emissions as part of Ontario pipeline regulations. Unconventional oil and gas in Ontario is a reality.
4) Rural and remote regions of Ontario are going to start to make the switch to natural gas and liquid natural gas
5) More businesses, municipalities and industries will find creative ways to harness low cost natural gas and biomethane
6) More people will wake up to the fact that fracking and Ontario interests are intertwined - from the hot water for our showers to the electricity for our "low-carbon" electric cars
7) Ontario climate policy, policies for Ontario carbon offsets, and our Ontario Energy Strategy will have to recognize that about 25% of the Ontario energy supply mix is going to be from fracked U.S. shale gas
It's also pretty certain that people wil have a lot to say about fracking - good and bad. We hope we can help contribute to those conversations.
Businesses and organizations are made up of people. So are communities. Imagine a world where people in industry and government, and people from towns of all sizes, get together to make amazing things happen – things they couldn't have dreamed up alone. A world where people from corporations get together with people in government or NGOs to explore innovative ways to do business while enhancing the natural and social environment. Join us in Creating Shared Value!
At Shared Value Solutions, we speak your language. And we know that the impossible is possible – with the right people in the circle.
We are an Ontario B Corp and we bring the best engineering, design, environment, architecture and other technical discipline expertise to address your challenges and opportunities:
Strategic Environmental Assessment guidance, coordination and support

Collaborative land and resource use planning and management- process design and delivery

Traditional Ecological Knowledge Studies & Traditional Knowledge Studies

Traditional Land Use Studies (TLUS)/ Traditional Land Use and Occupancy Mapping

Design and delivery of programs promoting/supporting positive behaviour change- environmental stewardship, community-based social marketing, health/environmental health promotion

Contributing human environment considerations to technical assessments and management plans in sectors such as water resources, remediation, land use, mining, oil & gas, linear corridor development, forestry, renewable energy, nuclear waste, contaminated sites, brownfield redevelopment, watershed planning, drought planning, water use planning, waste management and waste diversion

Aboriginal and Industry Partnerships working with First Nation, Inuit and Métis communities

Value Engineering & Value Analysis: we facilitate project teams to optimize a project by understanding functions, objectives, costs and social, cultural and environmental considerations.