In Quebec, natural gas is fast becoming the fuel of choice for large transportation, long-haul fleets, thanks in part to provincial incentives for vehicle refits and a growing network of "Blue Road" refueling stations. Will Ontario be next?
Background: Why is Natural Gas Innovation Happening in Ontario?
Before jumping to the Five Game-Changing Natural Gas Innovations discussed below, it's good to get some background on how Ontario got into the position to see these innovations in the first place, where they fit with Ontario's energy future, and why they should matter to you.
In November 2014 and April 2015 we reported on the massive, multi-billion dollar restructuring of natural gas pipelines in southern Ontario in response to market demand for large quantities of low cost natural gas from hydraulic fracturing wells in Pennsylvania and Ohio.
According to a recent report from the Ontario Energy Board, by 2020, 80% of the natural gas consumed in Ontario will be imported from "fracked" U.S. "shale gas" sources.
While many people in Ontario object to "fracking" - including a NDP private member's bill introduced in March 2015 to ban fracking in Ontario - few Ontarians realize that they are probably already using fracked gas to heat their homes and cook their food. With the new pipeline infrastructure now being built, so-called "fracked" natural gas will be the dominant source of natural gas in Ontario in just a few years, accounting for about 25% of Ontario's overall energy mix. This is a "game changer" with both positive and negative potential long-term consequences.
Let's Have More Transparent Discussion About Issues and Opportunities
We recognize that there are potential positive and negative impacts to the changes in natural gas infrastructure, supply and use across Ontario. We're strategic environmental assessment practitioners and we're keen on sustainability innovation in Ontario, so we believe in the importance of accurately understanding the impacts of change, harnessing change appropriately, and acknowledging and addressing negative impacts. We also believe there are very important implications for First Nation and Métis communities in Ontario that must be addressed.
We think it's time for Ontario to create a New Energy Discussion that grapples with the pros and cons of changing natural gas sources, and builds innovation for alternative "green gas" or renewable natural gas, and innovation for managing methane emissions and protecting groundwater resources.
The bottom-line - natural gas innovation in Ontario is underway already. It is a complicated story filled with low-cost, low-emission energy that comes with a good deal of "fracked" baggage, methane emission and groundwater challenges, major new pipeline project challenges, and a variety of opportunities. We need to start grappling with these important issues now, not later.
Now let's look at five game-changing Ontario natural gas innovations we see on the horizon...
Five Game-Changing Ontario Natural Gas Innovations On the Horizon
1) Expanding Natural Gas Pipelines for Rural/Remote Areas and Aboriginal Communities
The Ontario Federation of Agriculture says that such infrastructure support programs are needed to get "the pipes we need in rural Ontario to get natural gas to our homes and farms. The energy savings from using gas instead of electricity or propane will drive a huge wave of new investment in rural Ontario and drive our economy forward." According to one report from municipalities in Bruce County, bringing natural gas to Kincardine, Arran-Elderslie and Huron-Kinloss could save up to $27 million per year. In Essex County, after a cold winter where many Essex County greenhouses saw major energy cost drawbacks of "interruptible" natural gas supply, greenhouse operators see upgrading natural gas infrastructure as a high priority.
In April, 2015, Ontario announced a new program that combines a $200 million Natural Gas Access Loan with a $30 million Natural Gas Economic Development Grant. Both initiatives are targeted to areas of the province that are not currently served with natural gas, especially rural and remote areas and agri-business. Ontario says the program is designed to attract new industry, make commercial transportation and agriculture more affordable, help to create jobs, provide more energy choices and lower electricity prices for businesses and consumers across Ontario.
The Ontario program initiatives are thus far relatively silent on engagement of First Nation and Métis communities in Ontario. We support meaningful consultation with First Nation and Métis communities that may be able to harness benefits or be concerned about managing negative impacts. Many northern Aboriginal communities - and not just remote fly-in communities - are faced with extremely high electric bills for home heating and heating institutional, business and recreational buildings. The opportunity to switch from electric heat to natural gas heat could save Ontario Aboriginal communities millions in energy costs, and generate new natural gas business activities.
Encouraging Aboriginal ownership and a meaningful say in the planning of rural/remote natural gas projects contemplated by the new $230 Million Rural Ontario Natural Gas Economic Development Program makes sense. As Aboriginal law expert Oliver McLaren reports, the existing Ontario Aboriginal Loan Guarantee Program has "leveraged $130 million in approved loan guarantees supporting the investments of eight First Nation communities, representing over 10,000 Aboriginal people, in four projects that have invested over $2.8 billion in the province." The proof is in the pudding: the 2014 Ontario Budget announced the expansion of the ALGP envelope to a total of $650 million.
2) New Liquid Natural Gas (LNG)
When compared to fuels like diesel and gasoline, LNG use can lower energy costs by 30-40 percent. With all the new fracked shale gas coming into Ontario, the price of natural gas is expected to remain low and stable over the long term. Small and medium sized LNG facilities refrigerate local supplies of natural gas to form an odourless, colourless, non-toxic liquid at low pressure. Facility operators then provide fueling stations or load the LNG into double-walled cryogenic trailers for delivery to end-users.
More and more, LNG will play an important role in meeting Ontario's transportation fuel needs and in helping the province reduce greenhouse gas emissions. In the U.S. and Canada, LNG facilities are beginning to appear along major trucking corridors. LNG is also a proven low-cost, low emission fuel for generating power in remote communities, remote industrial sites and even remote generating stations.
When compared to other transportation fuels, LNG can lower energy costs by 30-40 per cent and reduce GHG emissions by up to 28 per cent. Heavy diesel vehicles in Ontario are the fastest-growing sources of GHG emissions. The benefits of LNG have prompted marketplace plans to build refueling stations in the United States and Canada along main trucking corridors.
Two small-scale LNG facilities are advancing in Ontario, with more likely to follow:
1) Northeast Midstream plans operating a LNG facility in 2016 based in Thorold Ontario in the Niagara Region
2) Union Gas is planning a 2015 expansion of its Hagar LNG facility east of Sudbury. On April 9, 2015, the Ontario Energy Board released its decision to allow the new service at Hagar and was satisfied a competitive market for liquefied natural gas as a transportation fuel exists.
3) "Virtual Pipelines"
"Virtual Pipelines" are no longer just concepts. In Australia, Brookfield Regional Networks (BRN) and Tas Gas, as part of the Brookfield group, have an agreement with the Victorian Government to deliver natural gas to 11 regional towns. Where distance and demand do not justify an investment in a traditional gas pipeline, Brookfield's Virtual Pipeline offers an attractive alternative for gas distribution to end users, large commercial & industrial energy consumers.
The Virtual Pipeline solution consists of four interdependent systems, a Compression Station where gas is compressed and transport modules are filled, a Transportation system, and Receiving Stations where the transported gas is delivered in volumes based on town consumption demand. In turn, gas is then distributed within each town via a conventional gas distribution network.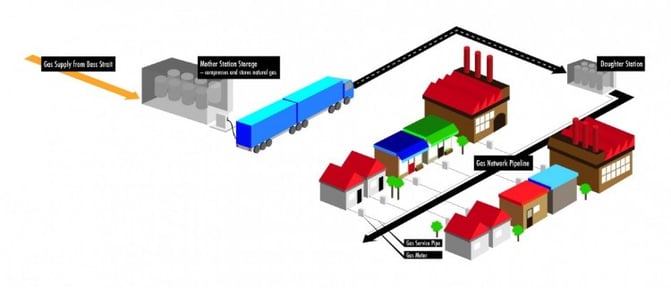 As more and more shale gas comes into Ontario, given the realities of Ontario's massive geography, many rural and remote areas will not likely see many benefits from low-cost natural gas without Virtual Pipelines. Getting traditional pipelines to rural and remote areas with relatively few customers can be prohibitively expensive. That puts key major industries, employers and institutions, including medical facilities, schools, government offices, paper mills, mining operations, agribusinesses, manufacturers and other significant customers out of luck in terms of access to low cost fuel for heat and power.
In New England several companies, including NG Advantage (see graphic below) already compress and transport natural gas, creating virtual pipelines to deliver the cheap natural gas to customers outside typical natural gas utility service areas. Low natural gas prices provide an incentive along with new tractor-trailer technology designed to safely carry large volumes of compressed or liquid natural gas directly to large customers or to storage facilities connected to local pipelines. NG Advantage's compressor station is fed by a Vermont Gas Systems pipeline that transports natural gas from Canada - much of which actually originates from Marcellus shale nearby, but which can't make the journey to Vermont via U.S. pipelines.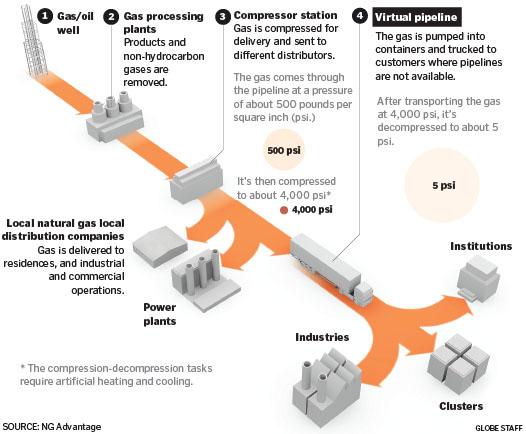 4) "Biomethane" or "Green Gas" Injection to the Natural Gas Pipeline Grid
Producing biogas or biomethane from Anaerobic Digestion (AD) is not new, but injecting biomethane into the existing gas pipeline grid, or supplementing natural gas vehicle fuel refueling stations is a realitvely new approach. AD is catching on:
to reduce our reliance on fossil fuel and "fracked" natural gas,

to turn organic wastes into valuable heating and transportation fuel,

to better manage farm manure waste and

prevent contaminants in surface water systems and the spread of blue-green algae,

and to reduce greenhouse gas emissions via "renewable natural gas.
Researchers suggest that biogas was used for heating bath water in Assyria during the lOth century BC. The first AD plant was built at a leper colony in Bombay, India in 1859, and AD reached England in 1895 when biogas was recovered from a sewage treatment facility and used to fuel street lamps in Exeter. Globally, farm-based AD facilities are most common with estimates of six to eight million family-sized, low-technology digesters providing biogas for cooking, heating and lighting fuels.
AD is a natural process where plant and animal materials (biomass) are broken down by micro-organisms in the absence of air. Biomass is put inside a sealed tank or digester and naturally occurring micro-organisms digest the biomass, releasing methane-rich gas (biogas) that can be used to generate renewable heat and power; cut fossil fuel use and reduce greenhouse gas emissions. The remaining digestate material is rich in nutrients, so it can be used as a fertiliser. Many forms of biomass are suitable for AD; including food waste, manure, and biosolids from wastewater treatment plants, as well as crops and crop residues.
The biogas that comes out of the AD process is typically a mixture of 60% methane, 40% carbon dioxide and traces of other contaminant gases. Biogas can be combusted to provide heat, electricity or both. The biogas can also be 'upgraded' to pure methane, often called "biomethane", by removing other gases. Biomethane can then be injected it into the existing natural gas pipeline grid, used directly as a vehicle fuel, or blended with pipeline natural gas for vehicle refueling. U.S. studies suggest that 5% to 20% of today's natural gas demand could be met with biomethane.
Some Ontario biomethane examples include:
5) Innovations for Managing Methane Emissions
According to the U.S. EPA, methane is the second most prevalent greenhouse gas emitted in the U.S. from human activities. In 2012, methane accounted for about 9% of all U.S. greenhouse gas emissions from human activities. The U.S. EPA also notes that natural gas and petroleum systems are the largest source of methane emissions from industry in the United States. The U.S. is also a global leader in reducing methane emissions, with a plan announced by President Obama in 2015 to reduce methane emissions by 40 to 45% in the next ten years through fixing leaky equipment and pipeline grids and reducing flaring at oil and gas production sites.
Methane is 20 times more powerful than carbon dioxide as a greenhouse gas. As the primary component of natural gas, it is emitted to the atmosphere during the production, processing, storage, transmission, and distribution of natural gas. As a result of horizontal fracturing for natural gas extraction, the U.S. is now the world's largest producer of natural gas. As major consumers of this U.S. natural gas, Ontarians should have a strong interest in seeing Obama's methane emission reduction plans.
According to the U.S. Environmental Defense Fund (EDF), "Leaks and releases occur throughout the natural gas supply chain, but no one is sure exactly where the leaks and releases are or how much escapes. If not better mitigated, methane leaks and releases could undermine the greenhouse gas advantage natural gas offers and spell major trouble for the climate." EDF and Google Earth Outreach teamed up to build a faster, cheaper way to find and assess leaks under our streets and sidewalks. EDF found that older cities and towns with older natural gas pipelines tend to have more leaks vs. communities with newer pipelines.
Boston: Older pipes, more leaks Indianapolis: Newer pipes, fewer leaks
We Are On a Mission to Help You "Get Gas"
In January 2015 we began a focused effort to help our clients and others learn more about the reshaping of natural gas infrastructure, supply, applications and innovations in Ontario, and the environmental impacts that need to be managed in Ontario from pipeline expansions and methane emissions which can be a serious source of damaging greenhouse gas. We are on a mission to help people understand or "Get Gas" and make informed choices about how new low cost sources of natural gas, with new environmental implications, may impact their lives. We now share relevant news, project updates and regulatory matters related to innovations in Ontario natural gas use via blog posts and through a dedicated LinkedIn Group: Natural Gas Innovation for Ontario. We have been steadily reporting on topics such as:
About Us - Shared Value Solutions Ltd.:
Businesses and organizations are made up of people. So are communities. Imagine a world where people in industry and government, and people from towns of all sizes, get together to make amazing things happen – things they couldn't have dreamed up alone. A world where people from corporations get together with people in government or NGOs to explore innovative ways to do business while enhancing the natural and social environment. Join us in Creating Shared Value!
At Shared Value Solutions, we speak your language. And we know that the impossible is possible – with the right people in the circle.
We are an Ontario B Corp and we bring the best engineering, design, environment, architecture and other technical discipline expertise to address your challenges and opportunities:
Strategic Environmental Assessment guidance, coordination and support

Collaborative land and resource use planning and management- process design and delivery

Traditional Ecological Knowledge Studies & Traditional Knowledge Studies

Traditional Land Use Studies (TLUS)/ Traditional Land Use and Occupancy Mapping

Design and delivery of programs promoting/supporting positive behaviour change- environmental stewardship, community-based social marketing, health/environmental health promotion

Contributing human environment considerations to technical assessments and management plans in sectors such as water resources, remediation, land use, mining, oil & gas, linear corridor development, forestry, renewable energy, nuclear waste, contaminated sites, brownfield redevelopment, watershed planning, drought planning, water use planning, waste management and waste diversion

Aboriginal and Industry Partnerships working with First Nation, Inuit and Métis communities

Value Engineering & Value Analysis: we facilitate project teams to optimize a project by understanding functions, objectives, costs and social, cultural and environmental considerations.