Canada changed on June 26th, 2014. The Supreme Court of Canada Tsilhqot'in Nation decision created a new set of rules for how infrastructure and resource development projects move forward Canada – now what are you going to do about it?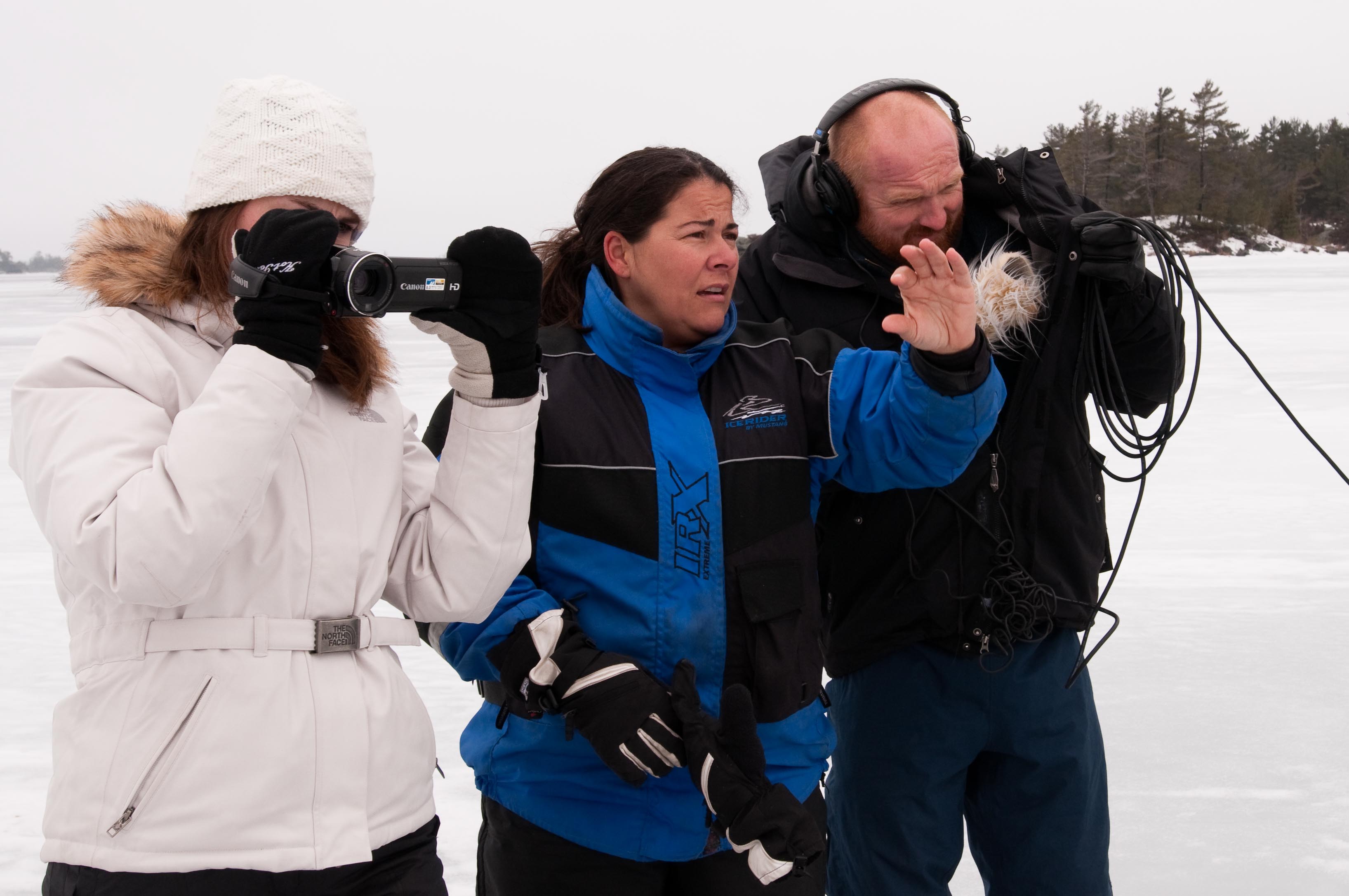 [Shared Value Solutions team members Nichole Fraser-MacDonald (L) and Jeremy Shute (R) work with Lisa McCron (C) to document traditional land use and harvesting in Ontario.]
By Don Richardson, Managing Partner, Shared Value Solutions Ltd.
Canada changed on June 26th, 2014, as a result of the unanimous Supreme Court of Canada decision for Tsilhqot'in Nation.
The Tsilhqot'in decision boils down to this: Aboriginal communities, governments, companies and all communities must build and support true partnerships for a more prosperous future for all Canadians. Projects based on true partnerships will move forward. Projects challenged by fundamental and ongoing conflicts will get stuck in the courts, or drawn out regulatory proceedings, as governments seek to avoid making the wrong decision. Aboriginal communities now have significantly enhanced bargaining power, for specific development proposals, and broader negotiations over treaty rights.
As Liberal Member of Parliament and Aboriginal Affairs Critic, Carolyn Bennett, said in an assessment of the decision:
"Put simply, development that is not done in full consultation and collaboration with impacted Aboriginal communities is not just irresponsible, it is unconstitutional… The era of development projects moving forward without Aboriginal communities having their say, or a fair share of the benefits, is at an end. It is time that we create real and meaningful partnerships with Aboriginal communities, based on their inherent and treaty rights, to work together to build a more prosperous shared future."
Bennett says that moving forward also requires an ongoing dialogue and meaningful progress on, among other things, Aboriginal access to safe drinking water, adequate housing, educational and economic opportunities and addressing unresolved Aboriginal rights and title claims.
So what do you do next? Whether you are a member of an Aboriginal community or a decision-maker in an infrastructure or natural resource management projects, what can you do to make partnerships happen? How can you find ways forward for a more prosperous, shared future?
In our experience, true partnerships start with listening and simple first steps for people to work together on practical solutions to real challenges. Aboriginal community members and project proponents have to come together, as early as possible, to explore project ideas and explore spaces where they can work together. It is not always easy, but partnerships can start small and grow as trust and understanding develop.
We've been privileged to support, and be part of, many partnerships between Aboriginal communities and project proponents. Through our extensive work with dozens of Aboriginal communities, and experience with many different infrastructure and resource development project proponents, we've learned about what works. We've learned there are five key topics to explore together for true partnerships to emerge:
how project features, assets and engineering design can support progress on basic community needs such as safe drinking water, First Nations approaches to water management, adequate housing, educational and socio-economic development, roads and transportation improvements, fixing historic environmental harm, traditional land and resource use, enhancing ecosystems degraded by past development and developing initiatives for youth and elders;
ways to unfold and share watershed histories across traditional territories, the impacts of previous projects on ecosystems and Aboriginal ways of life, and the ways that historic impacts can be addressed to enhance the environment or improve livelihoods;
ways to support and enhance story-telling for all partners, especially stories about what works for enhancing community well-being and improving livelihoods;
ways to engage communities in processes to advance rights and interests, and ways to engage future generations in their roles as leaders supporting community visions around rights and interests, and;
ways and means to collect, document, archive and safeguard, Aboriginal knowledge – traditional ecological knowledge, traditional land uses, current uses of traditional lands, and new and emerging forms of Aboriginal knowledge.
The last item is particularly worth exploring in the context of the Tsilhqot'in decision. Amid the celebrations, editorials, and pundit pronouncements about the unanimous Supreme Court of Canada decision in the Tsilhqot'in case, few are talking about the importance of the original evidence in the case, how it was gathered and the weight now placed on Aboriginal oral histories in Canadian legal decisions. Much of the evidence was from oral histories. The original trial judge, the late B.C. judge David Vickers, spent long periods in the claim area with witnesses, hearing evidence about how particular parts of the area were used, and focusing attention on oral histories. As much as the Tsilhqot'in decision is a victory for Aboriginal rights, this decision is a victory for the validity of Aboriginal oral traditions and knowledge and the efforts by Aboriginal peoples to document those traditions and knowledge.
Can we help you?
Developing solid aboriginal and industry partnerships, joint-ventures and collaborative projects between communities and businesses and governments is core to what we do. And, communities, project proponents, Crown agencies and legal counsel on all sides need rock-solid methodologies for documenting oral knowledge and land use. They need oral knowledge and land use information that can stand up in court. Crown agencies need evidence to support their decisions on projects and comfort that Aboriginal consultation and accommodation conducted by proponents in collaboration with Aboriginal communities is sound.
We believe that Traditional Knowledge Matters to protect and enhance aboriginal community wellbeing, aboriginal interests and aboriginal economic development: traditional ecological knowledge (TEK), traditional land use studies, combining scientific and traditional knowledge, having aboriginal environmental monitors and BEAHR training, traditional ecological knowledge and environmental change, aboriginal land use planning, traditional land use and occupancy mapping, First Nation environmental assessments, and integration of aboriginal traditional knowledge in environmental assessments.
Aboriginal law experts are more and more looking for experienced support for Aboriginal knowledge documentation and traditional land use studies. They are looking for people who work carefully with Aboriginal communities to collect, document, archive and safeguard, knowledge of everything from Aboriginal fisheries to food processing to historic harvesting as part of a traditional land use and occupancy study. They are looking for people familiar with the tested methodologies advanced by Terry Tobias, but enhanced with high quality videography and digital mapping desired by today's Aboriginal leaders.
We bring the best environmental peer review, strategic advice, community engagement and traditional knowledge, land use, and socio-economic research expertise to address your challenges and opportunities. Shared Value Solutions Ltd. is one of the first 100 B Corporations in Canada, and an affiliate of the Shared Value Initiative, a global community of practice among leading companies, civil society, and government organizations to drive adoption and implementation of shared value strategies.
Do you need support for partnership development, or support for traditional knowledge studies and/or traditional land use studies backed by award winning expert environmental science, environmental assessment experience, ethnographic and archaeological expertise, and videography & digital mapping? Then give us a call at Shared Value Solutions Ltd. - 226-706-8888 or email us at info@sharedvaluesolutions.com
DID YOU GET SOME VALUE FROM THIS POST?
We periodically send blog

updates, announcements, event invitations and other information that we hope you find timely, informative and relevant to your world.
SIGN UP HERE
to receive our updates.
We will NEVER share your information with anyone outside of Shared Value Solutions and will not spam you either! And thanks for reading!