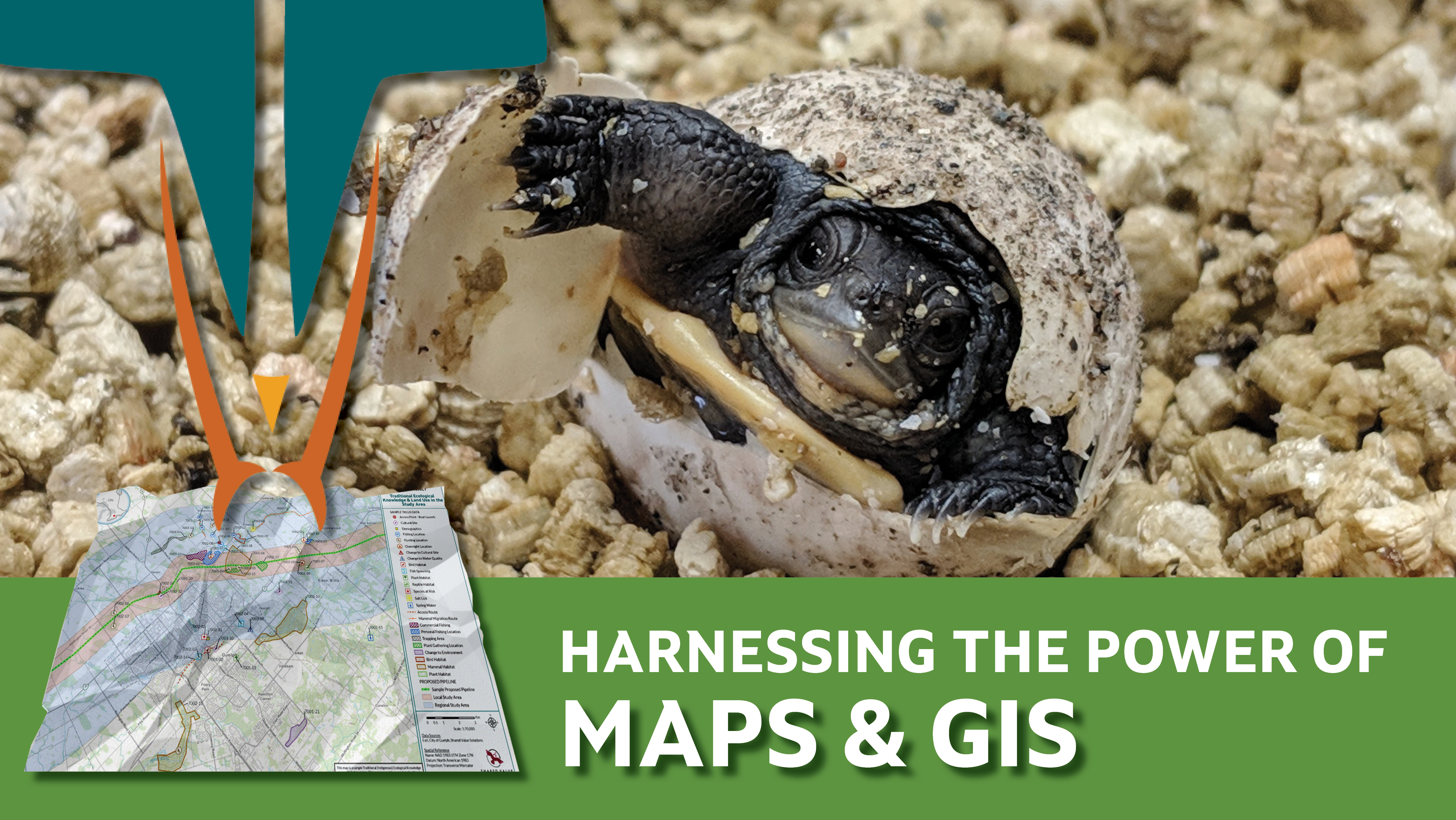 Welcome to our newest blog series that explores the power of mapping and GIS in supporting Indigenous Nations to advance their rights and interests. GIS stands for Geographic Information Systems. Many of us know the term, but if you are fuzzy on what it actually means, you're not alone! Throughout this blog series and in our upcoming eBook we will explore what it is, how it works, and some of the amazing things you can do with it.
Our first example explores how the staff at Magnetawan First Nation's Department of Lands, Resources, and Environment updated their data collection and processing methods along with their GIS skills to enhance their species at risk monitoring work. It involves baby turtles, so you're going to want to read on!
The Magnetawan Reptile Monitoring Program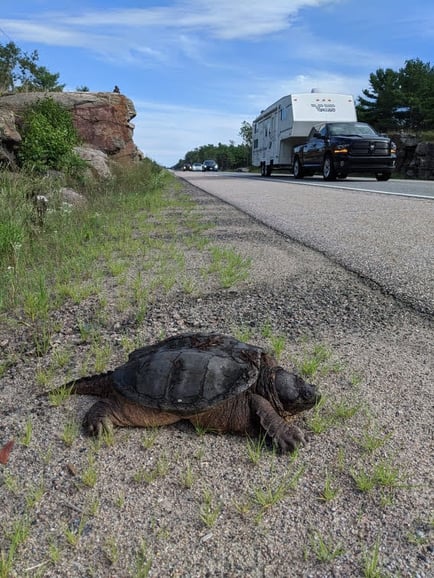 The lands and waters surrounding Magnetawan First Nation, including the Magnetawan River and Georgian Bay, are home to thousands of plant and animal species, including several that are now considered at risk of extinction. While many of the ecological features of Georgian Bay are healthy and thriving, all eight of the biosphere's turtle species are under threat due to loss of shorelines, ongoing development of roads, and general changes to the environment.
In 2012 and 2013, the staff at Magnetawan's Department of Lands, Resources, and Environment began a reptile monitoring program with biologists from Laurentian University to learn more about the community's reptile populations and the impact of road crossings on reptile mortality.
With funding from the Aboriginal Fund for Species at Risk in hand, the Nation's species at risk team set up a comprehensive system to track species movements, behavioural patterns, and encounters with infrastructure such as highways. This data collection supplemented observations submitted by the community regarding species at risk encounters on roads in and around the community. The collected data was then integrated into land use design and planning initiatives to incorporate mitigation strategies such as ecopassages.
Ecopassages are pretty much what they sound like — a safe passageway for turtles and other animals to cross busy roads and an innovative design in species at risk management. Alongside researchers from Laurentian, Magnetawan staff and citizens studied the behavioural patterns of turtles in the area to determine if these safe ways could have a positive impact on the species.
Growing Pains
After a successful first few years in action, Magnetawan's reptile monitoring program was expanding in all the right ways, working toward bolstering citizen science and Traditional Ecological Knowledge within their environmental protection efforts. Until late 2019, however, the staff at the Lands Department were tracking their data with a GPS and paper notes, which they would later transcribe and map in an application called QGIS. While it had been working for the team, these methods were slow, clunky, and time-consuming.

Moving to GIS real time data collection provides a framework for the data collected, a way to store and organize it. Computer-based tools like ArcGIS allow users to store data and create custom searches, but most importantly, GIS software makes it easy to take that data and make it into a map that anyone can understand.

SVS has worked with Magnetawan First Nation on many projects over the years, so when Lynn Wardle, one of our GIS specialists, heard of their team's desire to move to a less clunky system, she set up a training program to help them do just that.
Building in-house capacity for better results
In the fall of 2020, the Lands Department staff began a three-hour-a-week, six-week GIS training course to build in-house mapping capacity. After a user-needs assessment, Lynn worked alongside Alanna Smolarz, a species at risk Biologist with Magnetawan First Nation, and her team on a program that covered everything from how to set up a map to managing vector data.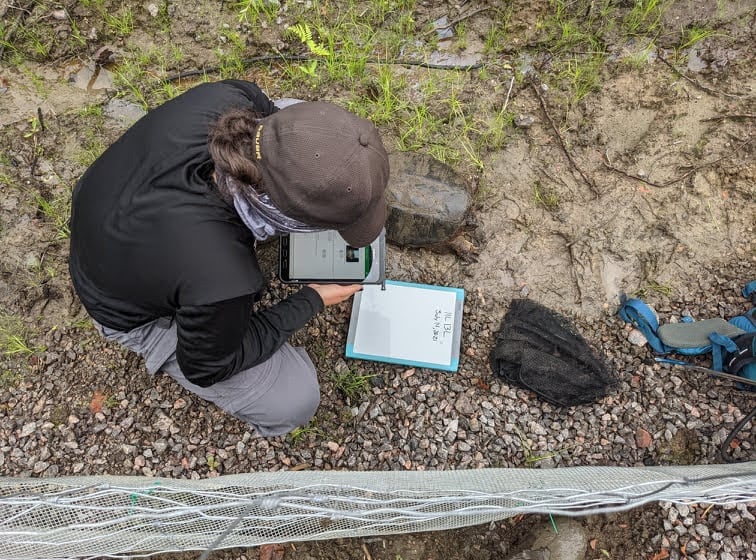 While the COVID-19 pandemic limited the group to online sessions, video recordings created a catalogue of interactive resources that could be used for troubleshooting at any time. In addition to these videos, SVS also held weekly office hours to answer researcher questions.

"When we troubleshoot ourselves, we get somewhere, but it is [at those] those points where you get stuck . . . it is so great to have someone there to be like 'try this,'" said Alanna.
Saving time for what's important
The team moved away from QGIS toward a more robust mapping system that could link survey data with spatial information, using ArcGIS and Survey123 software. Before the switch, Alanna would have to individually digitize data following a field season. Since the training, Alanna and her team have now created seven surveys on Survey123, including within their hatchling release, reptile, and road monitoring programs.

"I am so looking forward to this fall where I just have to click 'download' instead of going through a stack of papers to enter every single point," Alanna says.
Upgraded nesting programs
GIS has bolstered the capabilities and efficiency of projects like the Nation's nesting program. This year, the team gathered records of where turtle eggs were collected and were able to return them to wetlands close enough to their habitats by consulting maps and aerial photography of the areas.

"There is so much information attached to a single point, but now we have a way of putting all those points on a map, seeing patterns, potentially geoprocessing things."
Logging species information in real time
With GIS systems in place, the species at risk team at Magnetawan have combined observations in the field with their "notch" system to log species information in real time. In addition to streamlining the data collection process, the use of GIS has brought other unexpected benefits to the species at risk program. Magnetawan's notch-code system allows them to identify individual turtles. Turtles get a physical notch on their marginal scutes (parts of their shell) so that when found (hopefully) a few weeks, months, or even years down the line, they can be looked up in Magnetawan's database to see details about when an individual turtle was last observed. This data includes when and where it was last caught, how much it weighed, its morphometric measurements (the measuring of the shape and dimensions of the turtle), and any other relevant observation data. The notch is a harmless mark that corresponds to a code system based on how many marginal scutes they have on the left and right sides of their body.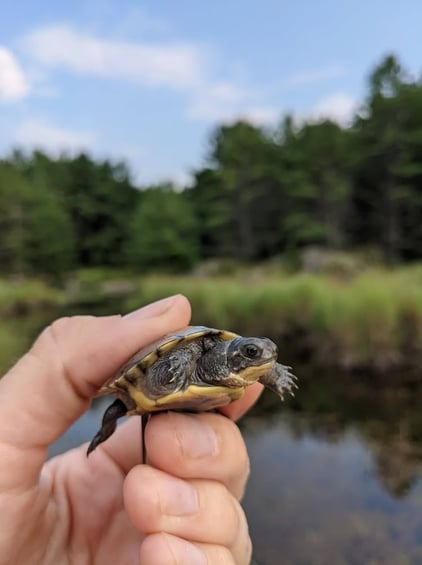 "We actually lost a Blanding's turtle that we were tracking," Alanna recounted.
"Sure enough, Theodore, a community member, found it on the road during one of his routine drives on his scooter and sent us a picture of its blotch pattern. I was able to combine that with a notch code and we found where we last saw it on the map."
More opportunities for community involvement
Alanna said that with Magnetawan's new in-house GIS capabilities, the next step is to find ways to further incorporate the community into programs undertaken by the Lands Department and beyond. She hopes to create an accessible avenue that will allow community members to collect information while they are out on the land, supporting the program in a volunteer capacity.

Through Magnetawan is focusing on species monitoring programs at the moment, GIS mapping and data collection have far-reaching possibilities , including the documentation of medicinal plant patches. These records could help community members, land users, and Elders to know exactly where to harvest .

"Now that we feel comfortable in our skillset, I would love to set something up that is community accessible, to have something to offer to the community who have already provided us with so much."

Photo Acknowledgement: All photographs were taken on Magnetawan First Nation lands by Alanna Smolarz and are not to be shared, copied, or reproduced without permission.
Blog Series: GIS and Mapping
Harness the power of the map for better, more informed decisions
Maps can tell a story, show relationships, and provide context when tackling complex problems. They help us answer location-related questions, visualize and predict impacts, and show changes over time. A good map can directly influence regulatory decisions, project planning and design, and the outcome of negotiations.

GIS is so much more than the map you see in your report or the waypoint you drop on your GPS device. GIS provides a structure for gathering, managing, and analyzing spatial data to help you identify patterns and relationships, which in turn helps you make better decisions.
Watch this space for more posts in this series!
GIS and Mapping Services at SVS
GIS services at SVS integrate innovative approaches to environmental and land-based issues. Our services are scalable to your needs as we leverage Esri ArcGIS tools to allow for accurate, real-time data collection and analysis.

• Field data collection made easy
• ArcGIS StoryMaps
• Real-time data visualization
• Training programs
• And of course, any map you could ever need!
Read Our Full 2021 Services Brochure Here To Find Out What Other Great Services We Offer
Get more posts like this directly to your inbox! Sign up for our bi-weekly funding, news and information digest:
We are an Canadian B Corp, and we assist Indigenous communities with support throughout regulatory processes surrounding major development projects like mines, hydroelectric facilities, transmission lines, highway expansions, oil and gas pipelines, natural resource transport applications and nuclear power.
We have deep context and experience behind the recommendations we provide, having worked for our clients on almost every major project in Canada over the last 10 years. For us, it's all about building long-term relationships with our clients. We want to get to know you and what you want to do so we can help you move your plans forward.
Impact Benefit Agreement Negotiation Support

Technical Reviews and Regulatory Process Support

Community and Economic Development Planning

Indigenous Knowledge and Land Use Studies

Environmental Monitoring

Guardians Program Development

Climate Change Readiness

GIS and Mapping
And so much more:

www.sharedvaluesolutions.com