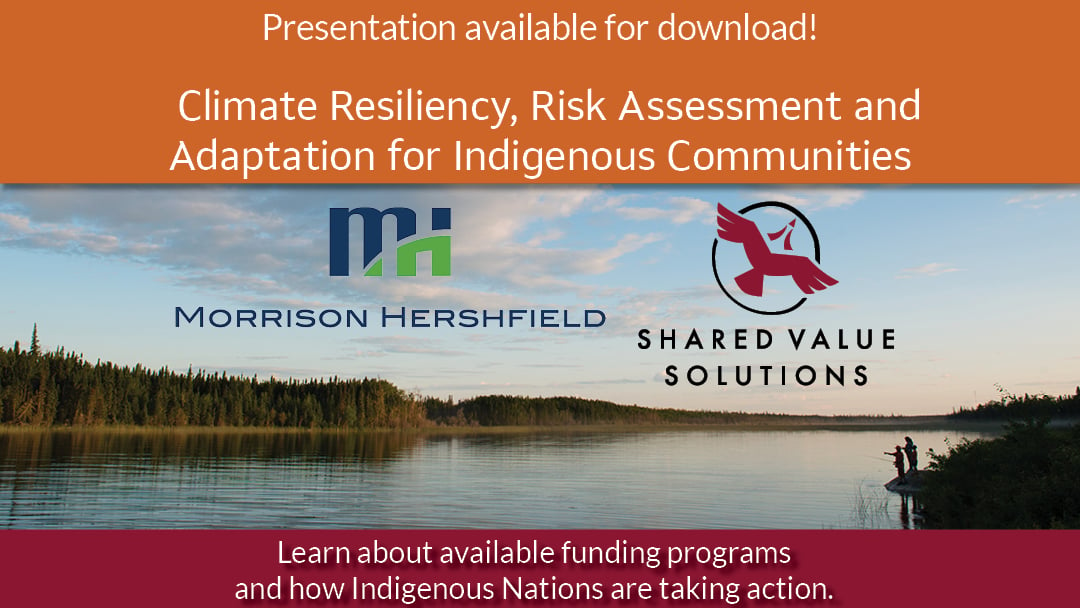 Indigenous communities across Canada are experiencing the impacts of climate change from events such as wildfires, heat waves, floods, and shortened winter road seasons in the North. Shared Value Solutions and Morrison Hershfield partnered up to present an overview of the solutions that Indigenous Communities can develop to become more resilient to the impacts of climate change and extreme weather.
The webinar explored the funding application process for a program currently open in Alberta with eligible grants for Indigenous communities and an overview of the climate-risk assessment and climate adaptation planning processes.
IN CASE YOU MISSED this valuable webinar, we are offering a free download of the presentation! Click below:
MORE USEFUL LINKS AND RESOURCES:
Climate Resilience Capacity Building Program
Indigenous climate adaptation planning
Shared Value Solutions: Environmental Monitoring eBook
Shared Value Solutions Climate Change Services
Our team at Shared Value Solutions works with First Nations, Métis, and Inuit Nations on many crucial aspects of climate change resilience:
Climate change adaptation plans

Climate change risk assessments

Flood vulnerability modelling studies

Emergency response planning

Indigenous Knowledge studies

Environmental monitoring programs






WHY CHOOSE SVS?
Our team provides a unique perspective from all the angles necessary to support you in the Climate Resilience Capacity Building Program:
Local experience:

A strong knowledge of specific and nuanced climate

change impacts faced by Indigenous Peoples in Alberta.

Engagement expertise:

A clear understanding of how Indigenous

Peoples expect to be engaged and how to develop creative and

innovative approaches to engagement.

Capacity expansion:

As with every project we do, we are committed to

building the skills and capacity you need to address climate change.

In-house experts:

Environmental monitoring and advisory services,

Indigenous Knowledge studies, GIS and mapping, lands department

support, regulatory support, and community planning.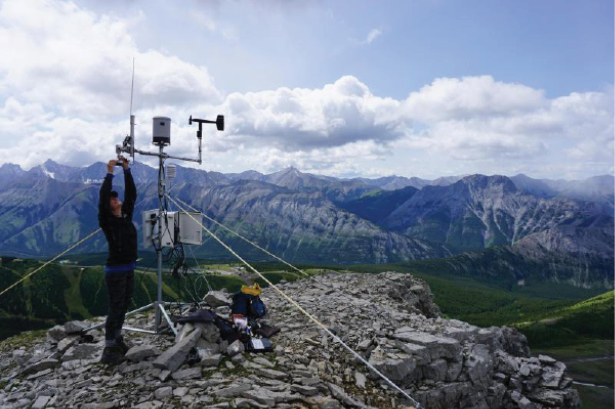 A Canadian B Corp, Shared Value Solutions is an environmental and community development consulting firm serving First Nation, Métis and Inuit Nations from coast, to coast, to coast. Our team works alongside Indigenous leaders to provide technical guidance, regulatory advice, peer reviews, planning, and negotiation strategy in relation to major resource development projects. We are a company of Indigenous and non-Indigenous environmental, cultural heritage, planning and regulatory experts committed to braiding Indigenous Knowledge with western science to further our clients' goals of prosperity, stewardship and jurisdiction.
For us, it's all about building long-term relationships with our clients. We want to get to know you and what you want to do so we can help you move your plans forward.
Core Services:

Impact Benefit Agreement Negotiation Support

Technical Reviews and Regulatory Process Support

Community and Economic Development Planning

Indigenous Knowledge and Land Use Studies

Environmental Monitoring

Guardians Program Development

Climate Change Readiness

GIS and Mapping

and a whole lot more...

www.sharedvaluesolutions.com