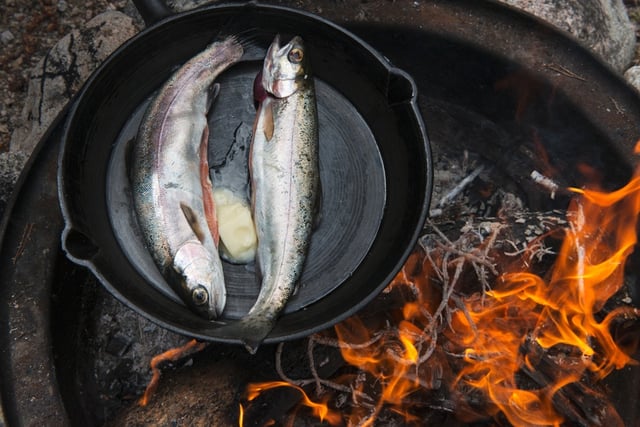 INTRODUCTION:
David Suzuki recently wrote an article titled Reconciliation Requires Recognizing Rights-Based Fishing. It got us thinking about the range of recent work we've been doing with clients around Indigenous fisheries - everything from connecting Saugeen Ojibway Nation fisheries representatives to Guelph's Neighbourhood Group of restaurants to explore supply-chain opportunities, to helping the Mi'kmaq Confederacy of PEI with regulatory comments on the review of the federal Fisheries Act, to working with the Qikiqtarjuaq ("Qik") community of Nunavut on its growing commercial fishery, to assisting Aroland First Nation and Matawa Four Rivers with efforts to protect endangered sturgeon habitat and spawning areas.
Suzuki really got us thinking about the connections between Reconciliation and fish, especially as we work with clients on restoring lost protections and introducing Indigenous safeguards to the Federal Fisheries Act. Here are 5 key points that Suzuki makes, and our follow-on comments:
---
1. Commercial fishing
is an important community development opportunity for Indigenous peoples who face erosion of traditional fishing culture alongside limited job opportunities.
The Federal 2016 Budget proposes to provide $33.1 million in 2016–17 to Fisheries and Oceans Canada to extend the Atlantic and Pacific Integrated Commercial Fisheries Initiatives around effective co-management approaches with First Nations and other fisheries participants.. These measures are supposed to ensure that First Nations can access commercial fisheries and build sustainable commercial fishing enterprises. This is a positive step forward, and we look forward to even further Reconciliation efforts that in include policy and program shifts that drive co-management style or shared jurisdiction approaches forward.
2.
Canada's fisheries policies benefit industrial operations over Indigenous rights-based fisheries.
DPAD is not as good as HADD! Maude Barlow of the Council of Canadians and Mark Mattson of the Lake Ontario Waterkeeper argued in the 2014 that "the Fisheries Act was arguably the most important piece of anti-pollution legislation in Canada." The Harper government's gutting of environmental assessment processes with the 2012 omnibus bill that started Idle-No-More included gutting Section 35 of the Fisheries Act. Prohibitions on "harmful alteration, disruption or destruction of fish habitat," (HADD) was replaced with prohibition of "serious harm to fish that are part of a commercial, recreational or Aboriginal fishery, "Serious harm" was defined as "the death of fish or any permanent alteration to, or destruction of, fish habitat," (DPAD). As a result, the Fisheries Act no longer focues on prohibiting damage to fish habitat. And industrial operations were given significant self-assessment powers by Fisheries and Oceans Canada making them largely self-policing for ensuring that fish habitat is protected with very little oversight, especially in the rural and remote areas where many Indigenous communities have rights and interests in Indiigenous fisheries. The end result: significantly reduced protection of fish habitat that Indigenous fisheries need to sustain livelihoods.
3. R
edeveloping Indigenous commercial fisheries alongside existing fisheries won't be easy, but it's the next evolution of Reconciliation.
There are a growing number of Indigenous fishery success stories. For example, the off-reserve Mi'kmaq/Aboriginal Peoples in Nova Scotia who earn a livelihoods through involvement and participation in Aboriginal Communal Commercial Fisheries. Mime'j Seafoods Limited negotiates access to commercial fishing licenses, leases and permits, and assists with the acquisition of vessels, gear and equipment. It also undertakes identification of Indigenous fish harvesters' interests, skills, knowledge, experience, training needs and types of fisheries throughout all coastal waters of Nova Scotia to commercial fishing strategies and develop Indigenous fisheries. Reconciliation means that these types of Indigenous initiatives get meaningful support and proper resourcing.
4.
Reconciliation in action would mean restoring the rights of the Indigenous peoples to fish for a living.
What do fish have to do with Reconciliation? In June, the Truth and Reconciliation Commission of Canada released its findings about the more than 120 years of abuse and neglect by the federal government when tens of thousands of Aboriginal children were sent to Indian Residential Schools. Before Europeans arrived in Canada, Indigenous peoples across the lands had thriving fishing communities, often involved in trade. With colonial government rule, regulations steadily decreased Indigenous access to fisheries and the economic benefits of the marine resources that Indigenous peoples had relied on for thousands of years. "By removing the ability to benefit economically from our sea resources, Canada took away our independence, our economy, and our ability to sustain our communities. Once thriving, coastal communities became places of poverty and desperation," says Ken Watts, Vice-President, Nuu-chah-nulth Tribal Council. Creating fair fisheries that enable and actively support Indigenous participation is in keeping with court decisions and will help rebuild Indigenous economies and communities.
5. I
t's time for a new relationship built on co-management, shared jurisdiction and equitable division of ocean resources, guided by a shared commitment to ocean conservation
Indigenous Nations across Canada have made it clear that they see their rights, title and interests as including the right and obligation to be primary stewards in natural resource management within their territories. This is a vision of co-management, or shared jurisdiction that includes government accommodation of Indigenous management roles in fisheries and aquatic resource management and decision making processes. Achieving this vision requires policies and programs that support the development of co-management or shared jurisdiction approaches, capacity building for all participants, and collaboration in all decision-making, technical activities, research, and inclusinon of Indigenous Knowledge (IK) in fisheries governance and management processes.
---

CONCLUSION:
The next Reconciliation Revolution requires all parties to advance and protect Indigenous rights, title and interests related to fisheries and aquatic resources, including priority access for food, cultural and economic purposes. This means meaningful policies and programs that build and maintain capacity for fisheries planning, management, and decision-making at local, regional, national and international levels. This also means serioiusly advancing collaborative management frameworks that recognize and respect Indigenous traditional land and resource uses together with Indigenous jurisdiction, management authority and stewardship responsibilities. We look forward to playing a part in this next Reconciliation Revolution with Indigenous Stewardship Warriors!


Businesses and organizations are made up of people. So are communities. Imagine a world where people in industry and government, and people from towns of all sizes, get together to make amazing things happen – things they couldn't have dreamed up alone. A world where people from corporations get together with people in government or NGOs to explore innovative ways to do business while enhancing the natural and social environment.
At Shared Value Solutions, we speak your language. And we know that the impossible is possible – with the right people in the circle.
We are an Ontario B Corp and we bring the best engineering, design, environment, architecture and other technical discipline expertise to address your challenges and opportunities:
Strategic Environmental Assessment guidance, coordination and support

Collaborative land and resource use planning and management- process design and delivery

Traditional Ecological Knowledge Studies & Traditional Knowledge Studies

Traditional Land Use Studies (TLUS)/ Traditional Land Use and Occupancy Mapping

Design and delivery of programs promoting/supporting positive behaviour change- environmental stewardship, community-based social marketing, health/environmental health promotion, Indigenous community energy plan initiatives

Contributing human environment considerations to collaborative technical assessments and management plans in sectors such as water resources, climate change, remediation, land use, mining, oil & gas, linear corridor development, forestry, renewable energy, nuclear waste, contaminated sites, brownfield redevelopment, watershed planning, drought planning, water use planning, waste management and waste diversion

Indigenous and Industry Partnerships working with First Nation, Inuit and Métis communities

Value Engineering & Value Analysis: we facilitate project teams to optimize a project by understanding functions, objectives, costs and social, cultural and environmental considerations.
Shared Value Solutions ® is a trademark registered by Shared Value Solutions Ltd.
---