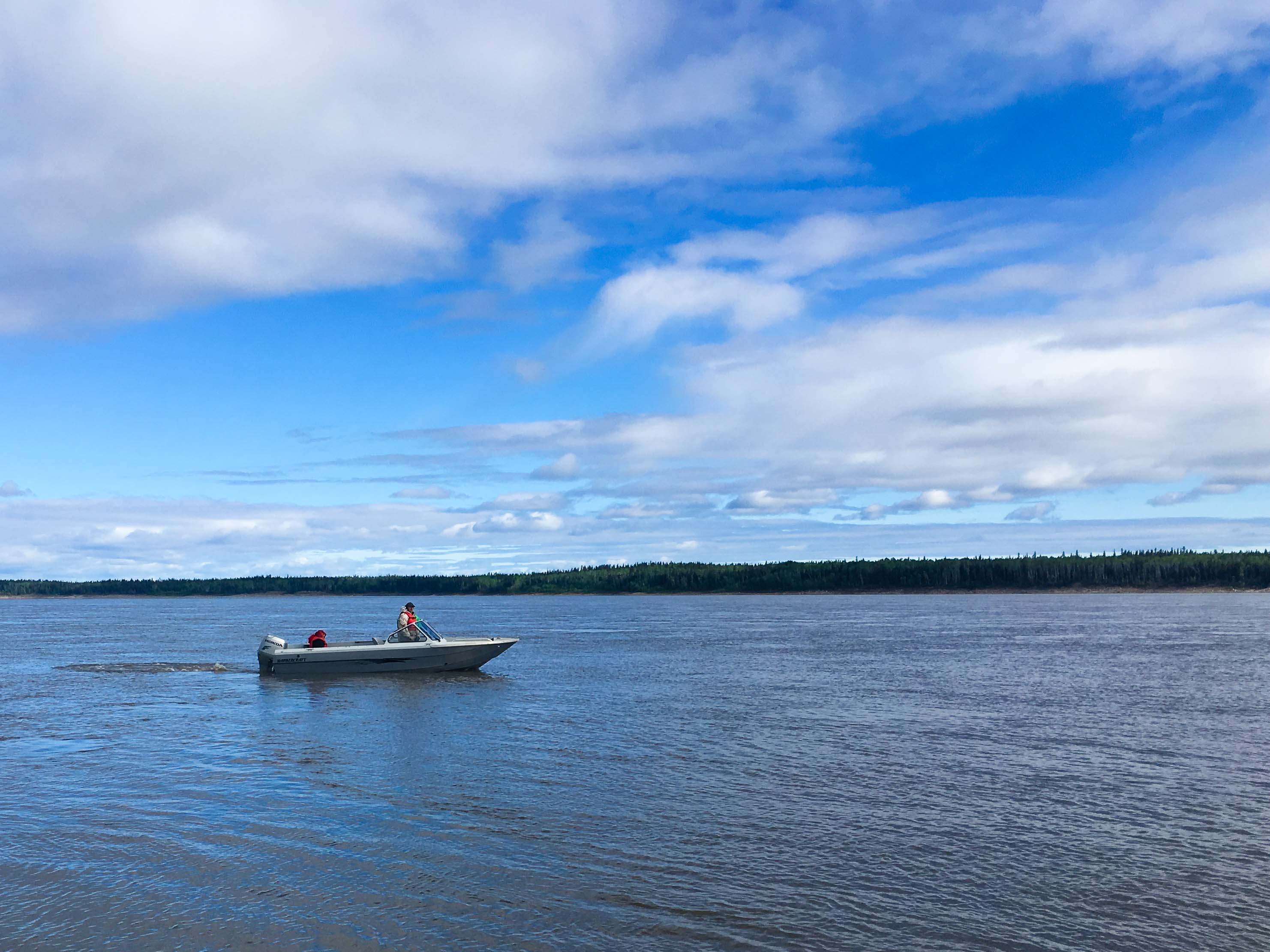 The question of what effective Indigenous government environmental oversight of pipeline projects can look like looms large in the current debates about the oil and gas pipelines set to criss-cross Indigenous lands and waters across North America. Whether or not your community supports existing pipelines and proposed developments, everyone has an interest in their safe construction and operation. But how do you best protect your lands and waters?
We recently profiled the story of how the Dehcho First Nations' ground-breaking Dehcho K'éhodi Stewardship Program expanded its scope to monitoring Enbridge's Line 21 oil pipeline replacement across the Mackenzie River – where the old Norman Wells oil pipeline crosses one of the most important river systems in North America. This type of "boots-on-the-ground" Indigenous Pipeline Guardians work is a brilliant example of effective Indigenous environmental oversight. In this post we look at another part of Indigenous government oversight, again focused on an oil pipeline and multiple water crossings, blending "boots on the ground" monitoring with desk-top analysis. Bringing these two approaches together may be a powerful combo for future Indigenous Pipeline Guardians programs (think of the existing TransMountain oil pipeline, and its proposed expansion, for example).
Enbridge's Line 3 – Hundreds of Water Crossings to Consider
Enbridge's Line 3 oil pipeline, built in the 1960s, needed replacing because it was, according to the company, "increasingly subject to corrosion and cracking." Construction includes replacing the approximately 1,070 km Canadian portion between Hardisty, Alberta and Gretna, Manitoba with new pipeline. This massive, $5.3-billion project crosses over 400 bodies of water – an issue of particular concern to the Indigenous rights holders who cherish those rivers and streams as the lifeblood of mother earth.
From the crucial pre-approval phase to construction, reclamation, operations and decommissioning, Indigenous Pipeline Guardians are key to protecting those precious waterways. But before we dig in (excuse the pun), we're going to geek out for a minute on the technical things companies look at when they decide how best to put a pipeline across a body of water.
How to Cross a River with a Pipeline: Two Primary Options
Pipeline planners have two main options for crossing water: "isolate and open trench," or "horizontal directional drilling" (HDD). In lay terms, you either go through it or under it. For trenching, depending on the width of the watercourse, typically you use steel plates on either side of the crossing to isolate the creek bed, divert water around the isolation, move the fish out of that section of creek (!), dig a trench, insert the pipeline, and then let the creek flow again. Horizontal directional drilling is exactly that – drilling under a waterbody and then inserting the pipeline.
Pipeline planners base their decision on which method to uses depending on the size, ecological sensitivity and hydrology of the river or stream, with pros and cons associated with each. Increasingly, thanks to pressure from Indigenous rights-holders, pipeline planners include Indigenous knowledge in this decision-making process. Water crossing decision-making is often where Indigenous Pipeline Guardian programs take root.
When a river is as large as the Mackenzie, the decision is fairly obvious (imagine having to divert that much water or isolate a river hundreds of meters wide). However, even if the creek is only a few meters wide, if there's a highly sensitive area, say, a cobble spawning bed for walleye, either the route may change to avoid sensitive areas of a river identified by Indigenous knowledge holders and/or aquatic scientists, or the choice is to go under with HDD.
People often ask, if HDD is the least impactful option, why not do it all the time? Sometimes the ground below a river is not suitable. Fracking is always a concern: if the high-pressure drilling fluid hits a crack, it can shoot up into the river. While not a toxicity issue – the fluid is made of natural clay – the sediment can cover spawning beds and cause fish kills, or cover sensitive habitat for many species in wetlands. The Dehcho Pipeline Guardians were monitoring for this "worst case scenario" during the Line 21 replacement: twenty-four hours a day, for three months, Guardians were on the water, testing it for signs of fracking during construction.
Indigenous Input into the Approval Process
Based on years of Indigenous knowledge and environmental science studies, each of the hundreds of water crossings for Line 3 had its own Environmental Protection Plan (EPP) that the company must adhere to according to the National Energy Board's (NEB) conditions of approval, and agreements with Indigenous rights-holders. Indigenous Ecological Knowledge is valuable at all stages of a project, and especially during project planning and construction. It is vital to make sure Indigenous environmental protection requirements are heard by the regulator, and built into project Indigenous Impact and Benefit Agreements (IBAs) with pipeline companies..
In the case of Line 3, our Indigenous clients in Alberta, Saskatchewan and Manitoba had reviewed the plans for all of 400 or so water crossings. Based on Indigenous Knowledge data, as well as technical reviews of the company's environmental studies, our clients were able to advocate for changes such as reroutes, choices of crossing methods, levels of monitoring required, and Indigenous involvement in that monitoring – and saw their recommendations included in regulatory conditions of approval, and/or made part of IBAs.
However, during construction, plans always change: challenges with variables such as weather and new land owners can shift scheduling such that a water crossing planned for fall is now going to happen in the spring, when high water might make the planned trenching impossible. So how do our clients monitor all of those changes, and hold the the companies accountable for fulfilling their conditions of approval?
Monitoring Regulatory Filings During Construction
During construction, the pipeline company must file detailed progress reports: scheduling changes, route changes, water crossing changes, any incidents, everything they are doing down to the smallest sneeze. To sift through this veritable tsunami of "desktop" available data, we helped devise a set of search criteria to flag changes that may affect the rights and interests of our Indigenous clients. The weekly and monthly reports of filings of interest, and recommendations of how to address issues and changes, formed a desk-top style approach to environmental monitoring, arming our clients with the ability to apply the oversight of their Indigenous governments during the whole construction phase.
A Boots-on-the-Ground Plus Regulatory Filing Combo Approach
To sum it up, if you are facing a pipeline crossing your territory (think of the proposed TransMountain Pipeline and its many, many water crossings and salmon spawning areas!)we hope these tales of two pipelines – Line 21 and Line 3 – give you ideas of what would work best for your community. A blend of a boots-on-the-ground Guardians program plus the desk-top regulatory report vigilance will be a powerful combo for effective Indigenous government pipeline monitoring for future projects.
We are a Canadian B Corp, and we assist Indigenous communities with support throughout regulatory processes surrounding major development projects like mines, hydroelectric facilities, transmission lines, highway expansions, oil and gas pipelines, natural resource transport applications and nuclear power.
We have deep context and experience behind the recommendations we provide, having worked for our clients on almost every major project in Canada over the last 10 years. For us, it's all about building long-term relationships with our clients. We want to get to know you and what you want to do so we can help you move your plans forward.