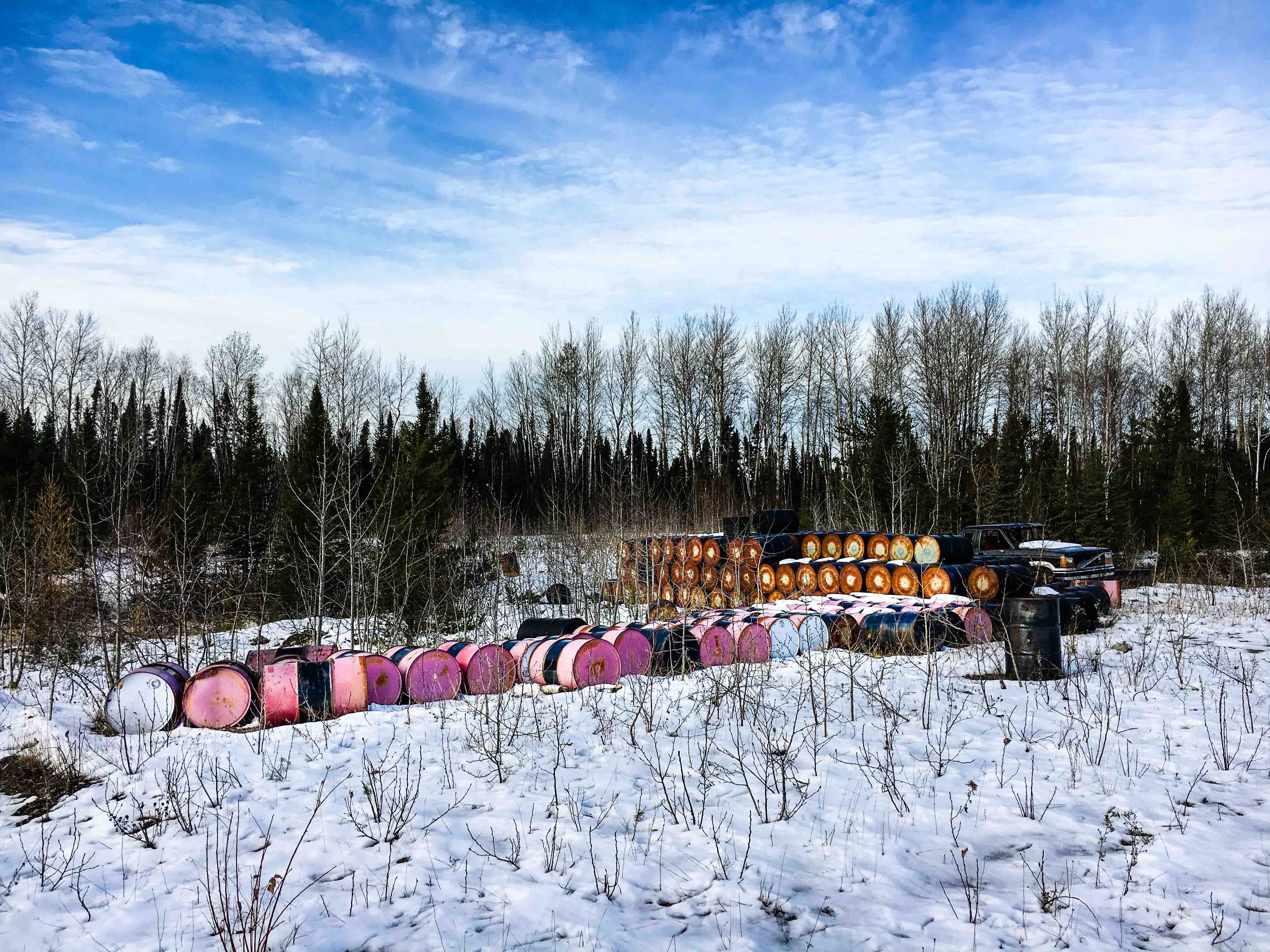 "You know, for First Nations people," said an Elder as we walked the site of a proposed gold mine in northern Ontario, "the life of a mine is just a blip in time. We have always been here. And we'll be here when that mine is long gone." He paused and looked out over the black spruce hills dipping to wetlands dense with cattails and bulrushes, the glimmer of a small lake in the distance. "We're the ones who have to deal with what's left behind."
Until changes to the Ontario Mining Act in 1992 made filing a closure plan law in Ontario, operators could just walk away when a mine's life was over – and many did. Indigenous communities are no strangers to the resulting environmental damage and losses. Today however, it's the law for operators to put up financial assurance to cover the costs of closure before a new mine even enters production. A 2017 national report estimated it would cost $3.1 billion to cleanup abandoned mines in Ontario alone. While those legal changes were crucial to holding mining companies accountable for their activities on the land, it wasn't until 2012 that the Ontario Crown formalized the duty to consult and accommodate for Indigenous communities on closure planning.
In recent experience we have seen our Indigenous clients use mine closure planning as a focal point for current Impact Benefit Agreements (IBAs) – and even as an opportunity to reopen existing IBAs or start new agreement-making processes for mines that predated the 2012 consultation requirements. Free, prior and informed consent (FPIC) doesn't just have to apply to new projects - "collaborative consent" can also apply to Crown decisions on mine closure plans, and can lead to some creative Indigenous and industry partnerships.
Three Key Duty to Consult Moments for Mine Closure Plans
There are three regulatory "moments" for Indigenous input into Crown decisions on mine closure planning:
Mines currently in the approvals process

–

either "greenfield" (brand new) or "brownfield" (new but on old mine sites) mines,
Operational mines updating and amending their closure plans – most will do this about every five years, and
Mines approaching closure.
If your community is engaged with a mine at any one of these points in the development cycle, you have some options at the mine closure negotiation table to protect your lands and waters and enhance your community's economic future after the mine closes.
Five Winning Impact Benefit Agreement Strategies
Impact Benefit Agreement-style negotiating strategies for changing the mine closure agenda for your Indigenous community can be grouped into five main categories: keep the infrastructure that benefits you, take a seven-generations view of future land use, manage and harness socio-economic impacts and benefits, take back your teaching site, and manage contaminants. Each of these strategies provides opportunity for negotiation in an IBA or related agreement, and Crown accommodations where appropriate.
Infrastructure: Keep What Benefits You
Making sure that any mine infrastructure that must remain – an underground shaft opening, for example – is properly secured to keep people and wildlife safe is obviously of central importance. But there is the potential for existing mine infrastructure to provide substantial benefits to your community. Some roads, buildings, transmission lines, greenhouses, power generation facilities, and other structures could provide opportunities for economic development, or other uses. For example, we have seen a community request to leave something as simple as concrete pads in place to use for future cabin sites. Other communities want to see certain roads remain to access a closed site for traditional use or future economic opportunities. On a more ambitious level, an existing transmission line grid connection opens the door for potential renewable energy projects. Consider making it a requirement that the mine operator leaves or even enhances infrastructure that is to your community's benefit, and that the rights to its use are transferred to you in a way that does not come with significant liabilities, environmental or otherwise.
Take a Seven Generation View of Future Land Use
Environmental Assessment tends to consider whether effects of a mine are "reversible," and there is much emphasis in the industry of mining as an "interim land use." However, if the mine site was an important harvesting area for families in your community, then the typical goal of returning the closed mine site to pre-mining conditions may not cut it. Often mines are developed in areas which have been logged or extensively explored for minerals before mining ever happens, and that can become the "baseline" for rehabilitating the site. Even though progressive rehabilitation – grading or revegetating sections of the mine as they close - is now a key aspect of closure planning, it could easily take 50 years or more for a site to blend into the surrounding forest, or for open pits to refill with water and become lakes connected to the watershed. Add the length of active mining to that total and you have multiple generations of land users who cannot use the land for traditional purposes. And don't forget about the wide range of climate change impacts that could impact the mine site, and consider how you can apply traditional knowledge to managing those impacts! How long can the chain of knowledge sharing about the land remain strong when the local teaching areas are gone? Consider the true cost of this lost access and opportunity for future generations in your industry negotiations and Crown consultations today.
Manage and Harness Socio-economic Impacts and Benefits
When a mine closes, one of the biggest impacts is often the loss of local jobs and other economic benefits, and good mine closure planning should seek to minimize those impacts. But what if the process of closure can be connected to new business opportunities for your community? For example, the progressive rehabilitation of the site requires extensive planting and earth moving, as well as long-term environmental monitoring activities described below. We've seen communities successfully establish dedicated native plant nursery businesses for reclamation activities, for example, that have gone on to supply other projects after the mine closed. These sort of supply-chain opportunities are common to see in IBA negotiations - can you find some partnerships in mine company procurement for closure services? After all, who better to remediate the land than those who have and will care for the land for thousands of years?
Take Back Your Teaching Site
Very often, before mining operations start, the lands and waters of the mine site have been used for countless generations for families to hunt, fish, harvest and engage in spiritual practices. Mapping and acknowledging those valued cultural activities in and around the mine site – whether historic or recent – provides elders and harvesters with rich opportunities to help young people understand mother earth, and hundreds of traditional practices. The mine site and the immediate area are very likely to be "teaching sites" for many families across thousands of years. The loss of a teaching site during mine construction and operation is a serious loss. Closure planning is a time to find opportunities to bring the site back as a reshaped and reconfigured teaching site for traditional practices, but also for teaching about the impacts of industrial activities and the strength of your community's efforts to grapple with the negative impacts, harnessing benefits, and learn ways to bring Indigenous knowledge to mine closure planning.
Manage Contaminants: Long-term Monitoring and Guardian/Stewardship Bodies
A plan to monitor and manage the legacy impacts of a mine is arguably the most crucial element of closure planning to get right. The site must be rendered safe for future occupancy and traditional use, and off-site contamination should not affect the surrounding soils, water, plants and animals, or the safety of traditional foods and medicines. Although a long-term environmental monitoring process is a required element of closure planning, many communities are choosing to establish their own parallel programs, sometimes under the emerging Indigenous Guardians model. Establishing an environmental monitoring committee or similar body that has the authority to review closure plans and amendments is your community's best way to protect the lands and waters – and the health of your community – throughout the lifecycle of a mine, and well beyond its closure. Community-led country foods monitoring programs are another option, and one that is often called for by and supported by federal agencies such as Health Canada.
We have heard it argued that all mine closure plans and activities in Ontario should be Indigenous-led. Given the tiny blip a mine represents in the timeless, enduring connection Indigenous peoples have to the land, this idea makes a lot of sense. Closure planning only became law in Ontario less than 30 years ago. Perhaps when we look back 30 years from now, we'll wonder what took us so long.
This post focuses on mine closure in Ontario. Stay tuned for a post on mine closure planning across Canada. [Photo Credit: Don Richardson - abandoned aviation fuel barrels at a mining air strip in Aroland First Nation territory - October, 2018]
We have worked with Indigenous clients, and their lawyers, on some of the most significant mining projects in Canada, and we bring a breadth of global experience including mining projects that have to comply with World Bank and International Financial Corporation requirements, as well as global financial institution commitment documents such as the Equator Principles. If you want the best at your IBA negotiation table, we are ready to serve you.
SVS is a Canadian B Corp, and we assist Indigenous communities with support throughout regulatory processes surrounding major development projects like mines, hydroelectric facilities, transmission lines, highway expansions, oil and gas pipelines, natural resource transport applications and nuclear power.
We have deep context and experience behind the recommendations we provide, having worked for our clients on almost every major project in Canada over the last 10 years. For us, it's all about building long-term relationships with our clients. We want to get to know you and what you want to do so we can help you move your plans forward.