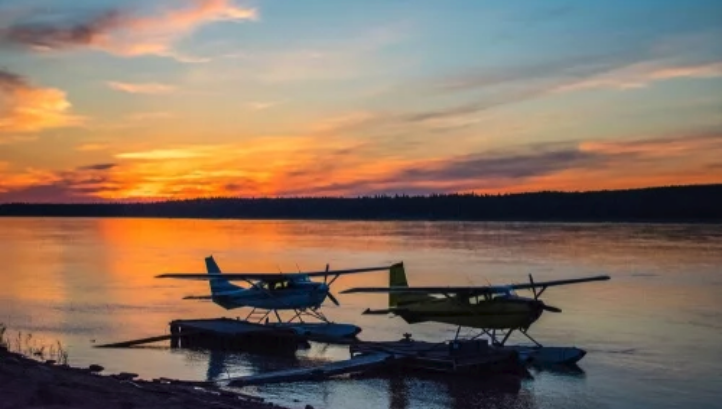 "They've been doing this [oil pipeline] drilling work for decades," he said. "That's their traditional knowledge, based on decades of experience, but the Dene have thousands of years of detailed knowledge about this land, these rivers, of the animals and plants." ~ T'seleie and Liidlii Kue Chief Gerald Antoine, CBC News interview
Indigenous Pipeline Guardians
Raise your hand if there's a pipeline that crosses your traditional territory. Chances are your hand is up – or will be if some of the proposed oil and gas pipelines get built. Whether or not your community supports these developments, everyone has an interest in their safe construction and operation. Protecting the lands and waters is in the best interest of all seven generations.
Enter the Guardians programs that are gaining traction across Canada. Generally, Guardian programs are Indigenous-led and give local First Nations, Metis and Inuit communities a first-hand role in land stewardship and environmental monitoring.
What follows is the story of how the Dehcho First Nations, whose ground-breaking Dehcho K'éhodi Stewardship Program has been monitoring the lands and waters since 2016, recently expanded its scope to focus on a very specific pipeline monitoring need: an oil pipeline replacement across the great Mackenzie River itself.
Photo above: Evening sunset on the Dehcho "Big River" - aka the Mackenzie River - in Fort Simpson, NWT
How the Dehcho Asserted Their Role as Pipeline Guardians
Dehcho means "Big River" – referring to the great Mackenzie River, 1,600 kilometres long and as much as five kilometres wide, flowing toward the Arctic sea. The Dehcho First Nations (DFN) represent Dene and Métis people who are indigenous to the Dehcho region.
In November 2016, Enbridge shut down the Norman Wells Pipeline, also known as Line 21, to investigate ground instability on the slope of the Mackenzie River oil pipeline crossing near Fort Simpson, Northwest Territories, in the heart of Dehcho territory. When, in March 2017, Enbridge applied to the National Energy Board to replace a two-and-a-half kilometre section of pipeline under the river, and to decommission the replaced section of pipe, the NEB scheduled a public hearing.
In public statements during the hearing, Daniel T'seleie, co-legal counsel for the Liidlii Kue First Nation, and Liidlii Kue Chief Gerald Antoine made it clear that they weren't comfortable with how Enbridge was answering questions from members of the First Nation, or with Enbridge responses on issues such as monitoring for leaks in the pipeline.
"We're in a situation where Enbridge is saying: 'Trust us, we know best with this information and we've made the best decision for you'... I disagree that Enbridge has that right to make decisions for us, for LKFN or other Dene... We have to be involved. We have thousands and thousands of years of information we know about the land," Daniel T'seleie told the National Energy Board's review panel.
The Liidlii Kue First Nation, and other Dehcho First Nations, sought to be "full partners and equal partners" in the project, with the ability to regularly assess the pipeline's progress, as Guardians: "We have the intelligence, we have the capacity to be able to work in partnership. We need to be open-minded and they need to work with us."
"We Have to Be Involved As Full and Equal Partners"
Following the hearing, Enbridge consulted further with the DFN. In early January, 2018, Liidlii Kue First Nation Chief Gerald Antoine said "we are happy to now say that Enbridge has adequately consulted with us about the project", in relation to a Participation Agreement and an Environmental Management Agreement with Enbridge.
An environmental monitoring program, and an Environmental Management Committee that directly involves Dene community members, were put in place, including an approach to link Indigenous Pipeline Guardians with existing the Dehcho K'éhodi Stewardship Program.
"These agreements [will] assure us that Dene will benefit, and not be harmed by the replacement project," said Antoine. A spokesperson for Enbridge said in an email response that the company "look[s] forward to working with the LKFN in a manner that respects and protects the land and water essential to the way of life and well-being of the Dene for present and future generations."
Success: What Does a Pipeline Guardians Program Look Like?
Given Enbridge's desire to begin the Line 21 project in spring, 2018, the DFN needed to rapidly expand the existing Dehcho Guardians Program to include Indigenous Oil Pipeline Guardians. Our firm was asked to help put together a plan for a Dehcho Pipeline Guardians Program, and deploy our experienced staff to assist in training and supporting the Pipeline Guardians in the field.
At Shared Value Solutions, our work to develop Pipeline Guardians Programs typically includes:
Developing of a Project Management Framework – a documented approach to organize the Pipeline Guardians Program, including roles, responsibilities and reporting relationships for Pipeline Guardians, supervisors, Indigenous government support staff, and the people who officially liaise with the pipeline operator.
Communication protocols to support Guardians work with the Indigenous government, communication with the pipeline operators, and to outline data management protocols.
In-class training on the Project details, including review of key technical work such as Horizontal Directional Drilling (HDD) pipeline installations under water bodies, and ongoing pipeline integrity and maintenance work along the pipeline right-of-way (ROW).
Pipeline Workplace Health and Safety programs specific to the local conditions and the requirements of the pipeline operator.
Daily monitoring protocols, and field forms, for the various monitoring programs including:

Water Quality and Water Turbidity Monitoring
Wildlife and Terrestrial Ecological Monitoring
Fish and Aquatic Ecosystem Monitoring
Riparian Corridor Monitoring
Permafrost Monitoring (where applicable)
Sociocultural Monitoring - including archaeological and cultural heritage resources, and
Daily Guardian Safety - including safety incident reports, and reporting on issues related to racism, harassment, sexual harassment

In-field training and instruction on all the above protocols, as well as additional Safety and Data Management training.
"Working with Shared Value Solutions (SVS) and their team has been a very positive experience for Dehcho. Collaborative partnerships are at the heart of many Indigenous-led programs and we highly valued SVS's expertise and support on the Line 21 project" - Dahti Tsetso, Resource Management Coordinator, Dehcho First Nation.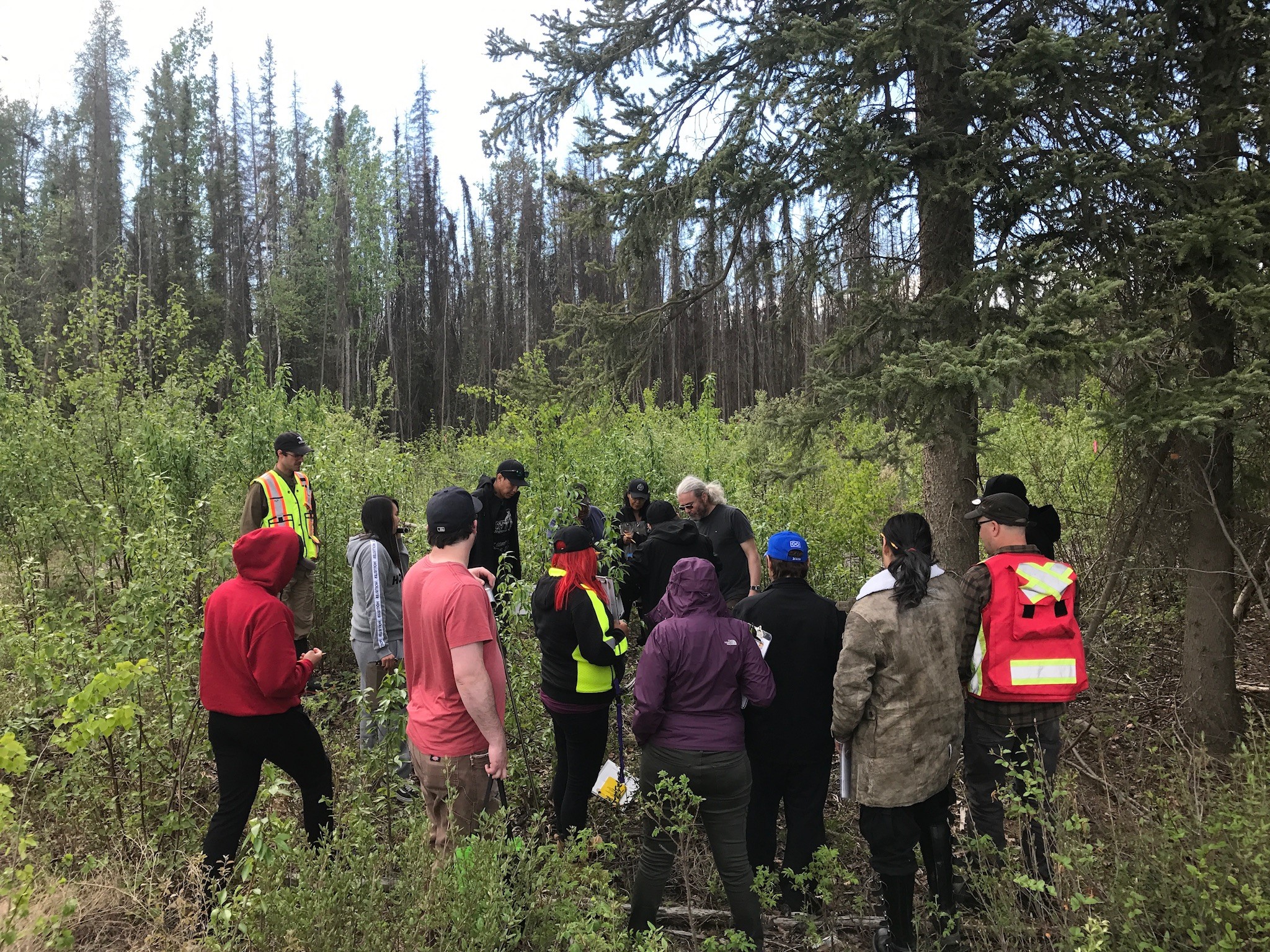 Dehcho Guardians take part in wildlife protection training for the Line 21 oil pipeline project with SVS environmental specialists
We are excited about our work with the Dehcho Pipeline Guardians Program, and we look forward to assisting many other Indigenous governments with pipelines crossing their traditional territories!
We are a Canadian B Corp, and we assist Indigenous communities with support throughout regulatory processes surrounding major development projects like mines, hydroelectric facilities, transmission lines, highway expansions, oil and gas pipelines, natural resource transport applications and nuclear power.
We have deep context and experience behind the recommendations we provide, having worked for our clients on almost every major project in Canada over the last 10 years. For us, it's all about building long-term relationships with our clients. We want to get to know you and what you want to do so we can help you move your plans forward.