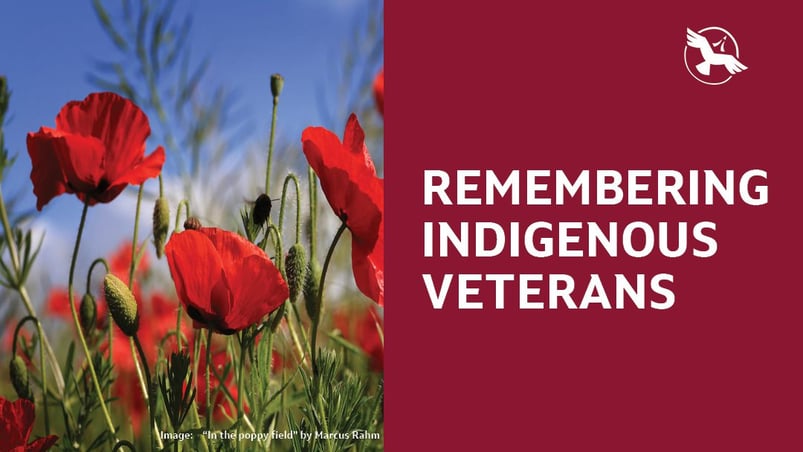 As part of our commitment to reconciliation at SVS, we make it part of our everyday practice to recognize the important and unique contributions—past, present, and future—of Indigenous Peoples from coast to coast to coast. On November 8, 2021, Indigenous Veterans Day, we took a few moments to remember and pay tribute.
More than 500 Indigenous soldiers died in the First and Second World Wars. And in the case of the Second World War, many First Nations veterans returned home and lost their Status because they had been absent from their home reserves for more than four years - a provision of the Indian Act at the time. The result was that the sacrifices of Indigenous veterans were largely forgotten at the same time as they were stripped of their rights as Indigenous Peoples. Despite this,
"The First Nations, Métis and Inuit people of Canada have a long and proud tradition of military service to our country. While exact statistics are difficult to determine, the rate of Indigenous participation in Canada's military efforts over the years has been impressive. These determined volunteers were often forced to overcome many challenges to serve in uniform, from learning a new language and adapting to cultural differences, to having to travel great distances from their remote communities just to enlist." - Veterans Affairs Canada
Indigenous Veterans Day is a time to remember the unique stories, contributions, and sacrifices of Indigenous veterans in the First and Second World Wars, as well as the Korean War - not to mention the leadership and skill being shown today by Indigenous members in all branches of the Canadian Armed Forces. Read on for just a few of the stories of these brave soldiers.
Charles "Checker" Tompkins
Cree code talkers were an elite unit tasked with developing a coded system based on the Cree language for disguising military intelligence. They provided an invaluable service to Allied communications during the Second World War.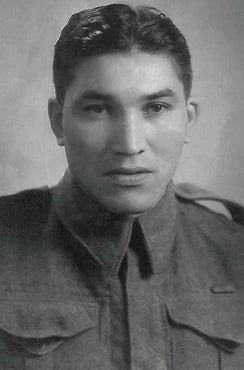 Charles "Checker" Tompkins served as a code talker during the war. Tompkins was Métis, born on January 8th, 1918, from Grouard, Alberta, northeast of Grande Prairie. He served as a soldier in the Canadian Army and as a code talker in the US Air Force for two years during the war. In this role, he translated secret military messages from English into the Cree language as a means of disguising the content from enemies.
iskotew ("fire") was the code word for the Spitfire plane, and pakwatastim ("wildhorse"), was the word for the Mustang aircraft
Watch the short documentary, Cree Code Talker
Thomas "Tommy" Prince
"As soon as I put on my uniform, I felt a better man."
Thomas "Tommy" Prince was born in Petersfield, Manitoba, in 1915. On June 3, 1940, he enlisted in the Canadian Army. He was selected to serve with the 1st Special Service Force, which became known as the Devil's Brigade. Serving in Italy and France during the Second World War, Prince was awarded the Military Medal by King George VI and the Silver Star by the American government. Across his military career, Prince earned 11 medals, making him one of Canada's most decorated Indigenous war veterans.
"All my life I had wanted to do something to help my people recover their good name. I wanted to show they were as good as any white man."
Francis "Peggy" Pegahmagabow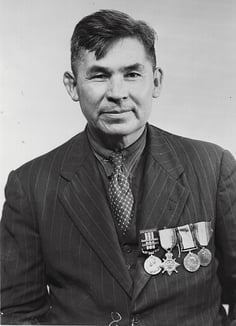 Francis "Peggy" Pegahmagabow was born on what is now the Shawanaga First Nation reserve. He was a Chief, Indigenous rights advocate, and war hero. Born on March 9th, 1891, on the Parry Island reserve, he became one of the original members of the 1st Canadian Infantry Battalion and, during the war, he acquired a reputation among fellow soldiers as a deadly sniper. Pegahmagabow became one of the most highly decorated Indigenous People in Canada during the First World War.
May their service and sacrifice never be forgotten!
---
We are an Canadian B Corp, and we assist Indigenous communities with support throughout regulatory processes surrounding major development projects like mines, hydroelectric facilities, transmission lines, highway expansions, oil and gas pipelines, natural resource transport applications and nuclear power.
We have deep context and experience behind the recommendations we provide, having worked for our clients on almost every major project in Canada over the last 10 years. For us, it's all about building long-term relationships with our clients. We want to get to know you and what you want to do so we can help you move your plans forward.
Impact Benefit Agreement Negotiation Support

Technical Reviews and Regulatory Process Support

Community and Economic Development Planning

Indigenous Knowledge and Land Use Studies

Environmental Monitoring

Guardians Program Development

Climate Change Readiness

GIS and Mapping
And so much more:

www.sharedvaluesolutions.com